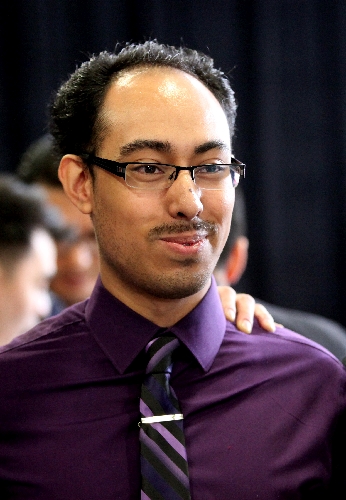 Alan Aleman, a 20-year-old student at the College of Southern Nevada, became the face of immigration last week when President Barack Obama used Las Vegas to launch his legislative drive for a comprehensive overhaul.
Obama singled out Aleman from the crowd of 2,000 inside the gym at Del Sol High School. The president said the young man – who was born in Mexico and grew up in the U.S. after his parents brought him here illegally – is an example of America's immigrant class "who built this country hand by hand, brick by brick."
"They were the Einsteins and the Carnegies," Obama said Tuesday. "But they were also the millions of women and men whose names history may not remember, but whose actions helped make us who we are."
The president argued the time is now to allow the 11 million undocumented immigrants living in the United States to get on a path to become U.S. citizens if they pay taxes and penalties, learn English and go to the back of the line to apply. A bipartisan group of U.S. senators is pushing for the same goal, although the GOP-controlled House of Representatives might not go along.
Aleman, an immigration activist, said he found out just two days before Obama's visit that the president wanted to use him as an example of an undocumented immigrant striving to achieve the American dream. His name was pulled from a list submitted to the White House by immigrant groups, Aleman said.
It's no accident the Obama administration picked an immigrant with big dreams. Aleman wants to be a doctor and hopes to join the Air Force. He also sits on the Latin Chamber of Commerce board of directors.
"I'm going to help my community," Aleman said in an interview after Obama's speech. "I know if we push for immigration reform it's going to happen."
Aleman is a so-called DREAMer, named for the DREAM Act that stalled in Congress. The proposed law would provide a path to U.S. citizenship for young undocumented immigrants who go to college or join the military. Proposals to overhaul immigration policy from Obama and the U.S. senators would let DREAMers become American citizens, too. DREAM is an acronym for Development, Relief, and Education for Alien Minors.
Aleman was among the first Nevadans to apply for a two-year work permit the Obama administration offered to young undocumented immigrants last year as the president was running for re-election. The executive action helped Obama strengthen his Hispanic support, with up to four out of five Nevada Latino voters backing him Nov. 6.
Aleman was one of the first Nevadans to get his work permit. He said his 18-year-old sister, who also was born in Mexico, got her work permit about a week after he did.
Aleman said his parents brought him to the United States when he was 11 years old, so he has spent nearly half his life here. His mother and father are hoping to become U.S. citizens if immigration reform passes.
Obama, in his 25-minute speech, said allegiance to America is as important as where a person is born.
"Growing up, Alan went to an American school, pledged allegiance to the American flag, felt American in every way – and he was, except for one: on paper," Obama said.
After the president spoke, he moved among the crowd, shaking hands. One of them was Aleman's.
"I didn't have a chance to really meet him," Aleman said. "But I got to shake his hand. And I said thank you."
– Laura Myers
HECK SETS UP PAC
Rep. Joe Heck has established a personal political action committee as a strategy to build friendships and influence colleagues in the U.S. House.
Paperwork setting up the Full House PAC was submitted last week to the Federal Election Committee, a filing first noticed by Bloomberg News.
Once the province of senior lawmakers, such "leadership PACs" have become common as a way for lawmakers to expand their presence. The Center for Responsive Politics counts roughly 350 of them.
In the Nevada delegation, Sens. Harry Reid and Dean Heller have leadership PACs, as does Rep. Dina Titus. Reps. Mark Amodei and Steven Horsford do not have leadership PACs – or at least not yet.
Heck, an officer in the U.S. Army Reserve, was serving military duty this weekend and could not be reached, his spokesman Greg Lemon said.
Lemon said the second-term Nevada Republican established his political action committee as an outgrowth of his work on the House Republican Steering Committee, which advises party leaders on committee assignments and policy.
The political action committee "is reflective of the congressman's continued growth and effectiveness and the recognition of his abilities," Lemon said.
Leadership PACs can gather and spend contributions in larger sums than a candidate's regular campaign committee, providing another avenue for donor cash. Individuals can contribute up to $5,000 per year to a leadership PAC, in addition to money sent to the same lawmaker's campaign fund.
The funds are used for things such as travel, but more commonly they are redistributed to other lawmakers and candidates in the form of campaign contributions.
"Leadership PACs are designed for two things: to make money and to make friends," wrote Summer Lollie of the Center for Responsive Politics.
Heck won re-election in November but already has been targeted in the 2014 election. Democrats have taken note of the relatively even split between Democrats and Republicans in his 3rd Congressional District and the fact that President Barack Obama beat Mitt Romney among its voters.
Erin Bilbray-Kohn, a Las Vegas political consultant and Democratic national committeewoman, has spoken with party officials in Washington about the possibility of running against Heck.
With a leadership PAC in hand, it's expected Heck will take steps to start filling it.
Lemon said no fundraising events have been scheduled yet.
– Steve Tetreault
NEXT TIME, REMEMBER A POTTY BREAK
Sen. Pete Goicoechea, R-Eureka, is a rancher known for his cowboy language and wit. So it should be no surprise that he had a funny remark Jan. 28 for Assembly Ways and Means Chairwoman Maggie Carlton, D-Las Vegas, after a long pre-session budget hearing when she did not set aside time for a bathroom break.
"You know, Maggie, even on horseback there are times to get off and go," Goicoechea said when the hearing finally adjourned.
A former Assembly minority leader, Goicoechea won election to the state Senate in November and now represents a huge area that includes much of rural Nevada and parts of Clark County. That could cause him problems.
During a discussion on the university budget, Goicoechea complained about how the governor calls for reductions in funding for Western Nevada College and Great Basin College, both in rural areas.
But the budget also calls for increases in the College of Southern Nevada and University of Nevada, Las Vegas budgets. The students who attend these colleges now are also Goicoechea's constituents.
"What they really want us to do is support tax increases," Goicoechea said about his dilemma.
– Ed Vogel
Contact reporter Laura Myers at lmyers@reviewjournal .com or 702-387-2919. Follow @lmyerslvrj on Twitter. Contact Capital Bureau Chief Ed Vogel at evogel@review journal.com or 775-687-3900. Contact Stephens Washington Bureau Chief Steve Tetreault at stetreault@stephensmedia.com or 202-783-1760. Follow him on Twitter @STetreaultDC.