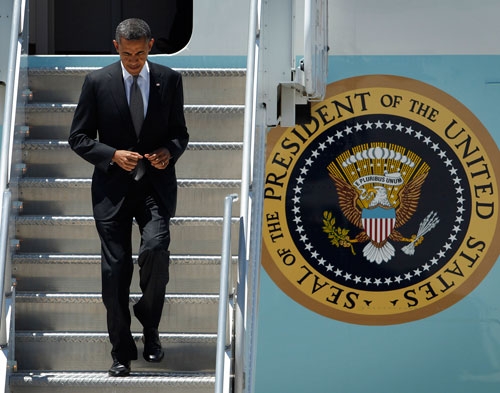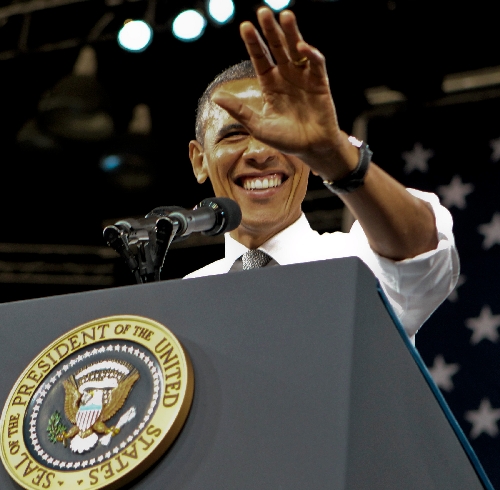 Railing against congressional inaction, President Barack Obama on Thursday urged supporters at the University of Nevada, Las Vegas to use the telephone, Twitter, Facebook and email to persuade Republicans on Capitol Hill not to let student loan interest rates double in July.
Obama said he and his wife, Michelle, know what it's like to struggle with student loans. The couple finally finished paying off their university and law school debt only eight years ago, he said.
"Now think about that. I'm president of the United States," Obama said, drawing laughter from a crowd of 2,500 people packed inside Cox Pavilion at UNLV.
"I need your help," he added. "You've got to tell Congress, 'Don't double my rate.' "
Actually, both Democrats and Republicans are trying to prevent Stafford student loan interest rates from doubling from 3.4 percent to 6.8 percent, but they can't agree on how to pay the $5.9 billion bill.
In a 28-minute speech, the Democratic president mentioned Congress 28 times as he slammed GOP leaders for not acting on a host of issues, from student loans to more home foreclosure help, to his American Jobs Act, something Republican critics deride as full of failed stimulus ideas.
"So my message to Congress is, 'Let's get to work; let's get to work,' " Obama said. "I know this is an election year. That's not lost on me. But at this make-or-break moment for America's middle class, we can't afford to have Congress take five months off" until Election Day on Nov. 6.
With Congress so unpopular, Obama is using Republicans as a frequent foil as he travels the country, whether campaigning for re-election or for official White House events.
Hours before his arrival in Las Vegas, Obama's campaign launched a new TV ad in Nevada urging Congress to pass his jobs act to put teachers, firefighters, police and construction workers back to work.
"Our businesses have created almost 4.3 million new jobs over the last 27 months, but we're still not creating them as fast as we want," Obama said in the ad.
It's airing a week after a dismal jobs report came out. The national unemployment rate ticked up to 8.2 percent, while the jobless rate in Nevada is 11.7 percent, the highest in the nation.
The ad is partly aimed at countering GOP presidential opponent Mitt Romney's main argument for replacing Obama: that the president doesn't have the business experience to fix the economy.
Today , Romney will start airing his first general election ad in Nevada, according to campaign officials. It will be a positive spot, playing up his experience, which includes turning around companies at Bain Capital, running a successful Salt Lake City Olympics and governing Massachusetts.
The Romney ad comes days after the Obama campaign launched its first negative TV ad in Nevada and eight other swing states. The campaign commercial attacks Romney's record as governor, noting Massachusetts was 47th in the nation on job creation under his watch.
But Thursday, the main topic was student loans, and Obama's target was Congress.
Republicans didn't take the lashing well.
From across the country, GOP House Speaker John Boehner criticized Obama for using taxpayer dollars to travel to Nevada instead of staying in Washington, D.C., to reach a student loan deal.
"President Obama is holding a campaign-style rally in Nevada on student loans today – approximately 2,000 miles away from where he would be if he were actually interested in resolving the issue rather than picking a political fight where none exists," Boehner wrote on his website.
The day before, House GOP leaders urged Obama to cancel his Las Vegas visit.
Obama called on Republicans to be more flexible, telling the UNLV crowd, "Some of these folks in Congress are a little stubborn."
Minutes after Obama concluded his UNLV speech, Senate Majority Leader Harry Reid in Washington proposed a compromise on funding the $5.9 billion student loan subsidy.
Reid, D-Nev., put forward two sources: increasing premiums that companies pay for insurance from the Pension Benefit Guaranty Corporation and a change in how employers compute their pension liabilities that will result in fewer tax deductions for them.
Reid said the changes would raise enough money to fund a one-year extension of reduced student loan rates and also help reauthorize a federal highway funding bill that has hit an impasse.
In April, as Congress debated student loans, Romney, said he, too, favors extending the low interest rate "in part because of the extraordinarily poor conditions in the job market."
Obama's stop in Las Vegas was his 10th visit to Nevada since he was elected president. The state is a key battleground, and Obama must defeat Romney here to assure his re-election in 2012.
Obama never mentioned Romney in his speech, which was billed as an official event.
The crowd treated Obama as a candidate, however.
"Four more years! Four more years!" they shouted as he took the stage, backed by a U.S. flag.
Obama spent 102 minutes on the ground here, following a two-day fundraising trip through California that raised more than $5 million for his campaign and the Democratic National Committee.
In his speech, Obama acknowledged Nevada is suffering more than other states because of the still-recovering economy. But he said educating people was the first step toward getting good jobs.
"Our job is not just to get people back to work," he said. "Our job is to build an economy where hard work pays off. So I want more people to be able to make the investment you're making. I want to make it easier for more students like you to earn a degree without shouldering a mountain of debt."
Obama touted his efforts to reduce student loan payments for low-income graduates and said he wants to make it easier to apply for a program to cap their monthly bills.
Under the Income Based Repayment Plan, which began in 2007, former students can enroll to cap student loan payments at 15 percent of their discretionary income if they pay on time. In 2009, Obama lowered the cap to 10 percent for borrowers starting in 2014. Last fall, he announced an executive action to speed things up to lower the cap to 10 percent by the end of 2012.
Obama signed a memo ordering his administration to make it easier for former students to apply for the program by streamlining the application process and requiring loan servicers to provide more information about repayment options to students before they graduate.
Outside the Cox Pavilion, a dozen supporters of Romney started at 7:30 a.m. to protest Obama's midday visit, holding up signs and chanting, "Where are the jobs?"
Darren Littell, spokesman for Team Nevada, a Republican organization helping Romney's campaign, dismissed the Obama jobs ad. He said the president has waited too long to focus on jobs.
Instead, Littell said Obama spent precious time getting his health care law reform passed in Congress and pushing through nearly $1 trillion in stimulus spending that GOP critics contend was the wrong way to revive the crashing economy that Obama inherited when he took office.
"It's taken the president three and a half years to come up with something to get Americans back to work," Littell said. "Now, he's just doing an election- year stunt and telling Congress to act when he hasn't acted in three and half years."
Stephens Washington Bureau Chief Steve Tetreault and reporter Ben Frederickson contributed to this report. Contact Laura Myers at lmyers@reviewjournal.com or 702-387-2919. Follow @lmyerslvrj on Twitter.
Obama For America TV Ad: "Jobs"