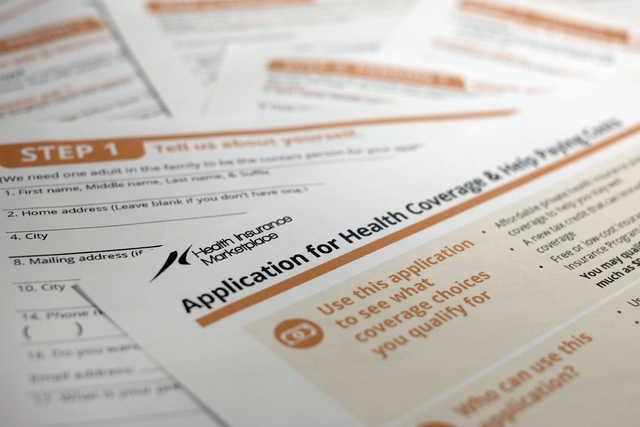 First, the feds delayed the Affordable Care Act's small-business health insurance exchanges.
Then they put the law's employer-coverage mandate on hold for a year.
They've even repealed parts of Obamacare, including a 1099 tax-form mandate and a long-term insurance program that lawmakers called fiscally unsustainable.
So local businesses and unions alike want to know: What's another tweak or two?
They've set their sights on proposed federal laws that would change an Obamacare provision on who gets health insurance through work. The rule says employees who work more than 30 hours a week qualify as full-time, and employers have to offer them insurance or risk fines of $2,000 to $3,000 per worker. The rule applies to any company with more than 50 full-time-equivalent workers.
The threshold is causing unintended consequences as employers cut hours to drop workers below the 30-hour threshold.
That could be a huge issue in Las Vegas, with its high share of hourly service jobs in hospitality and restaurants, said Shaun O'Brien, assistant policy director for health and retirement for big labor group AFL-CIO. And with average weekly hours worked coming in at 33.7 in August, according to local research firm Applied Analysis, plenty of locals hover close enough to the threshold to cross it.
"Obamacare is supposed to be helping those who can't afford insurance, but it's actually hurting them by forcing their bosses to cut back on hours," said Randi Thompson, state director of the National Federation of Independent Business.
Added Yvanna Cancela, political director of the hospitality union Culinary Local 226: "Unless fixes are made by the administration and Congress, hard-working Americans will be taking a giant step back rather than a big step forward when it comes to health care."
You know things are bad when labor unions use studies from the U.S. Chamber of Commerce as ammunition. (Since when have the two agreed on anything?) But that's what's happening with the 30-hour rule.
No one tracks local changes in full- or part-time employment, but Cancela pointed to chamber studies showing that 31 percent of franchised small and medium-sized businesses have already cut hours more than a year before the employer mandate takes effect on Jan. 1, 2015.
Another 27 percent said they've replaced full-timers with part-timers. Among nonfranchised businesses, 12 percent have cut hours, and 12 percent have swapped out full-timers.
But on how to fix the issue, businesses and labor unions differ dramatically.
Bills that would change the law have been before the House of Representatives since early 2013. The Forty Hours is Full Time Act would set the work week at, well, 40 hours. And the Save American Workers Act would repeal the 30-hour threshold and also replace it with a 40-hour standard.
Reps. Mark Amodei, R-Nev., and Joe Heck, R-Nev., are co-sponsoring the Save American Workers Act.
Government transparency group Civic Impulse doesn't give either bill good odds. The group's GovTrack website says the Forty Hours is Full Time Act has a 1 percent chance of passing the House, while the Save American Workers Act has a 5 percent shot.
Those poor chances are a good thing, union leaders say. They're partial to a different bill — one that leaves the 30-hour threshold in place but also applies fines to a share of part-time workers. The Part-Time Worker Bill of Rights Act has no Nevada co-sponsors, and, according to GovTrack, it has no chance of enactment, either.
In a perfect world, said O'Brien, the full employer penalty would kick in at 20 hours, and companies would pay a smaller fine on employees who work fewer than 20 hours. That's because if you move the penalty limit to 40 hours, companies would simply cut off employees at 39 hours a week.
"That threshold is really a cliff. The basic problem is that if you create an hours cliff, you put people at risk of having their hours reduced by an employer in order to avoid any responsibility for coverage and risk of paying a penalty," O'Brien said.
But the AFL-CIO's suggestion simply isn't possible for most businesses, said Frank Nolimal, an employee benefits consultant with Las Vegas insurance brokerage Assurance Ltd.
"It's not mathematically feasible for a company to employ people at union income levels and provide full benefits at 20 hours a week," Nolimal said. "The cost of health care per employee would skyrocket because premiums aren't going to change. Employers would just have to pay more."
What's more, most labor laws already recognize a 40-hour week, Thompson said. Overtime rules are based on it, for example, and corporate paperwork revolves around it.
"Having two separate full-time standards is just so arduous for small businesses, because they create totally different sets of rules," she said.
Either way, both sides said they're confident lawmakers will eventually change the rule, one way or another.
"All of the rollbacks in Obamacare so far are, to me, an indication that someone is at least willing to look at these things and say, 'This isn't working,' " Thompson said. "It seems like, every time something gets implemented and doesn't work, they say, 'OK, let's fix that.'"
Some Nevada congressional staffers said on background that they haven't seen any movement on the issue, though Kristen Orthman, a spokeswoman for Senate Majority Leader Harry Reid, said Reid is open to discussing how to make Obamacare work better.
"We are always looking to improve on the law — including in this area — but so far Republicans only want to return to the days when insurance companies could deny people coverage for pre-existing conditions or charge more because you are a woman," Orthman said.
Contact reporter Jennifer Robison at jrobison@reviewjournal.com. Follow @J_Robison1 on Twitter.