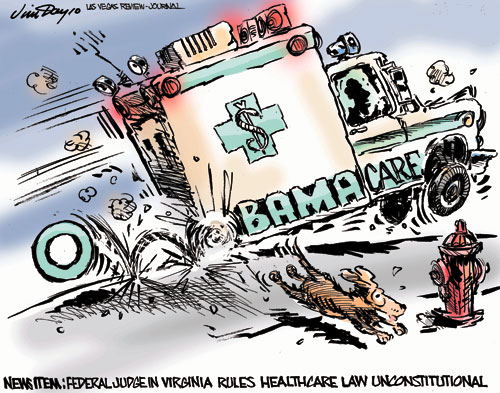 A federal judge ruled Monday that a key — nay, vital — element of the federal health insurance reform act is beyond the enumerated powers of Congress to enforce.
U.S. District Judge Henry E. Hudson in Richmond, Va., ruled in a case filed by that state's attorney general that Americans can't be required to purchase health insurance or be fined for failing to do so.
"Neither the Supreme Court nor any federal circuit court of appeals has extended Commerce Clause powers to compel an individual to involuntarily enter the stream of commerce by purchasing a commodity in the private market," the judge writes.
He also made short shrift of the Necessary and Proper Clause argument, saying it does not provide sanctuary when the law it is tethered to exceeds constitutionally-enumerated powers.
Without the requirement to purchase insurance, the rest of ObamaCare comes unraveled and is unsustainable.
One of the strongest rebukes of the law comes today in The New York Times from a Georgetown Law Center professor, Randy Barnett. He writes, "If economic mandates like this one are allowed, however, Americans will be demoted from citizens to subjects. They will have to obey any commands that Congress deems convenient to its regulation of interstate commerce. No more expensive tax credits and subsidies to raise taxes to pay for; Congress can just command you to buy its favored products. Forget cash for clunkers; just make Americans buy cars from G.M. Or make them undergo medical exams to save on health care costs. Gone will be a federal government of limited and enumerated powers established by the Constitution and repeatedly affirmed by the Supreme Court."

Mark Hutchison, an attorney representing Nevada in a similar challenge to ObamaCare in Florida, said something along the same lines, "If the government can require us to buy health insurance, why can't they require us to buy something else?
"If General Motors starts to struggle, all they have to do is require us to go out and buy Chevy pickup trucks or Impalas."
Ask Nevada Attorney General Catherine Cortez Masto how frivolous the lawsuits are now.
Nevada Rep. Dean Heller suggests Congress should get to work to find real solutions to health insurance reform and not wait on a protracted court battle.
Here's a suggestion: Use the Commerce Clause for the purpose for which it was intended. Allow insurers to compete across state lines. A little competition drives down the cost for everyone.