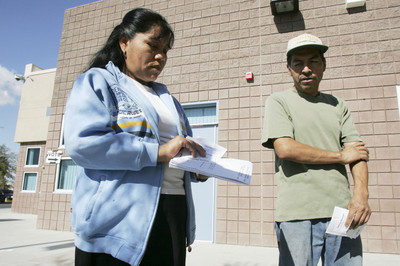 Agustin and Obdulia Hernandez have shared almost everything during nearly two decades of marriage.
On Election Day, the couple originally from Guanajuato, Mexico, shared their disappointment over not being able to vote for Hillary Clinton.
"She's a very successful woman who is always out front," Agustin Hernandez, 41, said in Spanish Tuesday morning at North Las Vegas's Williams Elementary School.
The Hernandezes, both Democrats, instead cast their ballots for Barack Obama.
"There wasn't a choice," said Obdulia Hernandez, 40. "He has some good ideas, especially about the economy."
Half-hearted support for Obama was the consensus among a dozen Hispanic voters interviewed by the Review-Journal at the school. There was nary a John McCain backer in the bunch. All but one said they were originally Clinton supporters.
Obama's "the next best thing," said Maria Lopez, 27.
Only 18-year-old Antonio Gomez, voting for the first time, said he had been a supporter of Obama's all along.
The 2008 Las Vegas High School graduate said he especially liked Obama's ideas about the economy and the war in Iraq.
"He will bring the soldiers home," he said.
Bertha Talamantes, a 32-year-old Obama backer, said the atmosphere at her home has been heated because her husband, who declined to be interviewed, supports McCain.
"It's gotten ugly," she said. "He's even a George Bush fan. We have to avoid the subject."
Talamantes believes the couple's political differences stem from their different cultural backgrounds.
"I think it's because I come from a Hispanic family" and he doesn't, she said.
Contact reporter Lynnette Curtis at lcurtis@reviewjournal.com or 383-0285.