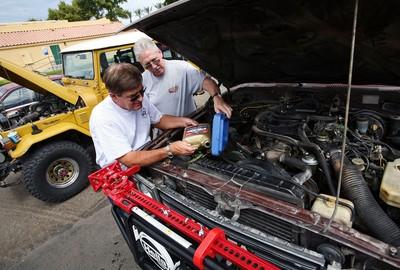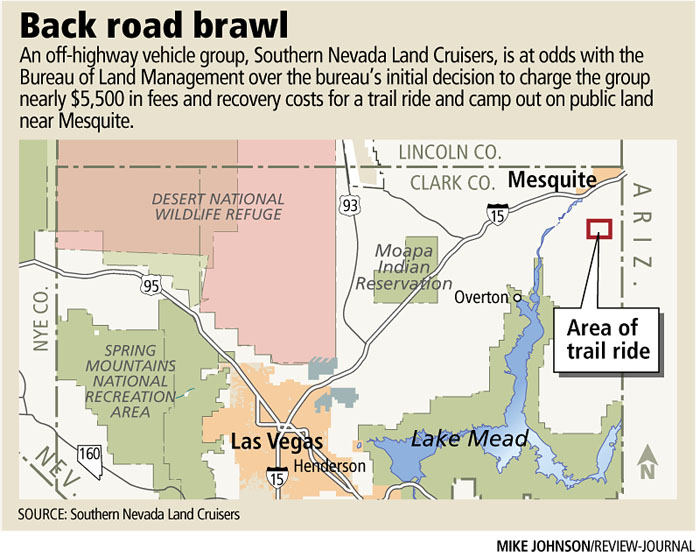 On a balmy afternoon last week, a couple off-road enthusiasts did what they've done for decades on the rugged vehicle trails that twist through public land in Clark Country's back country: They took their Toyotas out for a free ride.
But for Michael Voegele and Steve Syzdek of the Southern Nevada Land Cruisers, fees charged by the Bureau of Land Management for their club's annual fall trail ride, the 30th Glitter Gulch Gambol, have risen so much that they canceled the event this year.
"It's just mind-boggling. Why are they charging us $6,000 to process a permit? We're getting taxed twice," Voegele asked while driving Tuesday to the trail head and campground on the outskirts of Mesquite.
Not so, BLM officials say. Considerable effort is needed to process the group's request this year, and the cost is justified.
The permit has been a routine matter the past three years, costing the group $90 each time. This year, the increase is more than 60-fold, and the actual bill is $5,490.08.
Voegele and Syzdek don't understand the reasoning.
In an appeal letter dated July 5 to Patrick Putnam at the BLM's Las Vegas Field Office, Voegele said the decision to charge the group recovery costs for work by the BLM staff — 86 hours by his calculations — is "unfair and incorrect."
The men said they believe the BLM is inflating the amount of time spent processing the permit and its recovery costs estimate.
A decision on the appeal is expected Wednesday from an Interior Department lands panel.
Voegele said even though the event is not held for profit and doesn't draw concessionaires to sell T-shirts and souvenirs, the BLM, armed with its manual, has turned use of the public lands' trails from a virtually free adventure to what amounts to off-highway robbery.
"We find it incomprehensible that you are able to manipulate agency requirements to the point that citizens of the United States, desiring to drive in a group on public lands on existing roads, can be prevented from doing so by the imposition of impossible fees," Voegele wrote in the July 5 appeals letter.
Kirsten Cannon, a spokeswoman for the BLM's Las Vegas Field Office, said because of the appeal, bureau officials can't comment specifically on the Southern Nevada Land Cruisers case.
She noted, however, that this year the group's proposal covered four days of off-road activities instead of one as in the past. In addition, plans call for the 30 or so Land Cruisers to travel over five different routes instead of one.
As a result, she said, BLM recreation planner Lee Kirk and other staffers have spent more than 50 hours processing the permit application.
That's "bogus," Voegele said. The Land Cruisers group camped multiple nights last year, "and we have always been approved for multiple roads and trails," he wrote in an e-mail Thursday.
The permitting process involves reviews by specialists to ensure events will meet all environmental requirements for species habitat protection. Other reimbursements to the BLM for cost recovery will stem from having at least one law enforcement ranger or possibly more at the event to ensure the approved courses are used.
Under BLM's regulations published on Aug. 7, 2006, if it takes government staffers more than 50 hours to process a permit, the agency will charge for cost recovery.
Unlike in the past, until a memo was handed down from headquarters two years ago, permit processors for the BLM had the discretion to charge for cost recovery. The new rules are stricter, saying permittees will be charged for "actual costs to the government for processing the permit and monitoring all pre, actual and post permitted activities as reflected by charges including salaries, vehicle mileage, per diem and administrative costs."
Because his "organized group" is subject to new rules, Voegele said, "This means I can't drive on a public road without being accompanied by a recreation planner and a cop."
Much of the problem, he said, lies in what the BLM considers an "organized group." According to the BLM, such groups are "neither commercial nor competitive" and are "loosely defined as more than one person participating in a recreation activity or event."
But there's room for interpretation, as 10 people in a sensitive riparian area may constitute an organized group, "but a less sensitive upland area may be able to handle 200 people without need for special management."
When making permit decisions, the BLM also takes into account resource concerns, potential user conflicts, or public health and safety issues.
For the Gold Butte off-road trails area and White Rock Campground the Southern Nevada Land Cruisers want to use, the desert tortoise is an issue despite the fact the group has said it would change the event's date to a time in November that doesn't overlap the period when tortoises mate.
Voegele, a former chief scientist for a Yucca Mountain nuclear waste project contractor, and Syzdek, a retired Nevada Highway Patrol officer, know how to handle the challenges posed by Southern Nevada's remote terrain.
As a longtime Boy Scout leader and certified Leave No Trace instructor, Voegele has respect for the environment.
On Tuesday, he watched roadrunners and quail scramble across the trail and dart into thickets of greasewood, creosote and Mormon tea.
When the group of some 30 club members gathers for a trail ride, he takes along a box of books about the plants and geology of the Mojave Desert and enforces the group's policy of not driving on unauthorized trails.
Like many of the Land Cruisers, his four-wheel-drive vehicle is more than 20 years old and is equipped with a special suspension, high-mount jack and a winch in case somebody gets stuck.
"It's not safe to be driving out there alone," he said.
Syzdek's vintage-1979 mustard yellow Land Cruiser with its "RTUFTOY" personalized license plate is equally equipped but doesn't go fast enough to compete in a high-speed off-road race.
As Voegele put it: "We're just trying to keep an old vehicle running and have some fun with it. This is not off-roading in the sense of ripping up the country. We're going on existing trails."
Jed Botsford, the BLM's lead outdoor planner at Red Rock Canyon National Conservation Area, said when a group applies for a permit and has a planned route then the group's status, in the eyes of the BLM, "leaves the realm of casual use."
BLM staff members must devote time to processing such permits in addition to work they do for the general public and other public land user programs.
Cannon said of the 70 special recreation permits issued annually on Southern Nevada public lands outside of Red Rock Canyon, the costs to applicants range from $90 to more than $35,000, covering everything from mountain bike events to competitive off-road races.
Off-road racing organizations typically must pay tens of thousands of dollars more for holding competitive events complete with vendors and perhaps thousands of spectators.
Don Wall, vice president of Southern Nevada Off-Road Enthusiasts, or SNORE, said his competitive race outfit shares the concerns of the Southern Nevada Land Cruisers but also is at the mercy of the BLM.
"They make the rules," Wall said. "They are the key holders. They are the gatekeepers. Whatever they say goes."
Wall said SNORE tries to offset any impacts that the BLM staff perceives from their use of the land. "We volunteer for land cleanups. We also do habitat rehabilitation. They're understaffed."
A 24-hour race permit and recovery costs amount to $17,000, including $1,000 for a newspaper legal notice to announce that a section of public land will be closed for an off-road race.
Wall said the permit costs are inflated by a 19 percent transaction fee passed on to applicants from the U.S. Treasury Department's business center in Denver for keeping track of the various accounts.
Cannon said the fee charged by the National Business Center is an administrative charge assessed on costs relating to all projects funded by the public. The costs are basically to cover support efforts such as accounting.
Wall said the BLM's bookkeeping needs improvement and rangers need to be timely in their expenditure reports.
"It's really a mismanaged system but it's the only system we've got. I love 'em but I also hate them. I get along with them because it's a necessary evil."