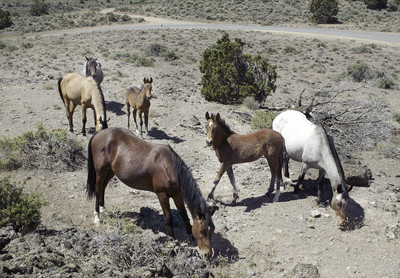 CARSON CITY — Nevada's new Agriculture Department director has vowed not to purchase hay to feed stray horses, although many of them may be starving in the mountains near Virginia City.
Director Tony Lesperance said Wednesday that neither the state of Nevada nor the state Agriculture Department can afford to feed wild horses.
He quickly noted that although people refer to the 200 horses in the Virginia Range as wild horses, they technically are strays — horses that may have been set free by their owners.
Lesperance told the Legislature's Interim Finance Committee that he will come up with a plan to remove many of the horses.
"I am far more concerned about the decline of the Virginia Range as an environmentalist than I am concerned about those horses," he said. "There is a total loss of forage."
A 1997 law gave the Agriculture Department responsibility for managing the horses wandering the Virginia Range, mountains that run from near Dayton past Virginia City and the south edge of Reno. The stray horses run on state or private land.
The U.S. Bureau of Land Management oversees wild horses on federal lands.
Assemblyman Tom Grady, R-Yerington, said he has been getting calls from people concerned about "starving" horses.
"There are over 1,200 horses up there now and no feed for them," Grady said. "Where are you going to get the money to buy hay for them?"
But Lesperance and Deputy Agriculture Director Rick Gimlin said it is not their intention to buy hay for horses. It costs about $4.60 a day to buy hay to feed horses, according to estimates made by the Agriculture Department in January.
"Those horses are starving to death up there," Grady said. "What are you going to do about it? Where is the management?"
Lesperance said: "It is a serious, serious problem. It is going to be dealt with. We are going to bring the number of horses down as rapidly as we can."
He gave no indication on what plan for managing the horses he is considering, although he did say there is little public demand for adopting the horses.
In material given the committee, Agriculture Department representatives said they are concerned there would be "picketing and demonstrations" if they tried to auction off stray horses.
In an interview, Grady said he was not aware of any horses that have died in the Virginia Range.
Gimlin requested and received Interim Finance Committee approval to spend $15,934 in emergency funds to construct additional corrals to hold stray horses at the Northern Nevada Correctional Center in Carson City.
The department already has corrals there to contain about 100 horses. Some horses are broken by inmates and adopted by residents.
Until Lesperance comes up with a plan, the horses in the Virginia Range will be dealt with on a "by complaint" basis.
Some of the Virginia Range horses wander into highways or residents' yards. The Agriculture Department gathers those horses and moves them to the Carson City corrals.
A majority of these horses are "repeat offenders," some having been captured more than five times. If not adopted, horses are returned to the range after 30 days in the holding corrals.
Assembly Speaker Barbara Buckley, D-Las Vegas, said after the meeting that they will request Lesperance return to a future meeting and explain to legislators his plan for managing the horses.
Contact Capital Bureau Chief Ed Vogel at evogel@reviewjournal.com or 775-687-3901.