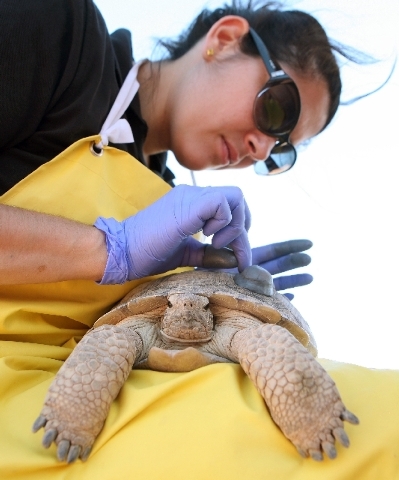 Officials in charge of the Desert Tortoise Conservation Center are fielding calls and refuting claims that hundreds of tortoises will be killed when the facility at the southern edge of Las Vegas runs out of money and closes late next year.
Though a small percentage of sick reptiles are euthanized at the center, officials from the U.S. Fish & Wildlife Service and the San Diego Zoo denied an Associated Press report that more than 700 tortoises would be destroyed in the coming months in preparation for the closure.
Allyson Walsh is associate director for the zoo's Institute for Conservation Research, which began managing the conservation center in 2009 under a partnership with the Fish and Wildlife Service and other agencies. She called the idea that so many tortoises would be put down due to budget cuts "a load of hooey."
"There is no mass effort to kill tortoises to empty the center," Walsh said.
Officials for the Fish and Wildlife Service in Nevada said the center only euthanizes tortoises that are sick and do not respond to multiple rounds of treatment or those that are in such poor shape when they arrive that there is no hope of saving them.
There are no plans to change that protocol as the center winds down operations.
"Euthanasia is used as a last resort only for unhealthy tortoises," said Carolyn Wells, deputy state director for the agency.
Officials cannot say exactly how many tortoises at the center might be too unhealthy to eventually be released into the wild, but Wells said it is "a small percentage at best."
She said she can't be more specific because health assessments and the treatment of sick tortoises are ongoing.
The 220-acre conservation center was established 20 years ago as a place for developers to put the federally protected animals after removing them from job sites in booming Clark County, but it eventually became the valley's de facto tortoise shelter.
Earlier this year, the center announced it would no longer welcome unwanted pets and strays, which were pouring into the facility at a rate of about 1,000 a year, overwhelming the facility's budget as well as its research mission.
Lied Animal Shelter now serves as the region's drop-off point for unwanted pet tortoises, though the 200 or so reptiles left there so far have been transferred to the conservation center.
Lied spokeswoman Meghan Scheibe said the shelter is developing protocols for an adoption program it plans to roll out sometime this fall for healthy adult male tortoises.
It's unclear what the shelter's role might be should the tortoise conservation center close, but Scheibe said Lied does not euthanize any tortoises in its care unless the animal has been run over by a car or is otherwise suffering and beyond help.
The tortoise conservation center still houses about 1,400 of the long-lived creatures, roughly 1,200 more than what Walsh considers the ideal population for such a research facility.
Federal funding for the center is scheduled to run out next year, and Walsh said the staff there is preparing for it to close by December 2014 if an alternate source of money cannot be found.
Over the next 18 months, researchers plan to release more and more of the animals into the wild as part of ongoing research into so-called translocation, which is now a key strategy in the effort to save the species.
Stafford said she has received more than 100 calls since the AP story came out Sunday — so many that she took the unorthodox step of recording the agency's official response to the story as the outgoing message on her voice mail.
Walsh also has received an avalanche of calls and emails, many of them from people offering to donate money to keep the center from closing. But the physical building is not as important as preserving the center's work to advance scientific understanding of the desert tortoise and improve its chances of a "rangewide recovery," she said.
If people really want to chip in on something, Walsh suggests a public service campaign to end the rampant backyard over-breeding of pet tortoises in Las Vegas and beyond.
Contact reporter Henry Brean at hbrean@reviewjournal.com or 702-383-0350.