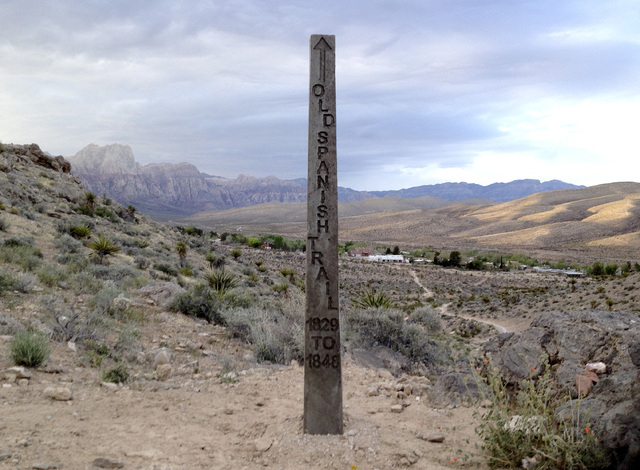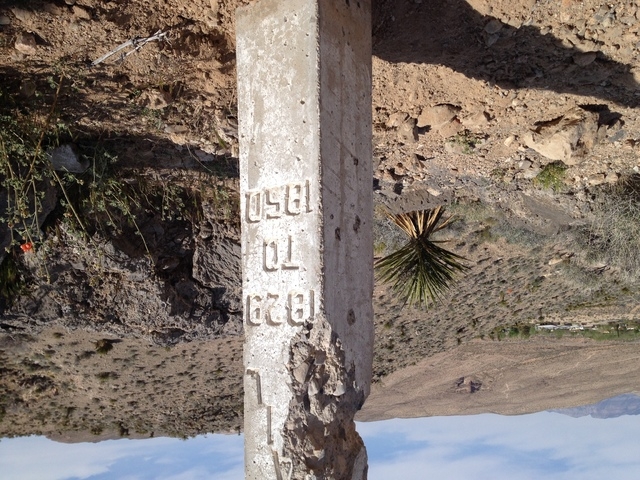 Editor's Note: Nevada 150 is a yearlong series highlighting the people, places and things that make up the history of the state.
Thirty-five years before Nevada became a state, Mexican merchant Antonio Armijo led a caravan of 60 men and 100 mules to blaze a trail that would later put Las Vegas on the map.
Between 1829 and 1848, hundreds of traders, soldiers, merchants, horse thieves and American Indians traveled Armijo's path. Various branches of it ran from Abiquiu, near what is now Santa Fe, N.M., to California's Mission San Gabriel near Los Angeles.
From the New Mexico territory, it generally went northwest across the Colorado Plateau into Utah territory and then shot southwest.
Historians say the trail was derived from a network of American Indian paths used by Utes, Pueblos, Apaches, Hopis, Navajos, Paiutes, Shoshones, Mojaves and Cheumehuevis.
This Old Spanish Trail, as it became known, was described a century later by authors LeRoy and Ann Hafen as "the longest, crookedest, most arduous pack mule route in the history of America."
About 135 miles of it cut across what became Southern Nevada in 1867, three years after statehood, when Congress granted Nevada's request to extend its boundary south to the Colorado River in Arizona territory.
Armijo's 1829-1830 journey to trade woven wool loaded on pack mules for horses and mules in California launched commerce in the Southwest. Arguably, it was the most important episode in the history of the Las Vegas Valley.
"It is the foundation of this population in this valley and there couldn't be anything more important than this foundation," historian Liz Warren said.
Her research and advocacy with the national Old Spanish Trail Association and its Nevada chapter was instrumental in the Nevada section's 2001 listing on the National Register of Historic Places. A year later, President George W. Bush signed a bill that made it the 15th national historic trail.
"Armijo avoided the worst of the Mojave Desert, traveling south of Death Valley, following intermittent streams and locating springs to support the party," Warren wrote in a 2004 article for the National Trail System Publication, "Pathways Across America."
"He arrived at San Gabriel Mission in California with his group intact, although the men were forced to rely on mule meat during their final days on the trail. In California, they traded the blankets and other goods carried by packsaddle from Santa Fe for horses and mules, available in great numbers and little valued by the Californios," she wrote.
Fifteen years later, in 1844, explorer John C. Fremont, with guides including Alexis Godey and Kit Carson, headed south from Oregon country along the Sierra Nevada. According to Warren, at the Mojave River they were led across the Mojave Desert by Andreas Fuentes. They followed a route that Fremont called the Spanish Trail that took them over Mountain Springs Pass near Mount Potosi and to some watering holes near Blue Diamond.
From there they headed on the east side of Blue Diamond Hill to some large artesian springs, 18 miles east of Blue Diamond. The spot — the current site of Springs Preserve — was marked as "Las Vegas" on a map that Fremont put in a report for the Corps of Topographical Engineers. About 20,000 copies of the map were published by Congress in 1846.
The trail's use for commerce diminished after the Mexican-American War ended with the Treaty of Guadalupe Hidalgo in 1848.
But travelers continued to follow the Old Spanish Trail from 1850 to 1905 as a part of the 600-mile route for the Mormon Road from Salt Lake City to a colony in San Bernardino, Calif.
Army "dragoon" detachments also traveled it to reach the Old Mormon Fort, which was built in Las Vegas in 1855 and used by Mormon militia until 1857. Army soldiers continued to occupy the fort in 1860.
According to Ashley Hall, president of the national Old Spanish Trail Association board of directors, there have been a couple of attempts to put historical markers on the trail. In 1950, about 100 large stone markers, each topped with an engraved plate, were placed at key locations from New Mexico to Utah. Three were located in Southern Nevada, but only one is now known to exist after it was moved from Las Vegas to the state museum in Henderson.
For Nevada's centennial in 1964, state leaders asked Sherwin "Scoop" Garside, a former Las Vegas Review-Journal columnist and son of pioneer publisher Frank Garside — who had purchased the newspaper in 1926 — to install 31 concrete Old Spanish Trail markers from Bunkerville west to California.
Three of the obelisks had been placed in California, including one at Resting Springs, 25 miles from the Nevada state line. That's where Paiute Chief Tecopa and his warriors skirmished with Fremont's party.
With time, the monuments, too, became historic items, although some had vanished or been damaged.
"Many of the markers have been stolen, broken or shot to pieces," Hall said March 29, when association members, Boy Scouts, volunteers and the Back Country Horsemen set out near Blue Diamond to replace two of 25 as part of Joshua Allen's 100-hour Eagle Scout project.
The group started the process in 2010 to get clearance from the Bureau of Land Management for digging up the old markers.
Hall said the new markers are vital to preserving the trail, which the association regards as not just an artifact but a living reminder of the Old Spanish Trail's important role in Nevada's history, particularly around the Las Vegas Valley.
Without it, he said, "We'd probably be lost."
Contact Keith Rogers at krogers@reviewjournal.com or 702-383-0308. Find him on Twitter @KeithRogers2.

Celebrating the Silver State