Once CityCenter's front door, Harmon hotel awaits wrecking crew
November 23, 2013 - 6:47 pm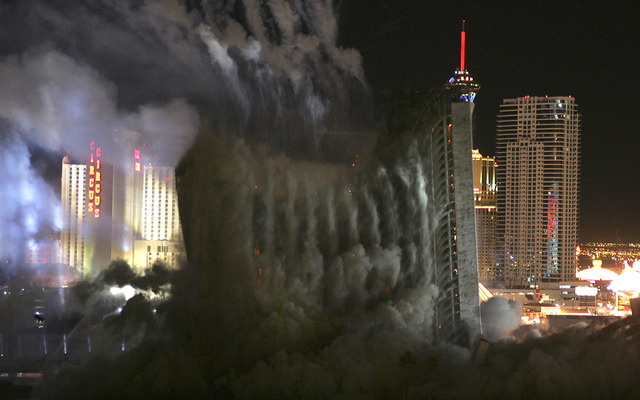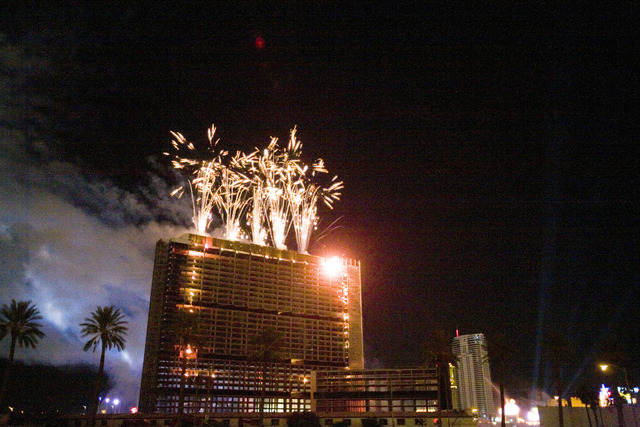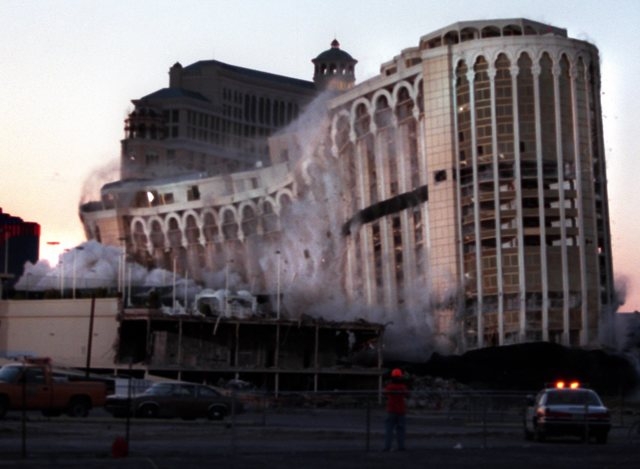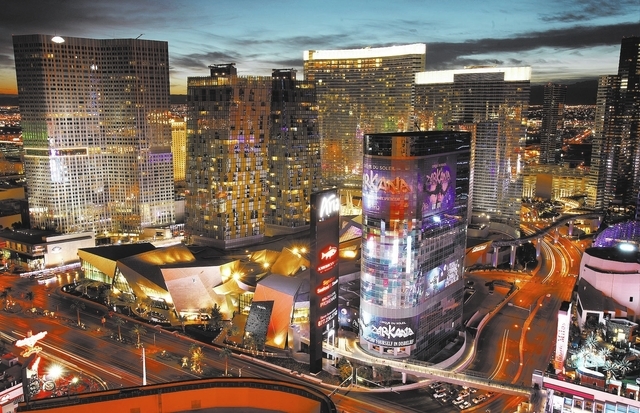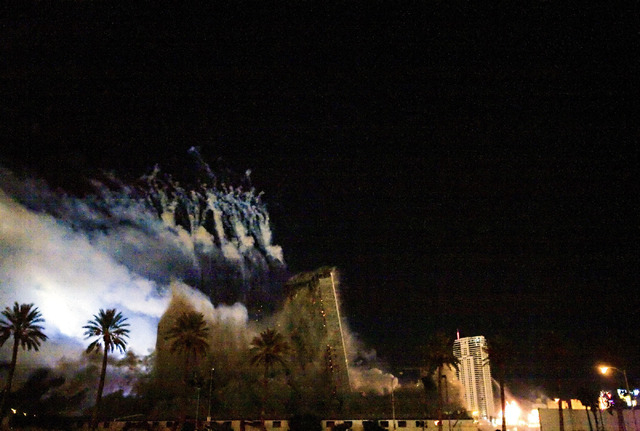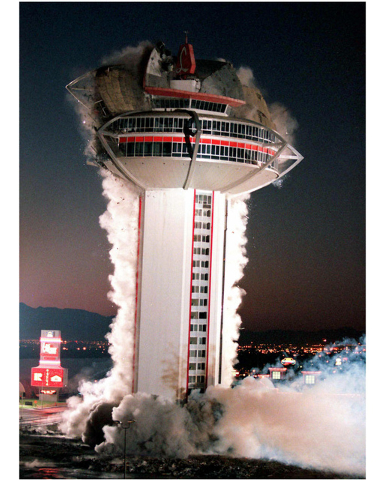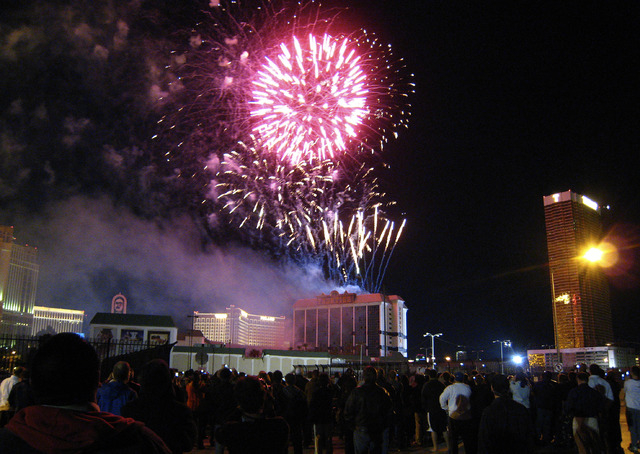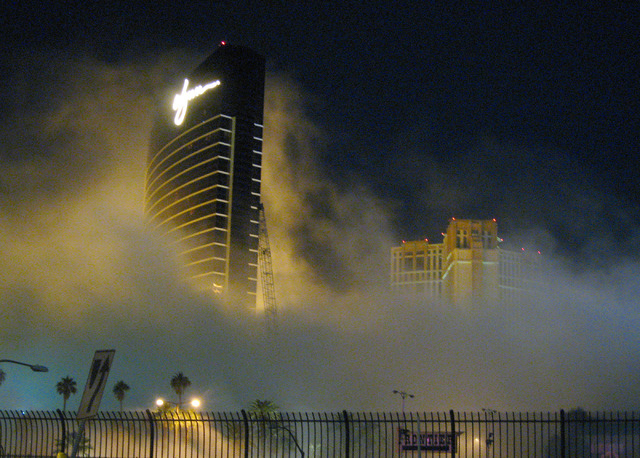 The Dunes, the Sands, the Landmark, the Stardust; all of them and others met their demise in blazes of dynamited glory.
Not the Harmon.
The unfinished hotel, once envisioned as CityCenter's front door, will be mundanely peeled away, floor-by-floor, rather than mark the end of the six-year hiatus in the Las Vegas tradition of imploding unwanted Strip hotel towers. LVI Environmental Services of Nevada Inc., which has overseen many of those demolitions, completed a plan in early November that calls for erasing all trace of the ill-fated Harmon by next Nov. 21.
However, the timetable has been thrown into question.
Clark County District Judge Elizabeth Gonzalez on Friday put a hold on demolition at least until Dec. 6 and perhaps longer. At that hearing on that date, the judge will address how much more time insurance carrier FM Global needs to investigate the Harmon's defects to determine how much of CityCenter's $393.8 million claim it will pay.
On Thursday, the County Building Department had approved the demolition plan, anticipating that dismantling would start on Dec. 2. Other permits, such as dust abatement, still must be put in place.
Officials at MGM Resorts International, CityCenter's operator and half owner, opted for implosion when they informed county officials in August 2011 that they wanted to raze the Harmon. That left many people wondering how a 26-story tower could safely and cleanly be brought down in such tight quarters, just a few feet from busy South Las Vegas Boulevard, Harmon Avenue and a pedestrian bridge, not to mention its attachment to the Crystals shopping center.
LVI officials, who would have handled the implosion, submitted a plan to the county that called for extra protection for Crystals and some nearby structures, but without detailing how all of the fallen debris would stay on the property.
The schedule allocated six months to prepare the Harmon for the big moment and four months for cleanup, including scrubbing the dust that would inevitably settle on other parts of CityCenter and the nearby Cosmopolitan and Planet Hollywood, as well as streets and other public places.
LVI engineers were not allowed to comment on how their thinking has evolved, but a Nov. 1 letter to MGM Resorts International from LVI president Joe Catania said the demolition plan was "developed in coordination with the information provided in several of the forensic study documents, opinion letters and analyses" that came out of the litigation between CityCenter and former general contractor Perini Building Co.
MGM officials aren't saying much.
"The method of demolition was selected by (LVI)," MGM spokesman Gordon Absher said." We cannot suppose any of the many factors that went into their decision."
LVI Environmental Services submitted one of seven bids for the work. No price has been announced, although the cost of implosion had been estimated at $30 million.
The massive lawsuit between CityCenter and Perini Building Co., plus several subcontractors, focuses on the Harmon's troubled history: How serious were the construction flaws? Who was to blame for them? Was the demolition forced by shoddy workmanship too pervasive to repair or by a desire to conserve cash and hold down debt after spending about $275 million in the teeth of the recession?
A jury trial, expected to run at least nine months, has been delayed several times but is now set to start in April.
The litigation has included several rounds of destructive testing, where concrete was chipped away from pillars and other critical elements to check the placement of steel reinforcing bars, or rebar.
Test sites 153 and 154, where engineers knocked away sections measuring about three feet by three feet, can be seen by passers-by at street-level through uncovered windows.
In his letter, Catania wrote that the demolition plan had been drawn up "to provide protection of the compromised existing structural members" within the Harmon, but the letter did not give details.
CityCenter officials have argued for more than two years that defective work by Perini employees left the Harmon vulnerable to collapse during a serious earthquake. CityCenter court papers say several weeks of destructive testing in the spring bolster that assessment.
Perini's owners contend that despite the mistakes, which they attribute mainly to faulty design, the Harmon would survive a tremor. To shore up some weak points, they proposed last year a temporary fix for about $2 million.
However, Perini consultant Steve Schiller, president of John A. Martin &Associates of Nevada, said in an April 25 letter that testing had caused so much damage that the firm now has "concerns regarding the safety of the structure, in the event of an earthquake."
Perini attorneys said afterward that he took that position on his own and not as Perini's representative.
demolition plan
LVI Environmental Services' plan, outlined in a two-page letter to MGM Resorts International officials, plus several timelines and site maps, envisions excluding pedestrians from the north side of the building along Harmon Avenue, then attaching a crane and a hoist there.
The no-walk zone would extend around the corner to include a short stretch of the Strip's sidewalk.
The elevated walkway running next to the Harmon between the Cosmopolitan resort and Crystals would be covered with a canopy, part of what Catania described as a "multi-layer protection system" that includes catch fences, construction fences and screens that will run the perimeter of the building.
Trucks would haul away the detritus from the west side, entering and exiting on Harmon Avenue over Interstate 15 to avoid closing the Strip.
One of the trickier parts of the demolition will involve separating the hotel's podium, which has a larger footprint than the tower, from the attached Crystals.
297 total work days
According to the timelines, this phase will take 195 work days, most of them for planning and design, within the 297 work days allocated for the entire demolition.
The LVI plan does not detail how it will cleave the buildings, except to note that it will include extra protection for the Emilio Pucci and Prada stores, which are nearest to the Harmon.
The "conventional floor-by-floor demolition approach," as described by Catania, will start at the top floor and work down. That means the work will resemble a New York-style demolition instead of a Las Vegas implosion with widespread media coverage and sometimes timed for a holiday.
LVI workers will proceed to the main structure after taking 60 work days, about 10 weeks on the calendar, just to strip off the glass skin that has allowed the Harmon to be wrapped in advertisements as the world's most expensive billboard.
Starting in late February, LVI workers will shore up each floor to stabilize the structure and to support demolition equipment.
In his April assessment of the testing, Schiller expressed concern that the "significant amount of vibration" from power equipment has already crippled the Harmon's "structural integrity." CityCenter officials allege severe construction defects already existed.
A critical part of the plan will involve removing concrete slabs in a carefully staged sequence so that structural tensions are relaxed without destabilizing the entire building. Once removed, the slabs would be smashed at a nearby staging area before being hauled away for recycling.
By August 2014, LVI officials expect to be down to the third floor, which is the top level of the podium that connects to Crystals. Then, it will take another two months to nibble the podium down to the basement.
Wrapping up the paperwork and final details would consume the final five weeks of the 297-day plan, with the job over by Nov. 21, 2014.
What the thousands of tourists who walk by every day will see one year from now is still unclear. Catania mentioned "special truss shoring will be provided to provide protection of the remaining structural elements" and modifications to what will remain, but did not give details.
"We don't know what it will look like," Absher said. "Much will depend on how we separate from Crystals."
Likewise, CityCenter has no known plan for the land once the Harmon is nothing more than a Las Vegas legend.
Contact reporter Tim O'Reiley at toreiley@reviewjournal.com or at 702-387-5290.
TIMELINE TO OBLIVION
▶ June 2006: CityCenter breaks ground, with Harmon planned as a 48-story condo and hotel
▶ Jan. 15, 2008: Harmon launches condo sales
▶ July 16, 2008: County orders plan to fix code violations after rebar mistakes are discovered. Construction stalls
▶ Jan. 7, 2009: MGM Resorts International eliminates 200 planned condo units and caps the 400-room hotel tower at 26 stories.
▶ March 24, 2010: Perini Building Co. sues CityCenter over $491 million in mechanics liens
▶ June 2, 2010: CityCenter files counterclaim against Perini
▶ Aug. 15, 2011: CityCenter asks county to implode the never-finished Harmon
▶ Aug. 23, 2013: Clark County district judge allows Harmon demolition for the second time
▶ Nov. 1, 2013: LVI Environmental Services of Nevada submits conventional demolition plan to CityCenter