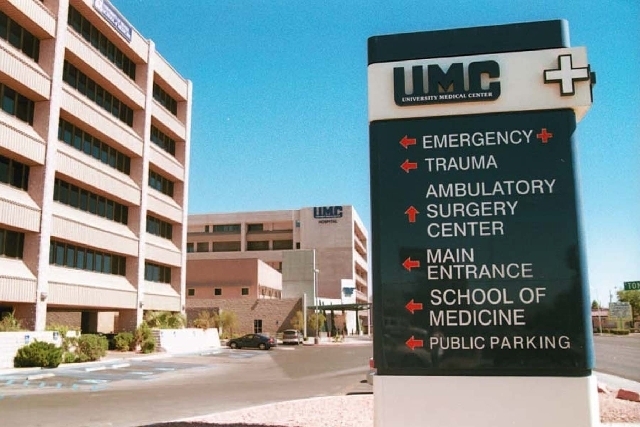 One burn victim remains in critical condition today after a seven young people were hurt — some severely — when a drum of fuel left too close to a bonfire exploded Monday night in the desert outside Henderson.
Clark County firefighters are looking into the blaze but offered few details about the investigation other than to say a "flammable liquid was added to the fire."
County spokesman Dan Kulin said Tuesday that a group of high school students and/or young adults started the fire "about 5 miles south of Horizon Ridge Parkway."
The group was celebrating Basic High School's commencement ceremony held earlier Monday, according to Basic graduate Maddie Anderson, who spent the night in the University Medical Center burn unit for her injuries.
Around 11 p.m., a boy rolled a 55-gallon barrel of diesel fuel to the edge of the blaze where the group had gathered near an abandoned building, Anderson said. About 20 minutes later, the container blew up.
"Next thing I knew, I was running away and my friends were on fire," she said.
The teens were out of cell phone range, Anderson said, and they had to get themselves to the hospital. The boy who she said was the worst injured drove himself and several others to get help.
Kulin confirmed that no Las Vegas-area fire departments or ambulance companies were called.
Five of the teens admitted to the UMC burn unit had to stay overnight, Anderson said. Anderson and a boy were released Tuesday afternoon.
But not everyone was faring so well Tuesday night. One boy was in a coma, which was induced "so they could scrub him," Anderson said.
Two girls remained in intensive care, Anderson said. One had burns over 85 percent of her body; the other had burns over 65 percent of her body. They were both intubated.
Hospital official Danita Cohen confirmed Wednesday that two people were in serious condition while one remained critical.
Anderson said all of the teenagers were expected to recover but that it would be a long road for some of them.
Anderson has burns on her leg, face and eye that she said are "not too bad."
Pictures posted on social media showed some of teens, including one in a hospital room and one in a home, wearing bandages.
Associated Press contributed to this report.
Contact Annalise Porter at aporter@reviewjournal.com or 702-383-0391. Find her on Twitter: @AnnalisePorter. Contact Wesley Juhl at wjuhl@reviewjournal.com and 702-383-0381. Find him on Twitter: @WesJuhl.