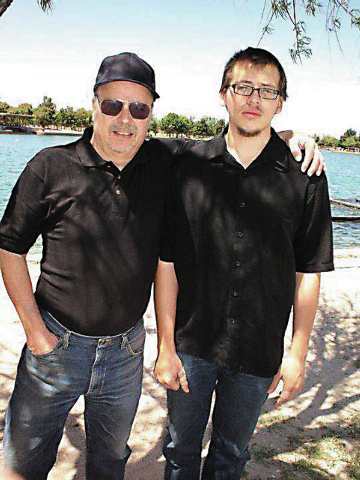 Las Vegas police fatally shot a heavily armed man early Saturday morning after fielding a pair of disconnected 911 calls by family members whose voices could be heard in the background saying their son was suicidal and wanted to commit a "mass shooting" to provoke police.
That's according to a police YouTube video that was posted hours after the 2 a.m. shooting, in which an unnamed officer explains, without fielding any questions, how the officer-involved shooting played out. It is rare for police to use YouTube.
Dan Unger, 51, in an interview less than 12 hours after the death of his 26-year-old son, Patrick, said the officers had no right to shoot his son outside their front door at Mountain View Apartments, near Flamingo Road and South Mountain Vista Street.
He said his son obeyed police and slowly crouched down and placed a .40-caliber handgun on the sidewalk with both of his hands in clear view at all times.
But as soon as his son stood up, with his hands still in view, "they lit him up," thinking he was going to shoot them with a pair of rifles that were hanging over his shoulders. The older Unger admitted that the rifles were quite possibly pointed at the three officers while his son was standing up, but insisted that it would have been "impossible" for him to reach the triggers.
"Then after they shot him, they pounced on him, handcuffed him" and started punching him in the face, the father said angrily between bouts of crying for his only child, whose body was taken to the Clark County coroner's office for an autopsy.
He said his son was suffering from depression for the past two years after he was shot in the upper and lower jaw by a rifle, which the father said accidentally discharged.
Unger said his son was also concerned about his father's welfare and his in­ability to land an acting job in Hollywood.
The father claimed he has been in several action movies starring Sylvester Stallone and Jean-Claude Van Damme — among them 2006's "Rocky Balboa," starring Stallone, and 1990's "Lion Heart," starring Van Damme. But the credit lines do not list his name in either movie.
Just moments before Saturday's confrontation with police, the son told his father that he thought Hollywood had "abandoned" him, Unger said. Yet at the same time, his son was trying to cheer him up.
"You're still the action star. You're still the man," the son told his father before he was shot, according to Unger, who works at an auto parts store in Las Vegas.
"I think my son was doing a cry out for help — to help me get back into Hollywood," said Unger, who also claimed he has taken anger management classes with actor Charlie Sheen and was good friends with Dennis Hopper.
Neither claims could be immediately confirmed.
As his son lay dying, the father said his last words were: "Take care of mom and tell Rocky I love him," in reference to Rocky Self, a good friend of the family's and a would-be actor who was at the father's side during Saturday's interview.
The family's neighbors said Patrick Unger was known to carry a gun in a holster and was frequently seen walking around the apartment complex and to the nearby Wal-Mart with his mother, Julie, 51.
"He thought he was one of those rent-a-cops," said Lisa, who declined to give her last name, fearing retaliation. "He really creeped me out."
The Metropolitan Police Department posted a minute-long explanation of the deadly shooting on YouTube. An unnamed officer describes the shooting, saying that police received "two 911 disconnect calls" just before 2 a.m. from the apartment complex.
He said family members were reporting that their son was "despondent and suicidal and wanted to provoke a confrontation with police by starting a mass shooting."
But in a press release later, police said that voices could only be heard in the background and that nobody ever directly talked to an emergency dispatcher.
In the video, the officer says when officers responded to the scene, "they were confronted by this subject who by this time was now armed with two rifles and one handgun. Evidence at the scene indicates that at some point prior to police contact, the subject may have fired several rounds. We're investigating that at this point. No one was injured during those rounds being fired."
The officer continued: "However, when the subject was confronted by police, he leveled a rifle at the police officers, who opened fire. The subject was hit, went down, was transported to Sunrise Hospital where he was pronounced deceased."
The officers involved in the shooting will be placed on paid administrative leave pending an investigation. Their names will be released after 48 hours.
Review-Journal writer Steven Slivka contributed to this report. Contact reporter Tom Ragan at tragan@reviewjournal.com or 702-224-5512.