Only in Las Vegas: Couples hit run-thru weddings during marathon
November 13, 2016 - 11:29 pm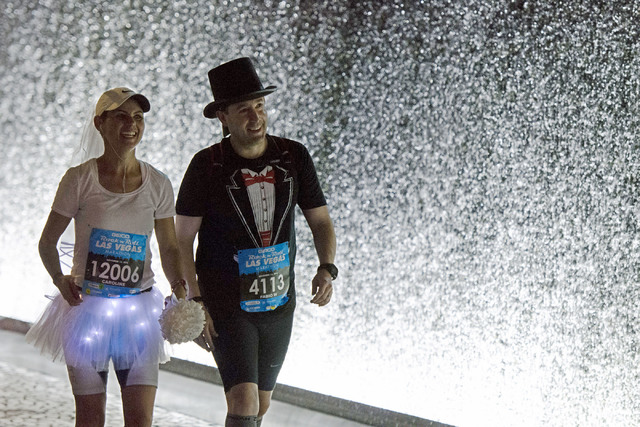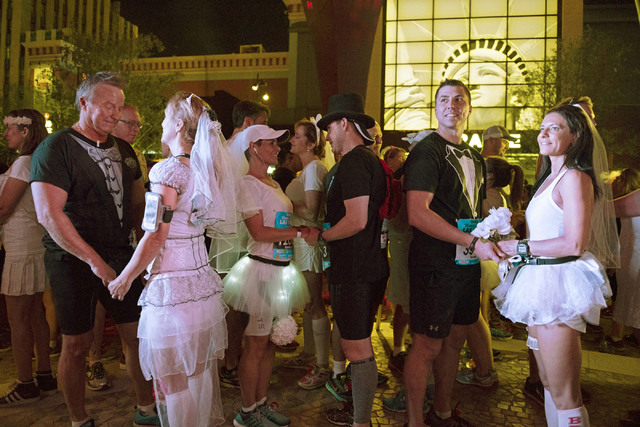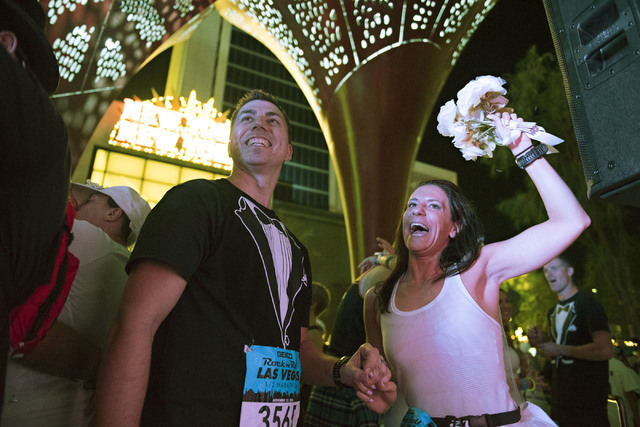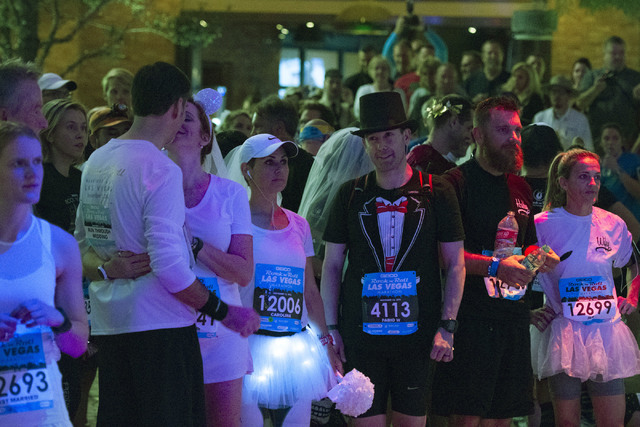 Cecily Vivers didn't know which made her more nervous — running a marathon or getting married.
Vivers and her fiancé, David Sapp, were two of more than 100 people who renewed their vows or tied the knot in "run-thru" weddings Sunday at this year's Rock 'n' Roll Las Vegas Marathon.
"It's weird because you don't know if it's jitters from the wedding or the race," she said before the race, which followed a route down the Strip. "I think we're more worried about, 'Will we complete the race, will we get injured?'"
Marathon spokesman Dan Cruz said about 10 couples were married during the marathon.
"It's one of those unique 'only in Las Vegas' experiences," he said. "It's something that's so unique to this city."
Vivers has been running for seven years and saw the run-thru weddings at the marathon five years ago. A month after that race she met her fiancé and introduced him to running.
"Now, five years later, we're doing it together."
She and her fiancé, who both came from Phoenix for the race, finished the half-marathon together, and plan to honeymoon in Greece and Italy next year.
"The ceremony was very quick, but I couldn't have asked for more," she said.
Cruz said the group ceremony took about 10 minutes, total. Couples in white tutus and tuxedo T-shirts stopped at mile 3 to exchange vows and take photos before heading back into the race.
"We're keeping it classy," said Dean Garca, who traveled to Vegas from Harlingen, Texas, to run the marathon with his wife, Delores.
The Garcas, who have been married for 25 years, renewed their vows during the short ceremony, just off the side of the course.
"We started running together a few years ago and it's just brought us closer. We run together and we finish races together," he said.
More than 40,000 people ran in this year's marathon, taking over a huge swath of Las Vegas Boulevard. Traffic around the Boulevard was heavily delayed, and traffic snarls left people trapped in the McCarran International Airport terminal 3 parking garage for upwards of three hours.
"Some residents might be a little annoyed with the traffic, but remember what we're doing. People are raising money and taking this off their bucket list," Cruz said.
An estimated $2.5 million was raised by groups running for charities such as St. Jude's Children's hospital, Cruz said.
The winner of this year's marathon, Michael Wardian, also broke the Guinness World Record for fastest-running Elvis. He completed the race in 2 hours and 38 minutes.
"There's no better way to be a celebrity in Las Vegas tonight than to put on a running Elvis costume and meet up with 40,000 friends," Cruz said.
Contact Max Michor at mmichor@reviewjournal.com or 702-383-0381.
RELATED
Viva Las Vegas! 'Elvis' wins Rock 'n' Roll marathon
Runner competes in Las Vegas half marathon despite stage 4 cancer