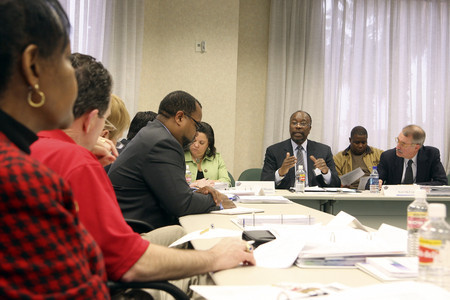 A Clark County School District committee meeting on increasing parental involvement began Wednesday with an explanation on why the event was not subject to Nevada's Open Meeting Law.
Bill Hoffman, general counsel for the Clark County School District, said meetings of the Superintendent's Education Opportunities Advisory Committee don't have to comply with the law's requirements for advertising or posting an agenda because the members were selected by Superintendent Walt Rulffes and not by the School Board's elected members.
"The superintendent does not create public bodies," said Hoffman, who also acknowledged that six of the 13 committee members were "nominated" by the School Board.
Hoffman said he has been in contact with the attorney general's office in response to an Open Meeting Law complaint about the committee filed this week by the Review-Journal. Editor Thomas Mitchell cited the attorney general's handbook on the open meeting law, which states that "informality in appointment" is not an "escape" from the law.
The attorney general has 120 days to take legal action or 60 days to dismiss the complaint.
Hoffman said he has told the attorney general that the committee will be "pressing forward." The panel is scheduled to meet through February and then make recommendations to the superintendent on how to improve low-performing schools.
Panel members did not question Hoffman or discuss the dispute. During a meeting break, committee member Richard Boulware was asked by the Review-Journal if the committee should advertise its meetings. He said, "I don't know."
During the meeting, guest speaker William Trent, an education professor from the University of Illinois, said poor families are always the "last" to get information about educational opportunities. He also said that school districts across the country have "trust" issues that make it hard for them to communicate with the public.