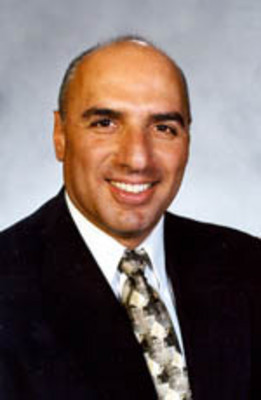 CARSON CITY — A new Ethics Commission opinion could provide ammunition to those who seek to preclude public employees from serving in the Legislature or other elected offices.
In the decision, the Ethics Commission acknowledged it has not enacted a clearly defined rule "against public employees serving on public bodies that oversee some aspect of the public entity that employs the employee."
Instead, each situation would be evaluated on a case-by-case basis.
Ethics Commissioner Caren Jenkins, who wrote the decision, could not be reached for comment. But Ron Knecht, a former Public Utilities Commission analyst who served in the Legislature in 2003, said the decision "may be breaking new ground" that could affect public employees today.
Several legislators hold jobs with local governments and pass legislation that affects the governments.
Among them are Assembly Majority Leader John Oceguera, D-Las Vegas, who works as a captain with the North Las Vegas Fire Department, and University of Nevada, Las Vegas, professor Dina Titus, D-Las Vegas, the minority leader of the state Senate.
Assembly members Kathy McClain, D-Las Vegas, and Kelvin Atkinson, D-North Las Vegas, are Clark County government employees. Sen. Joe Heck, R-Henderson, is part of a group of doctors that has a contract to perform work at the county-run University Medical Center.
Assemblywoman Sheila Leslie, D-Reno, is an employee of the Washoe County court system, and Assemblyman David Bobzien, D-Reno, is a University of Nevada, Reno, employee.
Also, UNR professor Howard Rosenberg serves as a member of the Board of Regents of the Higher Education System of Nevada. Stavros Anthony, a Metropolitan Police Department captain, is a member of the Board of Regents.
In the Sept. 14 opinion, mailed to the media on Tuesday, the Ethics Commission found that Kathleen Ancho, a secretary to the Lander County sheriff, could not also hold the office of Lander County commissioner.
"If Ms. Ancho were to serve simultaneously as county commissioner and remain employed as secretary to the sheriff, she would be placing herself in a situation where she would be serving two masters, which may create, at the very least, an appearance of impropriety," the commission's decision said.
Jenkins said that although the Lander County Commission does not supervise the sheriff, it approves the sheriff's budget and sets salaries for employees.
Ancho sought an advisory opinion on whether she should run for the commission in June 2006. Members voted 6-2 at the time that she had to take one job or another. She chose not to run for sheriff. The decision was written later by the Ethics Commission.
For the Ethics Commission to consider whether lawmakers are violating ethics laws, a complaint would have to be filed. But public officials could seek advisory opinions on their own.
"There are many factors to consider when determining whether dual roles pose a conflict of interest," Jenkins wrote.
Those include the following
• Whether the public office the candidate seeks to serve on is in an area with a small population and whether the pool of candidates might be limited.
• What oversight the public body has over the employer and whether the employee, as an elected official, would be in a position to exert undue influence over his superiors.
• Whether the public employee, in elected capacity, would have to abstain regularly from participating on matters affecting the employer because of conflicts.
"This commission has long recognized that abstention deprives the public and that official's constituents of a voice in governmental affairs," Jenkins wrote.
Under state law, the Ethics Commission can impose fines of as much as $25,000 for willful violations of ethics laws. The panel can go to court to remove public officers if they have been found guilty of three or more ethics violations.
Oceguera said his situation is different than that of the Lander County employee. He said he received a legal opinion in 2001 that he could serve in the Legislature and noted the Legislature does not set salaries for North Las Vegas employees.
He said the decision would apply more to legislative staff employees who seek to win seats in the Legislature.
"I have been through this 11 years ago," said Rosenberg, who does not take the $80 per meeting salary given regents. "It doesn't affect me."
In a 1997 split decision, the Ethics Commission found Rosenberg could hold both positions because state law does not prohibit regents from signing contracts to be professors.
But the panel found his "dual status" presented unique situations in which he would have to abstain from voting.
Reno lawyer Byron "Bill" Bilyeu, who represented Rosenberg, said he still reviews every agenda for Rosenberg and advises him when he cannot vote. Bilyeu is a former speaker of the state Assembly.
Knecht said he secured a legal opinion before he ran for the state Legislature. As staff analyst for the PUC, Knecht said he did not make policy decisions and, therefore, was not exercising power in both the executive and legislative branches of government. He added he did not vote on matters affecting his state salary.
After he lost a bid for re-election, Knecht was elected to the Board of Regents.
Contact Capital Bureau Chief Ed Vogel at evogel@reviewjournal.com or (775) 687-3901.
Click here to read the Ethics Commission Opinion.