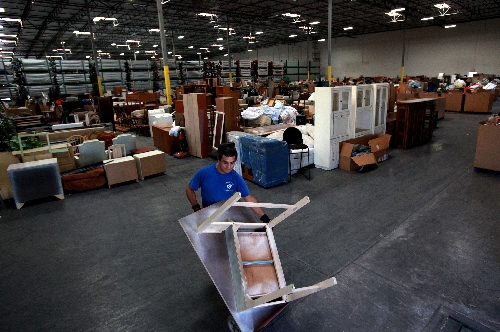 Opportunity Village workers were busy Monday afternoon organizing donations, culling broken and unusable items, and readying their wares for transport because if all goes as planned, the charity's popular thrift store will reopen as soon as next week at a temporary location.
The store's longtime downtown home on Main Street was ravaged by fire in July. Since then, donations have poured in — the items are being stored in a GES warehouse at the southern end of the city — and Opportunity Village's leaders went looking for space that could house the store over the next two years.
They decided on an empty 25,000-square-foot retail store at 4600 Meadows Lane, near Decatur Boulevard and U.S. Highway 95 and next door to the Meadows mall.
The Las Vegas Planning Commission is scheduled to vote Thursday on a special-use permit the store needs.
"As soon as that happens, once we get the keys, we'll start trucking things over," said Steve Miller, special events director for the charity, which serves people with intellectual disabilities.
The reopening "would be next week some time."
"We're very thankful," Miller said. "I think GES is thankful too because we're taking up a lot of their space."
That space contains a lot of good stuff.
There are washing machine-sized boxes of clothes, of course, and furniture aplenty, much of it in good condition, including a sizable stock of donations from the World Market Center furniture shows.
There are shrink-wrapped televisions and vintage bicycles, ornate rotary dial phones, grandfather clocks, at least one pedal organ and even something called an Ironrite Automatic Ironer, complete with what appears to be the original instruction manual from the 1940s or '50s.
The cause of the fire that gutted the Main Street building is undetermined, said Las Vegas Fire Department spokesman Tim Szymanski.
Investigators followed up on many leads, but "we just couldn't come up with an exact cause," he said.
July 11 was an eventful day for the 900 block of Main Street. In the morning, an NV Energy substation exploded, and first responders found a natural gas leak nearby.
The thrift store caught fire nine hours later. Employees scheduled to work that day had been told to stay home because of the earlier explosion.
Opportunity Village looked at the 4600 Meadows Lane site more than a decade ago, according to city records.
"From what I was told, back in the '90s we actually had four thrift stores," Miller said. "They were looking for more space … but we consolidated down to the one (location)."
The charity will be leasing the temporary space, which will serve as a retail store and a drop-off point for donations.
Miller said the charity wants to emphasize that it plans to occupy the space for only two years while the downtown location is being rebuilt.
"We had a couple of options for donated space, but it would've cost tens of thousands for repairs," he said.
"I don't even think we're going to call it a thrift store. We're going to call it a processing center. We don't want to confuse anybody by thinking we've moved."
Contact reporter Alan Choate at achoate@ reviewjournal.com or 702-229-6435.