Outlaw industry, ex-prostitutes say
September 6, 2007 - 9:00 pm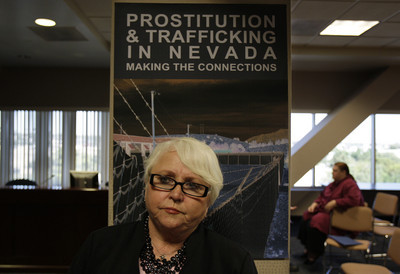 Kathleen Mitchell worked as a prostitute for more than two decades before her pimp was finally sent to jail.
"I wasn't a drug addict; I was addicted to a man," Mitchell, now 64, said. "That's the worst drug there is."
Mitchell, who often saw her boyfriend pimp beat up other prostitutes, escaped prostitution 18 years ago. But its effects are lasting.
"If I have a relationship, it's probably going to be a bad one," she said.
Her story was one of several shared by former prostitutes Wednesday morning at a Sawyer Building news conference to announce the release of researcher Melissa Farley's book, "Prostitution & Trafficking in Nevada: Making the Connections," published by the San Francisco-based nonprofit Prostitution Research and Education.
The event also served as the introduction of a new local anti-trafficking organization, Nevada Coalition Against Sex Trafficking.
The women joined Farley, former Nye County Commissioner Candice Trummell and Assemblyman Bob Beers, R-Henderson, in attacking prostitution in all its forms and calling for it to be outlawed in all of Nevada, not just in certain counties such as Clark and Washoe.
"Prostitution is not work," said Farley, a psychologist who has spent years researching prostitution and its psychological effects. "Rather, it's a human rights violation."
The group argued that legal prostitution can be just as harmful to women as illegal prostitution because both involve kinds of abuse and cause long-lasting psychological damage.
"What happens in legal brothels is sexual harassment, sexual exploitation and sometimes rape," Farley said. "Despite the claims to the contrary, legal prostitution does not protect women from the violence, verbal abuse, physical injury or diseases such as HIV that occur in illegal prostitution."
Brothel industry lobbyist George Flint later attacked the idea that women who work as legal prostitutes are abused.
"Anybody that has an ounce of brain or intelligence has to know they (legal and illegal prostitution) are two different things," he said. "We don't traffic women. We don't hire trafficked women. We don't work with pimps. We treat the girls with respect and dignity and we take care of them."
Kate Hausbeck, senior associate dean of UNLV's graduate college and an associate professor of sociology, also differed with some of Farley's conclusions.
Hausbeck said she supports an adult woman's right to "choose how they want to use their bodies in the marketplace."
"My goal is to always protect the rights of women," she said. "We have to ask the women involved and take their answers seriously."
But Farley said prostitution is "not a freely made choice."
"When women say, 'I'm happy. I'm making money,' that's just the tiniest bit of the surface," she said. "Under duress from legal and illegal pimps, women hide their coerced status in prostitution. Many people refuse to believe just how bad it is for women."
Hausbeck said disbelieving women who say they are happy in prostitution is "really condescending."
"It's frankly dismissive of women as uninformed, silly children, which is exactly the perspective we should have moved far beyond."
She said the word "trafficking" is often misused to indicate anyone who is involved in prostitution, instead of only those who are forced into sex work against their wills.
If an adult "is walked across the state line or a national border intending to do sex work of their own free will, without any force, they are making this decision, and to me that's very different," she said.
But Farley and others argue a clear link exists between legal and illegal prostitution and sex trafficking.
"Sex trafficking happens when men demand the right to buy women," Farley said.
Terri Miller, director of the Anti-Trafficking League Against Slavery, which formed last year within the Metropolitan Police Department, said that Nevada is a ripe environment for human trafficking because it is the only state that has legalized prostitution.
"I don't believe all prostitution is sex trafficking, but I believe the majority of women who are prostitutes have been the victim of sex trafficking at some point in their lives."
Miller said each time a prostitute engages in a sex act, "it is very much victimizing."
"The reality is that they are having to engage in a sex act with a complete stranger as many times as 30 times a day. It is not a victimless crime."
Those who want to leave prostitution have a difficult time finding help, especially in Nevada, Farley said.
"Most women in prostitution want to escape it," she said. "In prostitution, the conditions that make choice possible are absent. If we really want to say it's a choice, women need a range of options."
Jody Williams, a former prostitute and member of the Nevada Coalition Against Sex Trafficking, agreed.
"When women quit prostitution, they … suffer from a broad range of physical and emotional disorders," she said. "Women in prostitution suffer from the same combat stress that Vietnam and combat vets do, but they have fewer services than vets do."
Former prostitutes "wind up on welfare, disability, public housing and on the street," Williams said.
She joined Farley and others in calling for harsher penalties against those who hire prostitutes, instead of arresting the prostitutes themselves.
Farley's book is based on a U.S. State Department-sponsored study of prostitution and trafficking in Nevada.
The U.S. Department of Justice has recognized Las Vegas as one of 17 cities where human trafficking is a concern.
The book includes interviews with and demographics of women working in legal Nevada brothels. It explores the link between legal brothels and psychological distress and disease, the trafficking of legal and illegal prostitutes in Nevada, escort and strip club prostitution in Las Vegas, advertising for prostitution and barriers to escaping prostitution.
The Nevada Coalition Against Sex Trafficking will work to educate people about trafficking, identify services for victims and change Nevada laws related to prostitution, said Trummell, the organization's director.
"It is way past time for Nevada to become the last state in the United States of America to finally stand against all forms of slavery," Trummell said. "It is time for Nevada to start adhering to the U.S. government's own official and very strong stance against legalized prostitution."
Attempts to outlaw prostitution in all of Nevada have cropped up but have not gotten far in the Legislature, which has shown a preference for letting rural communities handle the issue themselves.
Beers said he would support making prostitution illegal in all of Nevada.
A brothel owner, he said, is "somebody who, when it gets down to the very essence, is nothing more than a slave-owner."
COLUMN MENTIONS BOOK, CRITICIZES LV MAYOR Psychologist and researcher Melissa Farley's new book, "Prostitution & Trafficking in Nevada: Making the Connections," was mentioned early this week in New York Times writer Bob Herbert's column. Herbert also criticized Las Vegas Mayor Oscar Goodman for setting a "tone of systematic, institutionalized degradation" of women and for supporting the establishment of "magnificent brothels" in the city. Asked about the comments on Wednesday, Goodman confirmed saying that he supported a discussion about bringing legal brothels to Las Vegas. "It's good to have a discussion about things," he said. "There are pros," such as being able to regulate working conditions and checkups for sexually transmitted diseases. But Goodman said he told Herbert that the idea would not go beyond the discussion phase because "our constituents aren't interested in it" and "the community isn't ready for it," a qualification that was not included in the column. "I have no use for him," the mayor said of Herbert. "I'll take a baseball bat and break his head if he ever comes here." ALAN CHOATEREVIEW-JOURNAL