Overton Beach to close Sunday
April 23, 2010 - 11:00 pm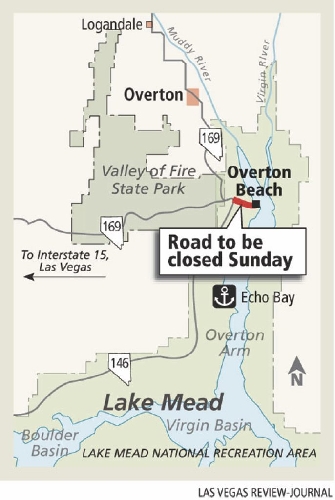 In wetter days, Overton Beach was a bustling access point for boaters and anglers at the northern tip of Lake Mead.
Since 2007, though, the receding water level has chased away the marina and forced the National Park Service to close a convenience store and long-term trailer village there that once offered sweeping views of the reservoir.
On Sunday, the National Park Service will lock the gate leading to Overton Beach, cutting off vehicle access to the area altogether.
The move is considered temporary, but it could prove permanent depending on how long it takes Lake Mead to recover from a decade of drought on the overdrawn Colorado River.
"Essentially we're closing the road," said Andrew Muñoz, spokesman for Lake Mead National Recreation Area.
The decline of Overton Beach began three years ago, when the marina was divided up and moved to deeper water. Shortly after that, the store was boarded up and the trailer village dismantled.
"The whole feeling when you go in there now is kind of depressing for someone who's been here a while and knows what that place can be," said Jim Holland, park planner for Lake Mead. "It's frustrating to me. That used to be a key lake access point."
When he started at the recreation area in 1992, Lake Mead was full and Overton Beach had one of the nicest marinas on the reservoir, he said.
Today, the boat ramp that used to provide the northern-most access point to the lake ends in a patch of dirt and a thick stand of cattails roughly half a mile from the new shoreline. Cattle graze among beached buoys that once guided boaters to the marina. The only water in sight is the shallow trickle of the Muddy and Virgin rivers.
The lone remaining services are some restrooms, RV pump-out stations and a fish cleaner, and they depend on a small water treatment plant that will be forced to shut down in early May, when the lake is expected to shrink another 7 feet.
Muñoz said the treatment plant will be "mothballed" for the day when Lake Mead is full enough again.
"Hopefully it does come back up so we can restore full services at Overton Beach," he said. "Nobody knows right now when that will be."
Since drought took hold on the Colorado River in 2000, the surface of Lake Mead has fallen 114 feet to levels not seen since the 1960s.
"It's pretty tough to see," Holland said. "For the last 10 years, it's just been chasing water. It's been a real diversion from what I thought my job would be."
It is unclear how much the reservoir will need to refill before the park service considers reopening Overton Beach, but it will take more than one wet year.
"We would have to see some stability in the water levels," said Muñoz, because it will cost about $40,000 to shut down the water treatment plant and $50,000 or more to start it up again.
"It's not like we can go back in and … flip a switch," he said. "Mothballing the plant was really a last resort."
By restricting access to the area, the park service is hoping to curb vandalism and reduce the fire danger, since there will be no water readily available to fight a blaze, Muñoz said.
The closure, which comes as the park service is considering an increase in visitor fees, also will free up about $100,000 a year that would otherwise go to the treatment plant and other facilities at Overton Beach, he said.
The area won't be completely off-limits.
Muñoz said visitors still will be allowed to hike or ride their bicycles down the three-mile access road from Northshore Road to Overton Beach.
After today, though, anyone looking for a public restroom, a fish cleaner or a place to pump out their RV near the lake's northern tip will have to go to Echo Bay, 10 miles south of Overton Beach.
Contact reporter Henry Brean at hbrean@reviewjournal.com or 702-383-0350.