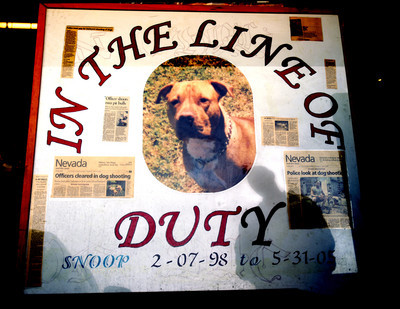 Each year, about two weeks before the anniversary of Snoop's death, the memorial display goes up on the corner outside Paige Davis' house.
In the center of the 4-foot-square display is a photo of Davis' beloved pit bull, encircled with the phrase "In the Line of Duty" and surrounded with news clippings about the fatal confrontation between Snoop and two Las Vegas police officers.
The officers were hunting a graffiti suspect one afternoon in late May 2005 when one climbed the chain-link fence bordering Davis' backyard.
Snoop and his lifelong companion, Vennus, also a 7-year-old pit bull, ran through the doggie door to investigate.
The second officer, fearing the dogs would bite the first officer, fired two shots. One injured Vennus. The other killed Snoop.
More than three years later, Davis' eyes tear up when he recalls losing the closest thing he had to a child.
"I don't care how they look at it," he said. "He was my son."
For dog lovers, it's a scenario that plays out all too often across the nation, where dogs live in one of three households. When police officers enter a backyard to do their jobs and a dog rushes out to do its job, the dog almost always loses.
One expert with the American Society for the Prevention of Cruelty to Animals who tracks such cases sees about 250 to 300 cases reported each year in the news media, and he estimated a thousand more go unreported.
In Southern Nevada, such incidents remain uncommon.
Metropolitan Police Department officers shot a total of nine dogs between 2006 and 2008. Henderson police shot two dogs during the same period. Numbers for North Las Vegas police were unavailable.
Police officers can use deadly force against animals if they believe they or someone else is in imminent danger. The threat rises with the size of the dog, which is why many shootings involve large-breed animals such as pit bulls and Dobermans.
An officer who shot a poodle "would have a lot of explaining to do," Las Vegas police officer Jacinto Rivera said.
Officers frequently enter residential yards as they chase suspects on the run.
In many cases, dogs in backyards run away or don't bother the officers. But when they run toward the noise, officers have just moments to decide on using deadly force, Rivera said.
"We definitely regret doing that … but it's a split-second decision," he said.
Tom Aveni, co-founder of the Police Policy Studies Council in New Hampshire, said he has had countless encounters with dogs in his 30-year police career.
If he believes a dog is near, either by sight or sound, Aveni will pull out his baton, which he said is more effective against an attacking dog than pepper spray. But that kind of preparation isn't always feasible, especially when chasing a potentially dangerous suspect, he said.
If a dog charges, the officer can't wait to get bitten before reacting, he said.
"When an officer sees teeth and an animal moving at him at 30 mph, the officer has very little time to think about how many children love that dog," Aveni said. "He doesn't have time for that kind of deliberation."
Gary Peck, executive director of the American Civil Liberties Union of Nevada, said police should take care to avoid such confrontations.
"The bigger issue is whether they put themselves in a position to have to shoot the dog," he said.
Some police departments train officers on recognizing body language and facial expressions of dogs to help decide whether it's looking to attack or for affection. But Randall Lockwood, the ASPCA's Senior Vice President of Anti-Cruelty Field Services, said few agencies offer such training, which can go a long way toward preventing the shooting of family pets.
When Lockwood trains officers, he shows them how to use body language and voice commands to intimidate dogs.
Distracting dogs with toys is another successful technique used by mail carriers and utility meter readers for decades, he said.
And police weapons such as batons and pepper spray can be effective alternatives to deadly force, he said.
A major factor in dog shootings, he said, is a basic fear of dogs held by many officers and prejudices against certain breeds, such as pit bulls. Although some officers will think twice before shooting, "some officers say, 'If it's my butt or the dog's, I'm shooting the dog. It's just a dog,'" Lockwood said.
Aveni said most officers are "extremely hesitant" to shoot a dog because of the paperwork and internal scrutiny that comes with it.
"Anyone who thinks it's a quick fix with no consequences, that's not the case," Aveni said.
Las Vegas police officers who shoot dogs are placed on paid administrative leave until completion of an internal affairs investigation.
In general, the officers are cleared if they can show a genuine fear for their safety or that of another.
The officer that shot Davis' dogs was cleared after telling internal affairs investigators he feared they were attacking the officer who jumped over the fence.
The Police Department paid Davis' vet and cremation bills, but Davis considered filing a civil lawsuit. He gave up after several lawyers said he could win only $5,000 in damages.
Nevada, like all states, considers dogs personal property, the same as a piece of furniture, so even a successful lawsuit will likely win just the fair market value of the dog and any associated costs, said David Favre, a professor of animal law at the Michigan State University College of Law.
Courts have ruled against officers for shooting dogs that didn't pose a threat — for example, a dog that was neither barking nor growling in a neighboring yard. Successful lawsuits have argued that such unjustified shootings were illegal property seizures under the Fourth Amendment of the Constitution.
The country's laws about dogs illustrate the mixed feelings Americans have toward them, he said. On one hand, some laws protect pets from cruelty; on the other, laws allow for killing dogs that pose a threat.
"We're kind of schizophrenic about dogs," Favre said. "We love them, and hate them because they represent a danger."
Favre said there can be a middle legal ground that recognizes the emotional value of family pets and gives them more value than typical personal property.
For example, many states, including Nevada, treat assaulting police dogs the same as attacking police officers.
Davis called it a double standard. In his mind, his dogs are his children.
Davis has two new pit bulls now: Junior, who arrived two months after the shooting, and Lola, who came after Vennus died last year.
In his living room, a large photo of Snoop hangs over the fireplace. Nearby sits a shrine of photos and the wooden boxes holding his dogs' ashes.
Outside, Davis has added walls around his front and back yards, in part to protect his dogs' space from police officers, he said.
He's also added a sign by his driveway. It used to say, "Beware of Dog," but with a few well-placed stickers, it now reads "Beware of Metro."
Contact reporter Brian Haynes at bhaynes@reviewjournal.com or 702-383-0281.