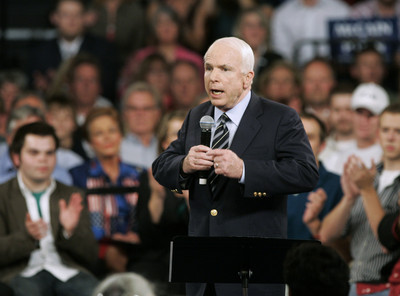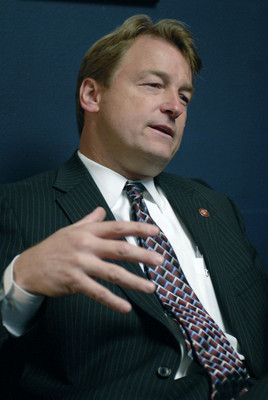 The Democrats have been beating up on two vulnerable Republican state senators for weeks. The Republicans have done nothing to counter it. So others have stepped in.
State Sen. Bob Beers is getting a boost from a new political action committee headed by business lobbyist Mary Lau, while state Sen. Joe Heck is being defended by environmentalists.
Lau's group has sent out two mailers slamming Beers' opponent, Democrat Allison Copening, who has been widely criticized for not engaging in debates or having specific proposals to offer.
One flier decries the deluge of often misleading anti-Beers mail from the state Democratic Party as a mudslinging campaign, while the second mocks Copening's lack of proposals to deal with the state's budget shortfall.
"We didn't see any activity that was getting out the truth," Lau, the president of the Nevada Retail Association, said of the PAC, called the Committee to Improve Nevada's Economy and Education System. "It gets frustrating to sit by and see innuendo becoming fact. What we're putting out is sourced, it's backed up, so the public can then make up their mind."
The group plans to send mail to voters in Heck's district as well, Lau said. Heck is the other target of the Democrats' mail blitz.
Privately, many in the GOP are grousing about the party's failure to hit back to defend the pair, on whose races the balance of power in the upper house of the Legislature hangs.
Meanwhile, Heck's constituents are receiving a mailer from the Nevada Conservation League that touts him as a friend of the environment, police and teachers.
The group's policy director, Kyle Davis, said though the flier bears the logos of the police and teachers unions, it was paid for by the conservation league. It says, "The People We Trust … Trust Dr. Joe Heck," with images of a firefighter, a guy in a hard hat and a teacher in front of a blackboard.
Davis said it's the only mail the league has sent in this election cycle.
"We felt that it was a close race and he could probably use our help," he said.
HOMELESS IN D.C.
There is a good reason why 2nd Congressional District Rep. Dean Heller, R-Nev., is looking as buff as Arnold Schwarzenegger in his prime.
When his wife, Lynne, and two school-age children moved back to Carson City so the kids could attend school here this fall, Heller moved out of their Virginia home and into his office in a congressional office building.
With nothing better to do, Heller has been waking up at 4:30 each morning and heading down to the congressional gym for a 90-minute workout. He also takes daily two-mile runs around Washington, D.C. Fortunately, the gym has showers.
"It made no sense to spend $1,500 a month on an apartment," said Heller, estimating 60 to 70 other members of Congress also live out of their offices.
Heller said it is convenient to live in his office, with a cot for his bed, since the House of Representatives sometimes holds votes at midnight.
Since Congress has gone on recess for three months, except for an expected brief lame-duck session after the election, Heller doesn't need his cot these days. He can sleep in his own bed back in Nevada.
THE SIMPLE LIFE
What the heck does U.S. Sen. John Ensign, a casino executive's son who lives in Las Vegas, know about rural life? Enough to be named to Republican presidential nominee John McCain's national rural leadership committee, apparently.
In announcing the leadership of the "McCain-Palin Farm & Ranch Team" last week, the campaign said it was affirming the Republican's "vision for agriculture and rural prosperity."
"This distinguished team of elected officials and leaders in agriculture share a common goal with John McCain: to provide the leadership necessary to create prosperity in America's rural heartland," the campaign news release said.
Ensign, the only Nevadan named to the committee, surely knows his way around a golf course better than a 40-acre plot. The McCain campaign didn't respond to a query about Ensign's inclusion as a steering committee member.
An Ensign spokesman said although the senator, who grew up in Northern Nevada, never lived in a rural setting, he represents a largely rural state and has learned about rural issues in his frequent tours of rural Nevada.
"He understands issues like water, federal lands, ranching issues and the importance of Second Amendment rights," Tory Mazzola said.
Ensign hears frequently about gun rights from his rural constituents, and the contrast between McCain and Democrat Barack Obama on the issue is stark, Mazzola said. The National Rifle Association endorsed McCain last week, with its president making a stop in Reno to announce the move.
Asked if the senator, a veterinarian who often includes pets in his political commercials, is a hunter, Mazzola said Ensign "has been hunting."
"He's been on pheasant hunting trips to South Dakota," Mazzola said. "He also enjoys fishing."
LOS DEMOCRATAS
A new poll of Nevada Hispanics shows Democrat Barack Obama winning their votes by a wide margin, but many in that demographic group still had not made up their minds in the survey.
The poll found 55 percent of Hispanic registered voters strongly supported Obama, while just 14 percent strongly supported McCain. Nearly a third either indicated weak support for a candidate or were undecided (12 percent).
When weak supporters were included, it was 67 percent for Obama, 20 percent for McCain.
The poll of 400 Nevada Hispanic voters was conducted in August and September by the bilingual research firm Latino Decisions for the National Association of Latino Elected and Appointed Officials Educational Fund. It carries a margin of error of plus or minus 4.7 percentage points.
Perhaps the most impressive number in the poll was the percentage of Nevada Hispanic registered voters who said they almost definitely plan to vote this year: 90 percent.
In past elections, Hispanics' clout has been hampered by low turnout compared to other groups.
UP ON THE AIR
Barack Obama is airing a new television ad custom-made for Nevada and has ramped up his spending in the state as the campaign enters its final weeks.
For months, McCain's campaign has been outspending Obama on airtime, but a new report from the Wisconsin Advertising Project shows the trend has reversed and Obama is spending twice as much as McCain.
In the week of Sept. 28 to Oct. 4, Obama spent $616,000 to McCain's $329,000 on Nevada television, according to the project.
The Las Vegas television market was the No. 1 market in the country for Obama campaign ads and the No. 2, after Denver, for McCain.
The new Obama ad that debuted Thursday focuses on McCain's proposal to end the tax exemption on employer-funded health benefits, a cost McCain says would be offset with a new tax credit.
"In Nevada we work hard, and many of us get health insurance through our jobs," the ad says. "John McCain's health plan would tax our health benefits as income. … John McCain doesn't get Nevada. He doesn't get us."
Meanwhile, McCain's campaign continues to try to use accusations of voter registration fraud in Nevada on the part of the Association of Community Organizations for Reform Now to attack Obama, who has ties to the group.
The Republican National Committee released a Web-only ad about the issue. Tying ACORN to risky mortgages as well as the voter registration investigation, it says of Obama, "Bad judgment. Blind ambition. Too risky for America."
The RNC also started a Web site, ObamaAcornTree.com.
Review-Journal Capital Bureau Chief Ed Vogel contributed to this report. Contact reporter Molly Ball at mball@reviewjournal.com or 702-387-2919.