Pacquiao wins eighth round TKO over De La Hoya
December 6, 2008 - 8:55 pm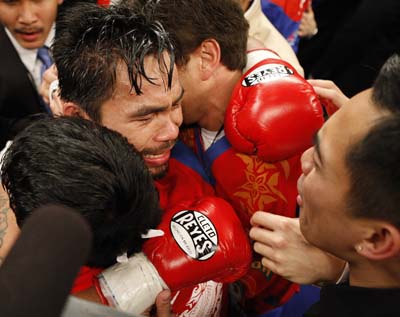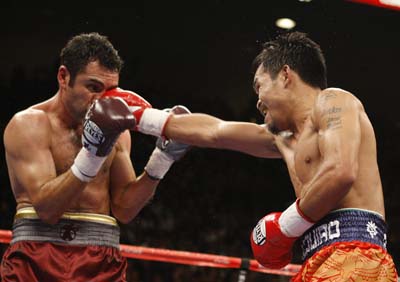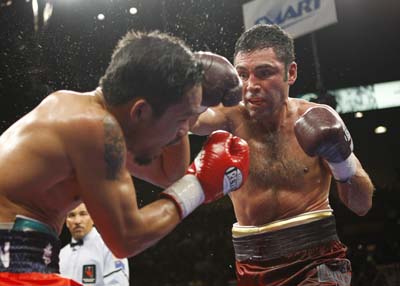 Score one for the little guy. A big one.
As impressive as Manny Pacquiao has been throughout his career, Saturday might have been his finest hour as the man considered boxing's best pound-for-pound fighter completely dominated and annihilated former world champion Oscar De La Hoya at the MGM Grand Garden, winning with an eighth-round technical knockout in front of an announced crowd of 15,001.
De La Hoya looked every bit his 35 years of age. He never was in the fight with the younger, stronger, 29-year-old Pacquiao.
And with his fighter absorbing too many blows, trainer Ignacio "Nacho" Beristain told referee Tony Weeks that De La Hoya had had enough just prior to the start of the ninth round.
"I stopped the fight because I didn't want him to leave his greatness in the ring," said Beristain, who was working De La Hoya's corner for the first time.
De La Hoya was taken to Valley Hospital after the fight as a precautionary measure and did not attend the post-fight news conference.
Pacquiao, who was fighting at 147 pounds for the first time in his career, improved to 48-3-2.
It was his third win this year in three weight classes, having beaten Juan Manuel Marquez at 130 pounds in March and David Diaz at 135 in June.
"I knew I had him in the first round," Pacquiao said. "I was able to get inside his jab, and that was the key. I was able to connect with everything. Speed was the key to this fight."
Pacquiao's trainer, Freddie Roach, who predicted an easy night for his fighter, was elated with the result.
"Our dream came true," Roach said. "It was no surprise. I knew in round one we had him. He had no legs, he was hesitant, and he was shot. My guy was just too fresh for him."
De La Hoya, who fell to 39-6, also knew right away this wasn't going to be his night.
"My body just wasn't able to respond," De La Hoya said. "I didn't have the strength to stop him when he was coming on. I just felt flat. I didn't have it.
"I trained hard. But it's one thing to do it in training and quite another to do it in the ring on fight night.
"I just couldn't figure out his style. I'm not shocked at this stage because when you face someone like Manny Pacquiao, it's going to be a hard fight."
Surprisingly, Pacquiao was the heavier fighter when the first bell rang. He weighed in Friday at 142 pounds but entered the ring at 148. De La Hoya, who weighed 145 just 24 hours earlier, came into the ring Saturday at 147.
The other news, perhaps not so surprising, was De La Hoya closed a 2-1 betting favorite at the MGM Mirage's sports books.
The late money on Pacquiao, a plus-170 underdog, never showed. But those who backed Pacquiao, including Roach, who bet $5,000 on him, handsomely were rewarded.
Pacquiao started quickly, nailing De La Hoya with a straight left hand to the Golden Boy's chin. He kept scoring effectively with the left. More impressive was his defense.
The head, body and foot movement Roach talked about during their training camp was on display. He kept eluding De La Hoya's attempts to headhunt, and Pacquiao was countering beautifully with the left hand.
In the second round, he tagged De La Hoya at least 10 times with the left jab. He was too quick, and De La Hoya, who has a history of struggling against southpaws, was having a tough time figuring out Pacquiao.
De La Hoya was taking way more than he was giving as Pacquiao's speed was allowing him to win virtually every exchange.
By late in the fourth round, Pacquiao was taking batting practice, hammering De La Hoya at will.
To his credit, De La Hoya kept coming. But while he remained on his feet, he was on the receiving end of a great deal of punishment. De La Hoya tried to rally late in the fifth round with one of his patented flurries, but Pacquiao not only withstood the attack, he answered with a couple of combinations.
The onslaught continued. Pacquiao dominated in the sixth round, peppering De La Hoya with lefts, and De La Hoya had a huge, ugly, purple welt under his left eye.
The end appeared near in the seventh. Pacquiao started quickly and never took his foot off the gas. He threw 103 punches in the round, landing 47. Weeks appeared ready to step in and stop it, but he backed off as De La Hoya somehow survived.
Pacquiao went for the kill in the eighth, and he did enough damage by the end of the round that De La Hoya's corner called it quits.
Pacquiao was ahead comfortably on all three judges' scorecards, and De La Hoya won just one round from one judge, that being Stanley Christodoulou who gave De La Hoya the first round.
Roach said he hopes there are no hard feelings with De La Hoya, who he used to train.
"Oscar came over to me after the fight and said, 'Freddie, you're right. I don't have it anymore,' " Roach said.
But is this the end of the line for the Golden Boy? Prior to Saturday's fight, De La Hoya had stated his intentions to fight in 2009. But after the beating he took from Pacquiao, he wasn't so sure.
"Obviously, we'll see what happens," he said prior to leaving for the hospital. "But (Saturday) wasn't a good night."
The undercard saw Victor Ortiz handle Jeffrey Resto with ease in retaining his NABO junior welterweight title as Ortiz scored a second-round TKO victory.
Ortiz (23-1-1) knocked Resto down twice in the first round and again in the second round. Resto (22-3) beat the count, but referee Russell Mora stopped the fight at 1:19.
Juan Manuel Lopez remained undefeated with a first-round TKO of Sergio Medina and retained his WBO junior featherweight title. Lopez (24-0) knocked down Medina (33-2) three times in the first 1:38 as referee Joe Cortez stopped the bout.