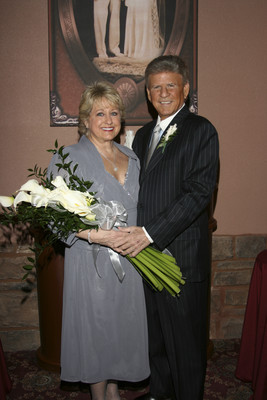 The 52 Miss America contestants went down the wrong road on their first Saturday night in Sin City.
Instead of being taken on a short hop from their host hotel, Planet Hollywood Resort, to Buca di Beppo restaurant on Flamingo Road, they wound up in Summerlin.
The three buses carrying the beauty queens went to the wrong Buca di Beppo location.
"We got to see a lot of lights," said Miss Washington, D.C., Kate Marie Grinold.
Back in September, while filming a Miss America reality show in Los Angeles, "We got lost on our way back from the zoo to the Queen Mary," said Miss Nevada Julianna Erdesz.
"We were lost for 90 minutes. Miss Oklahoma and I were on our iPhones giving directions to the bus driver on the GPS (Global Positioning System)."
No cell phones were allowed on the buses Saturday, Erdesz said.
Why the phone ban?
"They didn't want any distractions."
GLUSMAN CHARGES DROPPED
The Orange County district attorney's office has decided not to press charges against prominent Las Vegas restaurateur Freddie Glusman.
A former cocktail server at Glusman's Ritz restaurant in Newport Beach, Calif., filed assault charges against Glusman after a July altercation at his home that left both with a missing tooth.
Jennifer Kenney, 30, told police Glusman invited her to a party at his home, after she had a disagreement with her boyfriend. No one showed up, she said, and a fight broke out when Glusman asked for a sexual favor.
Glusman's attorney, Joseph P. Smith, said Glusman, 70 at the time, "was trying to be a gentleman and finally said, 'You've got to leave.'"
Smith said Kenney kicked Glusman in the face four or five times, knocking out a tooth with a stiletto heel.
"He was the victim, not the perpetrator," Smith said.
Rebecca Olivieri of Orange County's Special Prosecution Unit told the Orange County Register charges were dropped, because "we couldn't prove an assault occurred beyond a reasonable doubt."
Kenney reportedly is considering a civil lawsuit against Glusman, who also owns Piero's Italian Cuisine in Las Vegas.
THE SCENE AND HEARD
Yesteryear teen idol Bobby Rydell, who starred in "Bye Bye Birdie" opposite Ann-Margret, was married Saturday in a private room at the Bootlegger Bistro. Rydell, 67, married the former Linda Hoffman. They were married by Charlotte Richards of A Little White Chapel. Richards also officiated at the weddings of Frank Sinatra, Britney Spears and Bruce Willis. Rydell had four Top 10 songs in 1960 alone, including "Wild One" (No. 2) and "Volare" (No. 4). …
We hear Ron Futrell, former sports and news anchor at KTNV-TV, Channel 13, has settled his wrongful termination lawsuit. He was fired after a summer traffic incident that eventually resulted in no charges filed.
SIGHTINGS
Actor-turned-musician Joaquin Phoenix, performing three hip hop/rap songs at Lavo (Palazzo) on Friday. Earlier, he ran into the Miss America delegation near The Palazzo waterfall and playfully engaged them. He flirted, tried on their tiaras and sashes and sang to them. … Phil Hughes of the New York Yankees and Jermaine Dye of the Chicago White Sox, in separate parties at LAX nightclub (Luxor) on Friday. Also in the VIP area: Miss Ethiopia Kidan Tesfahun.
THE PUNCH LINE
"In Maine it got down to negative 50. It's so cold in Maine, lobsters are actually asking to be boiled and dipped in melted butter just to get warm." — Jimmy Kimmel
Norm Clarke can be reached at 383-0244 or norm@reviewjournal.com. Find additional sightings and more online at www.normclarke.com.