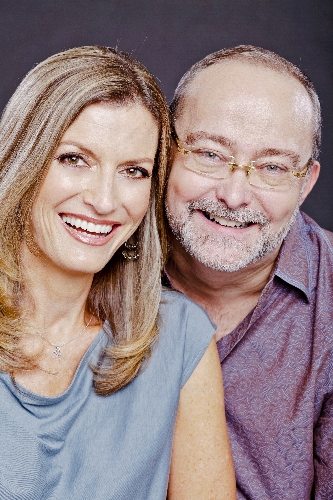 Another Miss America competition, another special anniversary for Myron and Dana Martin.
They owe their nearly 13-year marriage, plus 9-year-old daughter Molly, to their Miss America connections.
Their nexus began in Texas in July 1999 when both were invited to judge the Miss Texas pageant in Fort Worth.
Both were living in Las Vegas at the time and had a lot of mutual friends but had never met, Myron Martin recalled.
A former music director for the Miss Texas competition, he was operating the performing arts center at UNLV. She was a principal singer in "Jubilee," the iconic long-running revue at the MGM Grand.
"We were sequestered together for a week, as were all the judges," he said. "By the end of the week, we knew we had something."
It was obvious sparks were flying when Dana blurted out on Day 5, in a lighthearted moment, that they were getting married.
He changed his return flight so they could fly back to Las Vegas together, "and we've been together ever since," said Myron Martin, now president of the 10-month-old
$470 million Smith Center for the Performing Arts.
Because they met on July Fourth , he proposed on Jan. 4, 2000, (at the Sonoma Mission Inn) and they got married four months later on April 4.
Their Miss America ties mean many friends are in town. She won the Miss Texas title in 1983 (as Dana Rogers) and finished among the top 10 in the Miss America competition. The Miss America winner was Vanessa Williams, who relinquished the title when Penthouse magazine bought and published nude pictures of her.
Myron Martin, who had judged several state pageants and Miss America as well, had moved to Las Vegas in 1995 from New York City, where he had been running the concert and artist division for the Baldwin Piano Company.
His Las Vegas duties were to handle the estate and nonprofit foundation for legendary entertainer Liberace, who had died in 1987.
She had moved to Las Vegas to pursue her singing career and ended up as the lead in "City Lites" at the Flamingo Hilton.
Miss America Week culminates Saturday at Planet Hollywood Resort. The pageant airs live on ABC on the East Coast and is tape-delayed here on KTNV-TV, Channel 13.
SWEET TWEET
Miss America's Miss Alabama Anna Laura Bryan found herself indirectly in the middle of a sideshow that erupted during ESPN's coverage of the BCS national championship game Monday.
Miss Alabama USA Katherine Webb, who is dating Alabama quarterback A.J. McCarron, sent an apology via Twitter to Bryan after ESPN broadcaster Brent Musburger kept referring to Webb as Miss Alabama.
Webb tweeted:
"Good luck to @AnnaLauraBryan at Miss America!! I'm so sorry for all the media madness. Obvi ppl don't know the difference bw #MUO & #MAO."
MUO is Donald Trump's Miss Universe Organization, which operates Miss USA.
Webb became a social media sensation after Musburger fawned over her when ESPN cameras zoomed in on her during the game.
Webb, who was chosen Miss Alabama USA last year and finished in the top 10 at the Miss USA pageant at Planet Hollywood, had her Twitter followers explode from 500-plus to 180,000 after Musburger's mentions.
THE PUNCH LINE
"Lance Armstrong's lawyer is denying reports that he will admit to using performance-enhancing drugs. He said that Lance has been very consistent about his intentions to just keep lying about it." – Jimmy Fallon
Norm Clarke's column appears Sunday, Wednesday and Friday. He can be reached at 702-383-0244 or email him at norm@reviewjournal.com. Find more online at www.normclarke.com. Follow Norm on Twitter @Norm_Clarke. "Norm Clarke's Vegas," airs Thursdays on the "Morning Blend" on KTNV-TV, Channel 13.