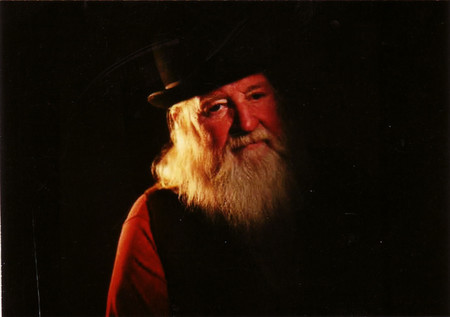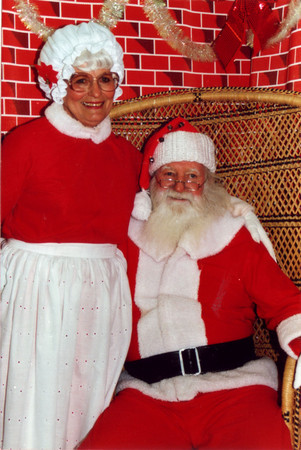 The fairy tale version is magic and immortal and lives at the North Pole.
The real Santa married three times, raised three sons and fought in three wars.
He liked to drink beer and shoot pool with his buddies at the VFW hall and Moose Lodge.
He loved to travel.
The real Santa wasn't magic, so he practiced hard work and generosity instead. And though it seemed like it for a while there, he wasn't immortal.
For more than a quarter century, Gene Pickering was the Santa Claus of Pahrump.
Two generations of children climbed onto his lap and tugged on his long white beard. And every one of those kids — more than 20,000 of them by some estimates — went home with a toy courtesy of Pickering and his Mrs. Claus, third wife Janet.
"He loved life year-round," Janet said. "But we really couldn't wait until Christmas came."
"He loved getting in that costume," said Pickering's oldest son, Bob.
Pickering, 85, died Jan. 4 in Las Vegas after a short illness. He was born in Salt Lake City on June 1, 1924.
A childhood rock fight blinded him in his left eye, but he still managed to talk his way into the Army at age 18. What followed was a decorated, 28-year career as an ambulance driver and medic that carried him through Europe in World War II, Korea and three combat tours in Vietnam.
He retired from the military in 1971 and moved to Las Vegas, where he took a job in the service department at Fairway Chevrolet. He also stopped shaving and getting his hair cropped short for the first time in almost three decades.
It didn't take long for his new beard and naturally ruddy complexion to land him in a Santa suit. His niece talked him into it as a surprise for her class at the Las Vegas elementary school where she taught.
"I thought he was a natural," said Pickering's middle son, Ron.
Pickering played Santa around Las Vegas a few times after that, but the act really picked up when he moved to Pahrump in 1977.
Before long he was "Santa Clausing," as Janet calls it, at private parties and holiday events throughout the town 60 miles west of Las Vegas.
She joined him as Mrs. Claus in 1981, the year they met and got married.
Pickering divorced his first wife and lost his second wife to a car accident. The night he and Janet were introduced, they stayed out shooting pool until 2 a.m.
"We started dating in May. We got married in July," she said. "We just knew."
In the early days, they would play Mr. and Mrs. Claus at six or seven separate events put on by charities and fraternal organizations in Pahrump.
In 1985, the Pickerings and about a dozen other volunteers organized Pahrump's first Kids' Christmas Party, a communitywide event where up to 1,000 children could meet Santa and pick up a toy, all for free.
The gathering at the community center quickly became a cherished Christmas tradition for many local families, but the original group of party organizers dwindled over the years until Gene and Janet were the only ones left.
Janet said they would buy toys and other party supplies with their own credit card and then try to recoup the money from the community.
Every year she sent out stacks of "appeal letters" to businesses in the area, including the brothels. "The houses always contributed," Janet said.
Before long, the Pickerings were making regular Christmas appearances in Las Vegas, Death Valley and the rural Clark County towns of Goodsprings and Sandy Valley.
"We went wherever anybody wanted us to be. And we never, ever charged," Janet said.
As Santas go, Pahrump's was a practical one. Janet said he never promised a kid anything, and he "never ho-ho-hoed, because no one laughs like that."
If a child asked for a horse, Pickering would offer a gentle warning about the expense — and all the shoveling — that goes along with such an animal.
Pickering went through four different Santa suits over the years. The pants were the first to go, Janet said. "Gene always wore his butt out, and his knees would get thin."
But one part of the costume stood the test of time. Janet said Pickering shaved off his beard exactly twice in 28 years of marriage: once as a surprise for some friends and the other so he could dress up as baby New Year for a party.
"We made him a diaper out of a sheet," she said. "Nobody recognized him."
During the off-season, Pickering occasionally used his beard to make himself look like a prospector for old-timey encampments in Death Valley.
In the spring, the Pickerings would don different outfits — a rooster for Gene, a bunny for Janet — and host Pahrump's annual Easter egg hunt in the park.
They hung up their costumes for good in 2004, when Santa's legs hurt too much to handle the hours of sitting and being sat on at the town's annual Christmas party.
They sold their house in Pahrump and spent the next five years traveling.
Whenever they were back in Southern Nevada, though, it was not uncommon for them to bump into people who knew them as Santa and Mrs. Claus.
After Pickering was diagnosed with cancer last year, he and Janet decided to rent a house in Las Vegas while he underwent treatment. Quite by accident, they ended up in a place owned by Raquel O'Neill, who grew up in Pahrump and remembers sitting on Pickering's lap when she was about 7 years old.
She is blind, so Santa was kind enough to hold still while she ran her fingers over his beard and face.
The now 27-year-old said the toy she received at the party that year was especially welcome, because she just had expensive eye surgery and her mother didn't have much money for gifts.
O'Neill still can't believe that Pickering is gone. Santa is dead, she said. "How can that be?"
Contact reporter Henry Brean at hbrean@reviewjournal.com or 702-383-0350.