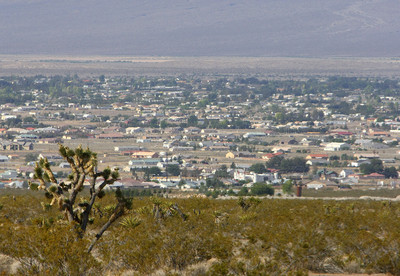 After a dizzying surge that lasted for decades, the unthinkable has happened in Nye County's largest community.
Pahrump has shrunk.
The bedroom and retirement community 60 miles west of Las Vegas shed 42 residents, or about one tenth of one percent, during the first quarter of the year.
It marks the first time since 1991, when Nye County began compiling its own population estimates, that Pahrump has seen a decline from one quarter to the next.
Some long-time county residents wonder if this might be the first decline in the town's relatively short history.
"I don't remember ever seeing that happen," said Nye County Manager Ron Williams, who has worked for the county for 27 years. "I don't know if there's ever been a drop."
Pahrump is now home to about 39,000 people, but when Tim Hafen moved there to grow cotton in 1951, he represented a 1 percent population increase all by himself.
At the time, the valley's population stood at about 100.
"Ever since then, I don't think it's ever gone down, at least not that we recorded," Hafen said.
The reasons Hafen and others give for the decrease should sound familiar by now.
Most blame a softening real estate market in Southern Nevada and across the country. They also point to the downturn in the nation's economy overall, which has prompted many Americans to hunker down and stay put.
In other words, people aren't moving to Pahrump because people aren't moving anywhere at the moment.
And the numbers seem to bear that out.
The town of Pahrump issued building permits for at least 12 new single-family homes every month from January 2000 to October 2007. Since then, the unincorporated town has seen those monthly permit totals drop into the single digits three times.
In February, just two residential permits were issued, down from 60 in the same month the year before, and 76 the year before that.
"The construction business has really slowed down," Hafen said. "There's been very little activity in the last half of '07 and now in '08."
The final phase of his 874-home development, Artesia at Hafen Ranch, is now on hold.
Not everyone is sorry to see things slow down a bit. For years, county officials and local leaders have struggled to meet the town's growing need for everything from sidewalks to sheriff's deputies, lifeguards to library books.
"The breather doesn't hurt; that's for sure. We're still playing catch-up," Williams said.
There is a downside to the downturn for government services in the scattered, cash-poor county. Williams said county officials had to carve $1.2 million out of this year's operational budget of about $67 million when revenue from sales and other taxes fell short of expectations.
The same thing happened last year to the tune of about $1 million, but the shortfall was covered by higher-than-expected revenue from mining operations in the county.
The slump also caught school officials by surprise.
Superintendent Rob Roberts said the Nye County School District budgeted for its usual 5 percent to 10 percent enrollment increase this year, only to see its population shrink by four students.
"It actually allows us to catch our breath a little bit," Roberts said.
Over the past four years, the district has added 40 modular classrooms to its six schools in Pahrump.
Roberts will help cut the ribbon on the town's fifth elementary school in July, and current plans call for a new high school to be built within three or four years.
Static growth or even a decline in population could change that, Roberts said. "The probability of building a new high school is diminishing daily. It would be easier to throw up a few buildings to do what you need to do."
Williams said he isn't sure what is causing the current slowdown. He has heard a few interesting theories, though.
One is that people who used to live in Pahrump and commute to Las Vegas have been pushed out of town by the skyrocketing price of gasoline.
But Paula Elefante doesn't buy that.
The executive director of Nye County's economic development authority said the spike in fuel prices might prompt someone to buy a smaller car, but it won't cause a commuter to trade a house in Pahrump for one in Las Vegas.
"In my opinion, that would be quite costly," she said.
Elefante doesn't believe the county's latest population estimate, either. "I think we've been kind of static, with a little bit of an increase," she said.
No such slowdown has occurred in Southern Nevada's other major bedroom community.
Mesquite grew by more than 6 percent last year and now boasts more than 19,000 residents. The city 80 miles northeast of Las Vegas on Interstate 15 has doubled in size since 2000.
Building Director Kurt Sawyer said Mesquite is on track to issue more residential building permits this year than it did in 2007, the city's second busiest year for new home construction.
Sawyer acknowledged, however, that many of the city's smaller contractors are suffering at the moment. Mesquite might find itself in a situation similar to Pahrump, he said, "if it wasn't for Pulte Del Webb."
Sawyer said the national developer has built 330 homes in Mesquite so far, and its plans include more than 6,000 homes in all.
Last year, the average sales price for a home in Mesquite sank more than $40,000 while the number of days it took a home to sell increased by 20 percent. Even so, overall home sales grew there in 2007.
Pahrump's slight population drop in the first quarter of this year came on the heels of a 61-resident increase, modest by Pahrump standards, in the fourth quarter of 2007.
Such tiny gains and losses seem insignificant when compared to growth in the Las Vegas Valley, but they mean a lot in a community that literally sprang from nowhere over the past few decades.
The community didn't get electricity until 1963 or telephone service until 1965.
"You can't start much of a town without those things," Hafen said.
Eventually, though, the town took off, and Pahrump quickly grew to overtake its boom and bust rival to the north, the Nye County seat of Tonopah.
The two communities have been headed in opposite directions ever since.
Today, Tonopah has fewer than 3,000 residents, while Pahrump accounts for almost 83 percent of the county's total population.
Nobody expects Pahrump to keep losing people. In fact, many believe the slight decline may have already reversed itself, though that won't show up until the second quarter population numbers come out this summer.
"It's temporary, no doubt," Hafen said.
"Southern Nevada is going to come back. It's a question of when."
Williams said two projects could turn the tide. Home Depot is on track to open a store in Pahrump late this summer, and the town was just picked as the site for a new federal detention facility that could bring dozens of jobs to the community.
For the moment, though, the school district is hedging its bets.
"We have budgeted next year for zero growth," Roberts noted, sounding surprised to even be saying it. "That's absolutely no growth."
Contact reporter Henry Brean at hbrean @reviewjournal.com or 702-383-0350.