Paiute elder rescues language near extinction
February 1, 2014 - 11:45 pm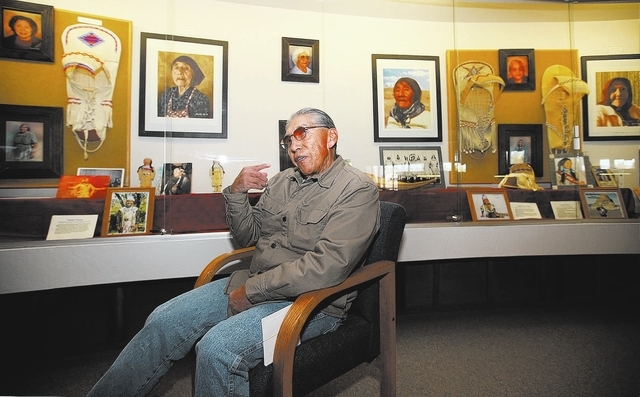 When Ralph Burns returned to the Pyramid Lake Paiute Reservation after a three-decade absence in 1997, he discovered only 71 people of the 1,700 residents could speak Paiute.
Native American children, like their white counterparts, were hooked on TV, playing video games and talking on cellphones. Their language was becoming extinct. Burns, 70, had learned Paiute from his grandmother and could not imagine a world without the language.
Although Burns and most Paiute claim their tribe has lived at Pyramid Lake continuously for more than 9,000 years, they never developed a written language. They have an oral tradition of stories and he is the tribe's storyteller.
Working with Catherine Fowler, a linguist at the University of Nevada, Reno, he helped develop a written language — one that uses only 19 letters of the alphabet — a language-learning book, "Numa Yadooape," and a series of computer disks of language lessons.
It does not look like an easy language to master. Most words are much longer than their English counterparts. Moosootuhl, for instance, is the word for kiss. Hootseba'a is bird.
Until he developed health problems three years ago, Burns taught the language at schools on the reservation and at Reed High School in Sparks. Many nonnative and tribal children alike took classes to earn course credit, just as if they were learning French or Italian.
There are no words for "goodbye" or "hell" in Paiute, according to Burns. That's because native people did not want to imply they weren't going to see a friend again when they parted.
"They might say, 'See you on Tuesday,' " Burns said. "Their leaving was not going to be final, so they don't say goodbye."
Hell is just a bad word and not part of their language, he added.
"When we pass on, we go to a good place."
Burns is a fixture at the Pyramid Lake Museum and Visitor Center in Nixon, about 40 miles northeast of Reno and just a couple miles east of Pyramid Lake.
The museum has many tribal artifacts, photos and a portrait of Burns' grandfather.
The visitor center is open six days a week. For more information, visit plpt.nsn.us/museum or call 775-574-1088.
ED VOGEL/LAS VEGAS REVIEW-JOURNAL

Celebrating the Silver State