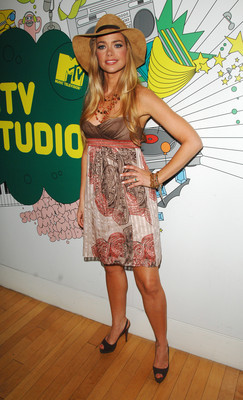 Carolynn "Caz" Pal, the cocktail server whose risque photos threatened to tarnish the golden image of Olympic swim star Michael Phelps, says she's a victim of sensationalism.
She's "never shot topless photos, ever. No topless, no stripping," Pal, 26, said in her first interview since the furor erupted since spending Thanksgiving with Phelps and his mother in Baltimore.
Pal agreed to the interview under one condition: that she would not discuss Phelps, who won a record eight gold medals in the Beijing Olympics for an unprecedented 14 in Olympic competition.
All that she revealed about him was that she didn't know who he was when they met at the Palms pool while she was having lunch with a girlfriend.
Someone delivered a "message," she said. That was as far as she would go.
The storm of publicity "has been really hard," she said, referring to numerous photos of her that made a splash on Web sites across the world.
"Those photos are not a statement of who I am," she said. The provocative shots, taken four or five years ago, were part of a photo shoot for Beverly Hills Pimp & Hos, a popular urban clothing line favored by celebrities such as Nick Cannon, Carmen Electra and Dennis Rodman.
People "think my implied photos are topless photos and they are not. They are not nude. They are just implied."
The photos were sensationalized, she said, with stars placed over parts of the body that were not revealed.
She added, "In one, I was holding my arms across myself (breasts), and they put a big bar across my arms to make it appear I was full frontally topless."
She's convinced a friend betrayed her by sending photos from her Facebook and MySpace sites.
Some stories suggested that the Palms Moon nightclub, where she has worked since it opened two years ago, was a topless club.
Worse, her parents and friends have been "bombarded" by "lying" publications that said "they talked to me," she said.
"My parents are very conservative. I was testing their limits by being crop-top, miniskirt-wearing waitress."
She returned to her job and hopes to keep it.
"It's been like living in a fish tank the last couple days, with people tapping on the glass and me just trying to swim in little circles, like Nemo."
When I asked whether Phelps has supported her since the story broke, she pursed her lips and scrunched her shoulders, body language that screamed "no comment."
And yes, Playboy and others have contacted her.
She's not interested, she said.
THE SCENE AND HEARD
Chet Buchanan, host of "Chet Buchanan & the Morning Zoo" on KLUC-FM, 98.5, is living on the ledge again. Starting today, he will live atop a 30-foot scaffolding at NV Energy until Dec. 15 to promote the station's 10th toy drive. Mayor Oscar Goodman will attend today's kickoff. Last year the drive filled 13 50-foot Albertsons trucks, collected 2,392 new bikes and more than $67,000 in gift cards. They also accept cash. All the toys are distributed through HELP of Southern Nevada. …
Longtime Las Vegas food and beverage executive Rino Armeni has added restaurateur to his title. He's recruited Gerald Chin, former executive chef at The Mansion at MGM, and opened Pips Cucina & Wine Bar at Aliante Station Casino, 7300 Aliante Parkway. "We call it traditional Italian cuisine with a youthful twist," said Armeni, a native of Rome. He came to Las Vegas in 1989 to work as vice president of food and beverage at Caesars Palace. After six years, he joined Southern Wine and Spirits, where he worked as executive marketing director until earlier this year. I'll be signing my new book, "Vegas Confidential: Sinsational Celebrity Tales," there Friday from 5:30 to 7 p.m. …
Charlie Sheen's ex, Denise Richards, will join guest DJ and hip-hop legend DMC as co-hosts of New Year's Eve at Prive (Planet Hollywood Resort). Since her messy breakup with Sheen, she's had her own reality show, "Denise Richards: It's Complicated" on E!
THE PUNCH LINE
" 'Britney Spears' were the most-searched words of the year on Yahoo! followed by 'World Wrestling Federation,' and in third place, 'Barack Obama.' I think the lesson here is that Americans are not responsible enough to be using computers." — Jimmy Kimmel
Norm Clarke can be reached at (702) 383-0244 or norm@reviewjournal.com. Find additional sightings and more online at www.normclarke.com.