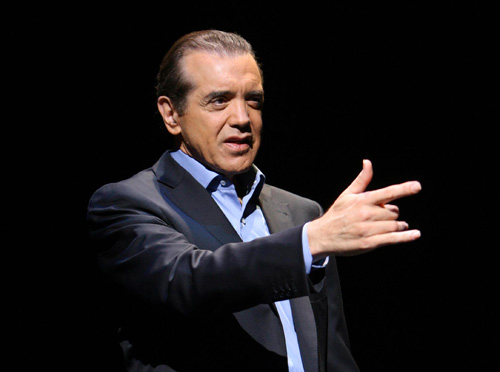 Chazz Palminteri and I were eating at Piero's the other night when I asked a rude question: What's the most amount of money he has earned for the least amount of work.
"Four days work — $3 million," says the star of The Venetian.
What?!
A few years back, Coca-Cola hired Chazz to do TV ads for Vanilla Coke.
He said no at first when he didn't know how much money was involved.
His agent said, "Chazz, it's Coke. Big people do Coke."
Chazz replied, "I'm an actor. I don't do commercials."
His agent said, "The president of Coke wants you."
Chazz wouldn't budge.
Finally, his agent goes, "They're gonna give you a million and a half dollars for two days."
Chazz thought about that and then said, "Let me read the script."
"My wife reads the script and says, 'It's brilliant!' " Chazz recalls.
Then Coke doubled the offer to $3 million for four commercials and eight voice-overs with worldwide distribution.
"That was funny money," he says.
Chazz is considering taking his popular and acclaimed "A Bronx Tale" back to Broadway.
He will be in seven movies that are in post-production, including an interactive kids film called "The Oogieloves in the Big Balloon Adventure," co-starring Jaime Pressly, Cloris Leachman and Toni Braxton.
And Chazz is back at The Venetian this weekend and next week, performing "A Bronx Tale."
YE OLD RENFAIR AND other things
Things to do if you're a family: The Age of Chivalry Renaissance Festival sets up shoppe today-Sunday at Sunset Park. It's always fun for ye. And Fright Dome, which I love, is back at Adventuredome.
If you're a perv: Porn superstar Sasha Grey hosts at the Palms' Playboy Club on Saturday. I like that Sasha Grey. I don't know her work, but she's a nice girl.
If you love frats: O'Shea's throws a block party with beer pong and cornhole Saturday for Rocktoberfest, starring the rockers of Sick Puppies.
If you love Creed for some reason: Scott Stapp performs Creed and solo material at Red Rock on Saturday night.
If you want an extreme rush: You can rappel down the Rio today for a $1,000 contribution to Special Olympics. I hear it's awesome. See more at OverTheEdgeLasVegas.com.
And if you're looking for Mayor Oscar Goodman: He, I and others compete in a martini obstacle course at 1 p.m. today at New York-New York. Smell ya there.