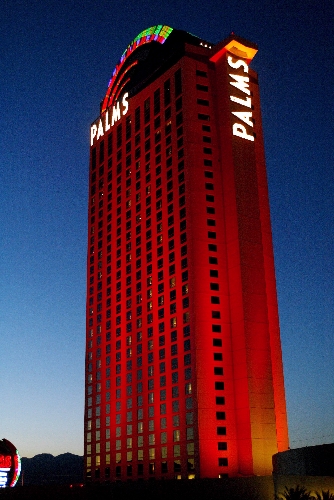 Raising a toast to George Maloof and the Palms' 10-year anniversary, while recalling 10 of my favorite stories:
Biggest shocker: Britney Spear's spur-of-the-moment wedding on Jan. 3, 2004. Hours before the near-dawn wedding, the groom, Louisiana pal Jason Alexander, was seen walking barefoot and carrying a Big Gulp soft drink container full of beer. The marriage was annulled 55 hours later.
A real champ: A N9NE Steakhouse busboy got an epic keepsake about a month after the Palms opened. A VIP asked the busboy for his name and later handed him a folded linen napkin. Drawn on the napkin was a boxing ring surrounded by a crowd. The way I heard it, two stick figures were in the middle of the ring and next to them the names "John" and "The Greatest" in Muhammad Ali's handwriting.
Surprise! Pamela Anderson was perfectly dressed for the occasion, Hugh Hefner's 82nd birthday. Hef was told someone was waiting to see him in the Hugh Hefner Sky Villa in the Fantasy Tower. When he arrived, Anderson, who has been featured on the cover of Playboy a record 13 times, came out of a room wearing nothing but stiletto heels.
Presidential pardon: The night a nervous server at N9NE spilled mashed potatoes in President Bill Clinton's lap. "Please don't fire him," Clinton whispered to Maloof.
Staying under the radar: Michael Jackson and his kids lived at the Palms for almost two months, starting in late 2007, before news broke that Jackson was staying in the Hefner villa. When a VIP requested the villa, Maloof spent hours schlepping bags to move the Jacksons to another villa so the news didn't get out. Maloof noticed Jackson had placed tape over the nude portraits.
Nein, Nein: N9NE Steakhouse, the site of Spears' slightly awkward wedding/annulment dinner, was also where Britney was spotted feeding shrimp to her tiny dog at the bar. That sighting brought health officials in for a chat.
O.J. on the rocks: Saying "we don't need the drama" or "disruptions," Maloof barred O.J. Simpson from the Palms after the former NFL star was arrested on armed robbery charges in September 2007.
The wildest adventure that didn't involve Britney or Paris Hilton: The 407-foot plunge by British billionaire daredevil Sir Richard Branson from the top of the Fantasy Tower in 2007. He suffered a cut hand, bruises and torn pants during the wind-blown stunt.
The best line: Jamie Foxx, after Kid Rock punched Tommy Lee during the 2007 Video Music Awards in The Pearl, the Palms concert venue. When Foxx went on stage to present the Best New Artist award, he joked somebody's gotta "stop all of this white-on-white crime."
Best tip: Don't give a book to someone you listed among "Bad Tippers." Especially if it's a guy with a combative history. You can bet I'll think twice after getting whacked by Pete Rose in N9NE in front of my dinner guest, Matt Drudge. The next day, former Rocky Mountain News colleague Mark Wolf gave me a call.
"Congratulations. You're in the Baseball Hall of Fame."
"For what?"
"You gave up Pete Rose's last hit."
SIGHTINGS
Maloof and his brother Joe, in a private room at Piero's on Tuesday, Joe's birthday. N9NE Steakhouse was closed Tuesday night for a corporate buyout party. … Dos Caminos closed Monday after losing a landlord battle with The Venetian.
THE PUNCH LINE
"Over the weekend in New York, two Occupy Wall Street protesters got married at the protest. They are registered at Bed, Bath, and Seriously, You Need to Take a Bath." — Conan O'Brien
Norm Clarke can be reached at 702-383-0244 or norm@reviewjournal.com. Find additional sightings and more online at www.normclarke.com. Follow Norm on Twitter @Norm_Clarke.