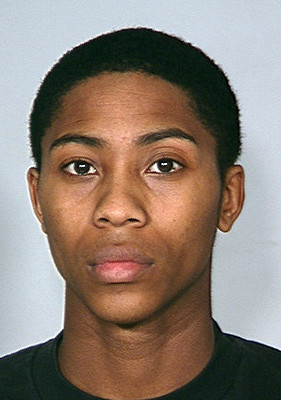 Prosecutors say two teens accused of killing Palo Verde High School freshman Christopher Privett during a February drive-by shooting are members of a hybrid street gang.
Gerald Q. Davison, 16, and Ezekiel Williams, 18, belong to Squad Up, a local gang whose members have been accused of homicides and other crimes, prosecutors say. As such, gang enhancements will be added to the charges, which could increase the time they spend behind bars if convicted.
"We're trying to show there is a gang component" to Privett's slaying, Deputy District Attorney Giancarlo Pesci said Wednesday.
Brent Bryson, representing Williams, said he had no information demonstrating that his client is a gang member. He said the gang accusation makes the case more complicated, but he added that it won't hold up in court.
Davison's attorney, Osvaldo "Ozzie" Fumo, said he started representing the teen over the weekend and did not have a chance to examine all the evidence. But Fumo said he would fight the charge.
Authorities said Williams and Davison were in a car with three other people on Feb. 15 when they pulled up alongside Privett, who was walking home from school with others on Alta Drive near Pavilion Center Drive. Davison opened fire on Privett's group, killing Privett, police said.
There are differing accounts of the shooting. Williams told police that Davison got into an altercation with four youths just before the shooting.
But a passenger inside the car, Mandesha Walker, told police that the shooting was in retaliation for someone in Privett's group flashing gang signs at her.
Among the charges Davison and Williams face are murder with a deadly weapon and conspiracy to commit murder.
Davison and Williams' alleged gang affiliation was revealed when a classmate of the defendants told police that the two were members of Squad, a shortened title for Squad Up, according to a police statement.
The classmate, Arthur Moore, told police on Feb. 20 that he has known Williams, also known as "Zeke," for about 21/2 years and that he has known Davison, also known as "G-Money," for about a year.
Moore told police that Davison opened fire because of a gang rivalry. At the time of the shooting, Davison and Williams were threatened by a rival hybrid gang called Hustlers Taking Over, according to Moore's statement.
Las Vegas police said Wednesday that there isn't any evidence of Privett being in a gang.
Hybrid gangs are made up of mostly young members — as young as 14 — who sometimes hail from rival gangs such as Bloods and Crips but still hang out together.
They often are organized by teens attending the same school or living in the same neighborhood.
In January, a reputed member of Squad Up, 19-year-old Marcus Campbell, was sentenced to 42 years to life in prison for killing Patrick Russum, who police said was a member of the rival Wood hybrid gang.
Davison and Williams are scheduled to appear in court April 23 for an evidentiary hearing.
Contact reporter David Kihara at dkihara@reviewjournal.com or (702) 380-1039.