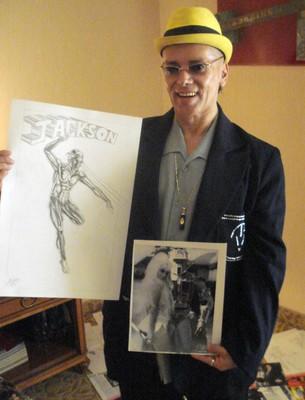 Pamela Anderson's Las Vegas magic show got off to a smokin' start.
Midway through Friday's final preview, fire sirens went off moments after Anderson made her grand entrance amid a pyrotechnic haze in "The Beauty of Magic" at the Planet Hollywood Theater.
After some confusion over whether the siren was part of the act, the room was evacuated as smoke seeped onstage from a small pyrotechnic fire that broke out backstage.
"I didn't realize I was so hot," Anderson told the crowd, estimated at 1,000.
An announcement said the source of the smoke was being sought. A "very orderly" evacuation emptied the venue, and the fire was quickly contained, with no one injured, according to Amy Sadowsky, spokeswoman for Planet Hollywood.
The audience was offered a refund or free tickets to another performance.
Anderson performs as a magician's assistant with featured illusionist Hans Klok.
WACKO FOR JACKO
A lot of "ifs" come attached to that proposed six-story, laser-firing Michael Jackson robot. Chief among them: If somebody else will put up the money, and if Las Vegas city and tourism officials buy into it.
In Las Vegas, the land of slick pitches, that adds up to a hard sell.
"It's something that will change Las Vegas forever," said Andre Van Pier, an eccentric New York fashion designer.
For his Friday "press conference" in his room at Planet Hollywood Resort, he had covered the floor, table and bed with dozens of fading press clippings and fashion sketches, mostly from the 1980s. There were few robot drawings.
His dream is to have a multimillion-dollar robot/entertainment complex built on a patch of desert where a gazillion tourists can see it from planes and cars.
"It would have slot machines and music videos. It would be like the Statue of Liberty," said Van Pier, without a hint of a smile.
He's counting on the city "to get involved" because, as he said in his news release, the iconic robot would be "the first step in helping to transform Las Vegas into the city of the future."
After listening to Van Pier's pie-in-the-sky ramblings and celebrity name dropping for an hour plus, I asked him if anyone ever considered him crazy.
"Some people think I'm crazy, but a good crazy," said the 50-something Van Pier, who changed clothes five times during a TV interview the day before.
His partner in the plan, Michael Luckman, is co-executive producer of the Signal to Space Concerts, which will beam live music by major recording artists to the solar system and beyond.
Luckman believes Jackson's music contains coded messages to space aliens.
SIGHTINGS
Sylvester Stallone and David Hasselhoff, catching lunch Saturday at Planet Dailies with Planet Hollywood Resort owner Robert Earl. Stallone and Hasselhoff were in town for opening night of "The Beauty of Magic." Also on the red carpet: Rita Rudner, Maksim Chmerkovskiy of "Dancing With the Stars," "La Cage" headliner Frank Marino and Nathan Burton. … Anderson and actress Dita Von Teese, partying together Friday at Pure nightclub (Caesars Palace). Also at Pure, actress Michelle Trachtenberg of "Buffy the Vampire Slayer" fame and actor Seth Green. … At Body English (Hard Rock Hotel) on Friday: The Killers and Dave Navarro, celebrating his 40th birthday (Thursday) early. … Former NFL star Tony Siragusa, hosting a party Friday at Venus Pool Club (Caesars Palace) attended by fellow NFL alums Dan Marino, Carl Banks, Terry Kirby, Johnny Davis and Vencie Glenn. Also in attendance, Kato Kaelin and boxing beauty Laila Ali, who was a contestant on "Dancing With the Stars." … Comedian Wayne Brady and former New England Patriots running back Corey Dillon, partying Friday at Moon nightclub (Palms). … Marino, Joey Porter and Marcus Banks, at OPM (Forum Shops at Caesars) on Friday.
THE PUNCH LINE
"Whatever happens in Vegas stays in Vegas." — Chicago Cubs pitcher Carlos Zambrano, after his scuffles with teammate Michael Barrett on Friday at Wrigley Field.
Norm Clarke can be reached at 383-0244 or norm@reviewjournal.com. Find additional sightings and more online at www.normclarke.com.
NORM CLARKEMORE COLUMNS