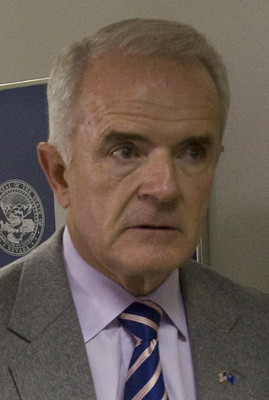 CARSON CITY — Gov. Jim Gibbons requested but did not receive an apology from a state Democratic Party leader moments after an Ethics Commission panel on Thursday found there was insufficient evidence that he broke laws in securing a lower property tax bill on land he owns in Elko County.
"There are a number of people who owe the governor an apology in this matter," Gibbons said.
In particular, he mentioned state Democratic Party Executive Director Travis Brock, who filed a complaint with the Ethics Commission that accused the governor of violating ethics law by pressuring Elko County Assessor Joe Aguirre into lowering to $40 property tax bill on 40 acres of land near Lamoille.
Brock relied on information in a July 12 Associated Press story in filing his complaint.
"Now the public is fully aware there was nothing to it," Gibbons said. "Mr. Brock has wasted taxpayer dollars on a frivolous claim he made."
Ethics Commission members Tim Cashman and Erik Beyer decided Thursday that there was not "just and sufficient" evidence to convene the full commission and conduct a hearing on whether Gibbons broke state ethics laws.
The law forbids public officers from using their positions to secure unwarranted privileges for themselves or others.
Brock refused to apologize, saying in an interview that the Ethics Commission conducted a "cursory investigation" before determining that what they found failed to meet the evidentiary standard to go forward.
"The governor's actions in regard to this Elko land deal were questionable," Brock said. "I still find them questionable, as many Nevadans probably do, whether the Ethics Commission agreed or not. The purpose of this statue is to help legitimate ranchers raise their families, not to waive taxes on a retirement home."
Neither Brock nor Gibbons was present at the panel hearing. Ethics Commission panel hearings usually are conducted in private. Gibbons, however, requested that it and all information in the case be public.
Gibbons bought the land for $575,000 in August 2007 from former District Judge Jerry Carr Whitehead.
The property is part of a large cattle ranch owned by Whitehead. Gibbons said he wanted the land because that is where he eventually wants to retire and build a home.
Since he wasn't using the land, Gibbons agreed to lease it to Whitehead so he could continue to graze his cattle on it. Gibbons' property is not fenced off from the remainder of the ranch.
Then on Sept. 1, 2007, he visited Elko County Assessor Joe Aguirre to inquire whether he could receive an agriculture use classification on the property. Ranchers and farmers who receive at least $5,000 in income off property are entitled to the classification.
Agricultural land is assessed at a much lower tax rate than other land. Aguirre first objected but then granted Gibbons the classification, reducing his tax bill from a possible $1,893 to just $39.71.
But then in July, Aguirre, who recently retired as assessor, told The Associated Press he felt pressured into giving Gibbons the tax break.
Brock then filed a complaint with the Ethics Commission charging Gibbons used his position to secure an unwarranted privilege for himself. He also filed a complaint with the commission against Elko lawyer John E. Marvel, who Gibbons hired to handle the tax matter. Marvel is a member of the state Tax Commission, which sometimes hears appeals of county tax matters.
But in an August interview with Ethics Commission investigator Mike Vavra, Aguirre gave a different statement about his meeting with Gibbons.
"There was no pressure," Aguirre said in transcripts released by the Ethics Commission. "I mean I have respect for the man. … He didn't do anything that would (have) put pressure on me."
Vavra issued a report concluding there was no evidence of wrongdoing by Gibbons.
Aguirre could not be reached Thursday to explain why he changed his statement.
Based on the Elko County assessor's calculations, Vavra said Gibbons' property alone would receive $6,444 to $8,524 a year in agriculture income.
He added that Aguirre never asked Gibbons for a copy of his lease with Whitehead, nor did he take steps to confirm that Gibbons actually had cashed two checks totaling $5,777 that he received from Whitehead under their lease.
Aguirre did tell Vavra in their interview that he felt uncomfortable about Marvel handling Gibbons' tax matter since the attorney serves on the Tax Commission. The Tax Commission once had overturned one of his tax assessment decisions and that cost Elko County $65,000, according to Aguirre.
But Vavra told the Ethics Commission on Thursday that Marvel never spoke personally with Aguirre in handling Gibbons' tax case, only through letters.
"In reading the letters, I don't see pressure put on him by Mr. Marvel," Vavra said.
He added the correspondence between the two was "straightforward."
Although the governor appoints Tax Commission members, Gibbons said earlier he did not know when he hired Marvel that he also served on the Tax Commission. Marvel, son of Assemblyman John Marvel, R-Battle Mountain, has been a commission member since 1990.
Gibbons said Thursday he did not know when Marvel's current term ends, and refused to say whether he would reappoint him.
Contact Capital Bureau Chief Ed Vogel at evogel@reviewjournal.com or 775-687-3901.