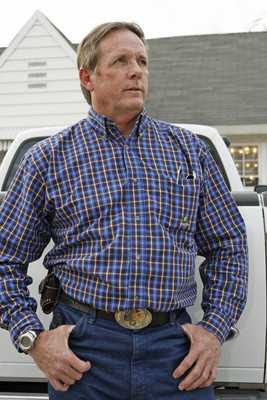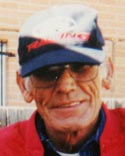 In the two years since he was arrested and accused of letting an elderly patient die, paramedic Carrol L. Meeks has won a clean slate from state regulators and got his job back with the Pahrump Valley Fire-Rescue Service.
Now he is going on the offensive.
Meeks has filed a civil lawsuit against Pahrump, the fire-rescue service, the Nye County Sheriff's Office, and several of its officers, including Sheriff Tony DeMeo.
He also is speaking publicly about the case for the first time.
On Nov. 24, 2006, Meeks and emergency medical technician Rodd Fernandes were dispatched on a medical call to a small travel trailer in Pahrump. The chronically ill 63-year-old patient shot himself in the head just as the men approached his door.
The patient, Linus Wendler, reportedly went without medical care at the scene for at least half an hour before it was discovered that he still had a pulse. He was then rushed to Pahrump's only hospital, where he was pronounced dead 16 minutes later.
Six days after the incident, Fernandes and Meeks were booked on one count each of felony criminal neglect of a patient and felony neglect of an older person.
Authorities accused the men of leaving Wendler to die.
Meeks and his lawsuit offer a very different account. He claims law enforcement officers on scene kept him and his partner away from Wendler, who was initially declared dead by a deputy, then declared "not dead" about 15 minutes later.
"That (went out) over the radio," Meeks said. "They needed to find some way to cover up their mistake, and they picked me and Rodd.
"We were somewhat sacrificed."
Fernandes is not part of Meeks' lawsuit and has not filed one of his own.
Both men returned to work with the Pahrump Valley Fire-Rescue Service early this month, after an arbitrator ruled they were fired without cause and deserved to be paid for work they missed since the town dismissed them in April 2007.
Fernandes and Meeks were reinstated more than a year ago by the state Emergency Medical Systems program, which serves as the regulatory agency for EMTs and paramedics in Nevada.
The two men had their state licenses suspended in May 2007.
Fernandes, who did not appeal the disciplinary action, got his license back after six months. Meeks successfully petitioned to have his suspension overturned and erased from his record in October 2007.
Meeks said the past two years have been a "pretty big disaster" both personally and financially.
He worked part-time at a feed store for a while, but got by mostly on the generosity of friends.
"I owe some people some money, put it that way," Meeks said.
The story of their arrests received extensive coverage in Southern Nevada, and it was shocking and unique enough to get picked up nationally.
"You didn't even want to go to the grocery store for about three months for fear someone was going to drag you outside and string you up," Meeks said.
Reached for comment Tuesday, DeMeo said he stands by the decision to arrest the men in 2006.
The Nye County sheriff said his office scrutinized the case at the time because of the unbelievable nature of the allegations. There was ample evidence to bring charges, he said.
To date, however, neither Fernandes nor Meeks has been formally charged. According to DeMeo, prosecutors have another year to act before the statute of limitations runs out on the case.
A message left for Nye County District Attorney Bob Beckett was not immediately returned.
The 2006 incident began with a 911 call from a man who said he was having trouble breathing.
Meeks said he now thinks Wendler, who was chronically ill and tethered to an oxygen tank, may have placed that call so that when he killed himself, his body would be found by authorities instead of his friends or family.
"But that's just my opinion," he said.
Meeks and Fernandes were just a few yards from Wendler's door when the shot rang out.
Meeks said they briefly looked inside through the screen door and then backed off, per their safety protocol, to wait for police.
Deputies arrived on scene quickly and entered the trailer. Meeks said one of them declared Wendler dead without bothering to have him or Fernandes examine the man.
The deputies were photographing the scene and securing several loaded firearms inside the trailer when one of them noticed signs of life from Wendler.
Meeks said that's when he was called over to check Wendler for the first time.
The man had "a good pulse, as good as mine," but his only respirations were of a sort medical personnel refer to as "dying breaths," Meeks said.
Upon hearing that, the deputy told him Wendler would need to be transported to the hospital "just to CYA," Meeks said. CYA is short for "cover your ass."
DeMeo has repeatedly said that he and Fernandes had to be ordered to treat Wendler, but Meeks insists that is "just not true."
DeMeo also has said it was Fernandes and Meeks who decided that Wendler was dead at the scene, or would be soon, but Meeks said he couldn't have made that call if he wanted to.
"It's not my job, never has been," he said. "The deputies are coroners. As coroners, they're supposed to go in and check for signs of life."
Though the past two years have been trying, Meeks said he never gave any serious thought to dropping his fight and leaving town.
"I want to see this through," he said.
He has been "treated great" since he returned to duty a few weeks ago. Local deputies, emergency room staff and his co-workers have welcomed him with open arms, he said.
At times, though, his return has been awkward. On Monday, for example, he was on duty at Pahrump's main firehouse when a process server showed up to notify Pahrump Fire Chief Scott Lewis that Meeks was suing him.
"I think we'll work through it some way," Meeks said of his relationship with his boss. "I never wanted to be doing this. It was not my idea, you know?"
Contact reporter Henry Brean at hbrean@reviewjournal.com or 702-383-0350.