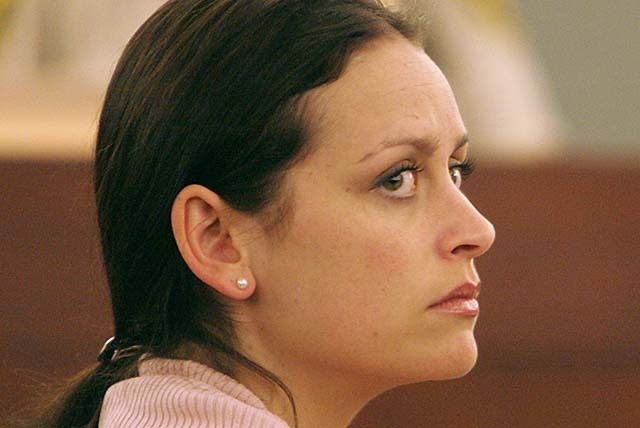 CARSON CITY — A Las Vegas woman who killed her aunt's boyfriend in 2002 claiming he was abusive failed in her bid Monday to win a pardon for the crime and be immediately released from prison.
Despite an exemplary record during her six and a half years in prison, a majority of the Board of Pardons, including Gov. Brian Sandoval and Attorney General Catherine Cortez Masto, voted against the request by Jamie Hein.
Hein was convicted in 2007 of second-degree murder in the death of 36-year-old Timothy Herman and was ultimately sentenced to a term of 10 to 25 years for the crime.
In her presentation to the board, which was asked to commute her sentence to time served, Hein expressed remorse for the crime. The hearing in the Nevada Supreme Court chambers was packed with family and friends of Hein and the family of Herman, who testified in opposition to the request.
The request was unusual for several reasons. Hein has met with and befriended her victim's mother, Kathleen Herman, who equivocated about whether she supported the pardon.
Another unusual factor cited in support of early release is Hein's genetically inherited medical condition, angioedema, which is costing Nevada taxpayers $38,000 a month for treatment while she is incarcerated.
"I'm sorry I took his life," Hein told the board, which also includes the seven members of the Nevada Supreme Court. "I think about it every day."
The situation at the house where Herman was living with Hein's aunt, Rebecca Garrison, was described as dysfunctional, with the couple using illegal drugs. Hein also abused drugs and alcohol. Herman, a felon from Florida who was addicted to methamphetamine, had been arrested on a charge of domestic violence against Garrison. Witnesses testified at Hein's trial that he hit her and kicked her in the head.
The motive for the attack was disputed at the hearing, with members of the Herman family claiming that Hein intended to kill Herman and planned with two others to commit the crime.
Kristine Herman, one of Timothy Herman's daughters, said she was satisfied by the decision of the board.
In speaking out against the pardon, she said: "You cannot get away with murder, Jamie."
Herman's parents and two daughters attended the hearing from Florida.
A suggestion by Justice James Hardesty to postpone the decision while a legal issue was researched about Hein's ability to serve residential confinement failed on a 5-4 vote by the board.
Masto said leaving the matter unresolved would create even more uncertainty for Herman's family, and cause them further emotional pain.
The board then voted to reject the pardon request.
Hein is eligible for parole in June 2017.
Contact Capital Bureau reporter Sean Whaley at swhaley@reviewjournal.com or 775-687-3900. Follow him on Twitter @seanw801.