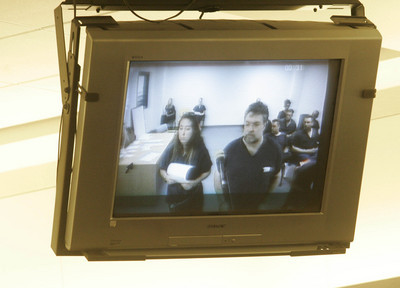 The couple accused of second-degree murder in the death of their 4-year-old son, who was left in a sport utility vehicle for 17 hours, are devastated by his death and shocked by the serious charges they face, a relative said Friday.
"They're both extremely distraught over this," said Phil Rimer, whose brother, Stan, is charged in the killing.
Phil Rimer spoke to reporters after Stan and Colleen Rimer appeared briefly in court via teleconference Friday morning. The couple stood side by side and spoke softly when Las Vegas Justice of the Peace Karen Bennett-Haron asked them if they had been informed of the charges against them. Bennett-Haron assigned the Rimers attorneys and set their next court date for July 10.
Authorities also have brought multiple child endangerment charges against the Rimers in connection with allegedly filthy living conditions in the family's home and because the couple have a history of abusing their children.
Las Vegas police arrested the Rimers on Wednesday and booked them into the county jail.
"I never would have expected this to go so far with charges like this," Phil Rimer said.
The couple's 19-year-old son, Brandon, attended the court hearing but declined to speak publicly about his parents.
A family spokesman, Michael Gonzalez, said Brandon is planning to start a Mormon mission soon and is obviously troubled by the criminal charges.
They "couldn't have come at a worse time," Gonzalez said.
The 4-year-old, Jason Rimer, was found dead in the family's Ford Excursion on June 9. He was found on his back in the middle seat wearing the same shirt, tie and black pants he wore the day before at church.
Colleen Rimer told police that she asked her other children to look for Jason when she went to cook dinner and that she also searched for him, according to an arrest report. She said the children didn't notice Jason was missing when they went to bed, the report states.
Jason was diagnosed with myotonic dystrophy, a form of muscular dystrophy, after he was born. He functioned like a 2-year-old and had a limited vocabulary.
When police investigated the death, they found the Rimers' house was filthy, the report says. Police found the house in disarray and littered with animal feces.
The Clark County Department of Family Services had 21 contacts and referrals involving the Rimers since 1998. Fourteen referrals involved unsubstantiated allegations. A 1988 complaint for physical abuse, emotional abuse or neglect and medical neglect was substantiated. A complaint of lack of supervision was upheld in 1991.
Child protective services had five complaints of abuse or neglect related to Jason, according to state records.
Although some of the allegations were unsubstantiated, a child protective services investigator in February 2007 warned the Rimers about the dangers of using corporal punishment.
Phil Rimer hopes to take custody of the couple's four children who are staying at Child Haven, the county's emergency shelter for abused and neglected children.
He said relatives and fellow church members cleaned up the family's home, and he planned to live there with the children to keep some consistency in their lives.
A Family Court judge is set to decide July 11 if Phil Rimer should be allowed to take custody of the children.
Phil Rimer said the children at Child Haven have been crying over the loss of their brother and want to leave the county facility.
He said the children told him they "feel like we're in jail."
Contact reporter David Kihara at dkihara@reviewjournal.com or 702-380-1039.