Parents charged in girl's death had history of investigations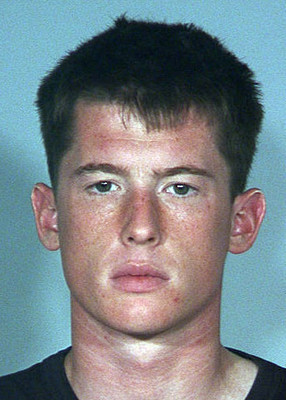 When 7-month-old Abigail Smith died April 10, her mother told emergency responders at Nellis Air Force Base that she found the lifeless infant in her crib, covered by stuffed animals.
Medical staff at O'Callaghan Federal Hospital observed no signs of abuse at the time, but noted that the baby's body appeared "frail and very dirty," Las Vegas police said.
After three months of investigation, authorities now have charged parents Dustin Michael Smith, 22, and Jill Renee Smith, 23, with child abuse and neglect with substantial bodily harm resulting in death.
Las Vegas police arrested the couple July 1. Both were in custody at the Clark County Detention Center on Tuesday.
The Air Force family has a history of involvement with child welfare services.
Christine Skorupski, spokeswoman for Clark County Family Services, said the Smiths have been under scrutiny three times since 2006 for suspicion of child abuse and neglect. The last report to Family Services on the Smiths was made in March and involved emotional abuse and domestic violence.
"Upon conclusion of the investigation, the case was closed as unsubstantiated," said a child welfare public disclosure form filed in Abigail's death.
Documents show that the Smiths were receiving parenting classes, marriage counseling and other assistance from Family Services and from family advocacy staff at Nellis.
Skorupski said her agency investigated all reports diligently.
"The allegations were found to be unsubstantiated because of insufficient evidence," Skorupski said.
The couple's 2-year-old daughter has been in protective custody since Abigail died in April.
The Clark County coroner's office reported Abigail's cause of death as "asphyxia due to suffocation." The back of the baby's head was scabbed and balding. Debris was trapped in skin folds on her neck and in her ears. Abigail had been dehydrated and suffered from moderate diaper rash.
Authorities investigating the baby's death in April found the family's home on the Air Force base in disarray. The children's bedroom had a "heavy acid type odor of apparent urine," a police report said. Dirty diapers, fecal matter, clothing and pieces of broken glass were on the floors, furniture and counters throughout the home.
Jill Smith told authorities the couple had a party the previous weekend and "some things got broken" but the children were in bed when friends drank and became "rowdy," according to the police report.
Dustin Smith, who is in the Air Force, has been disciplined by the military for incidents of domestic violence. During arguments, Smith grabbed his wife's hair, head-butted her and injured her rotator cuff, the report said. Smith had been penalized with a reduction in rank and pay.
"If I kept my nose clean, then that would go away," he told authorities about the penalties. "However, I didn't keep my nose clean and I actually lost a stripe."
Dustin Smith also told authorities he has attended anger management classes while in the military, the police report said.
Jill Smith initially told investigators that her 2-year-old daughter put the toys in Abigail's crib prior to the baby's death, the report said.
The death also was investigated by the Armed Forces Center for Child Protection. A June report by a military child abuse pediatrician, Maj. Shelly Martin, was included in police records. It said that on April 10 the Smith children were alone in their bedroom from roughly 10:30 a.m. to 2 p.m. There apparently was no adult supervision during that time.
In addition, the Smiths had not kept up on immunizations and medical visits for Abigail.
"The pattern and presence of neglect, particularly supervisional neglect, was a direct factor in the death of Abigail Smith," Martin said in her report. "Proper care and supervision could have prevented this death. Both parents are responsible for the care and supervision provided to these children and their failure directly contributed to the untimely death of Abigail Smith."
Review-Journal staff writer Antonio Planas contributed to this report. Contact reporter Maggie Lillis at mlillis@reviewjournal.com or 702-383-0279.