Parks film features students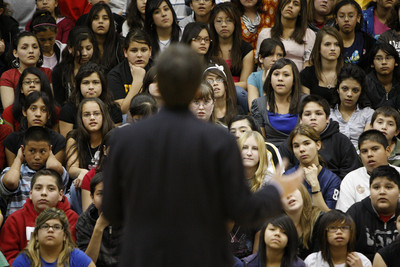 Students at Bailey Middle School in Las Vegas don't lack for opportunities to experience the great outdoors. The Lake Mead National Recreation Area is only seven miles away. But teachers fear interest in nature is declining. Students are not getting out of the city.
"They have Sunrise Mountain behind them, but they have no appreciation for it," said Principal Karen Paquette of the middle school at 2500 N. Hollywood Blvd. near Lake Mead Boulevard.
The school has made an effort to expose the students to natural wonders, taking them on field trips to geological sites like the Great Unconformity at Frenchman Mountain and Valley of Fire State Park.
Students' exploration of Death Valley National Park, including their hike into the Ubehebe Crater, is the subject of a short film that will be broadcast locally in September on Vegas PBS as a supplement to documentarian Ken Burns' new series called, "The National Parks: America's Best Idea."
Burns came to the middle school on Friday to show the 10-minute film to students. Like the school's teachers, Burns worries about a loss of appreciation for the outdoors.
"Lately, park attendance has dipped," Burns said in an interview. "There is a very simple and devastatingly simple reason why. It's harder for families to round up everybody into the minivan for the three-week tour of national parks."
Youths "want to be on Facebook and playing their games," he added. "They think their virtual world is so compelling that we're in danger of losing a generation."
Beverly Lousignont, a science teacher, organized the two overnight trips to Death Valley. Seventy students went in January 2008 and 40 students went in November. Most of the students and many of their parent chaperones had "never camped before," Lousignont said.
Ana Nevarez, 12, said she wanted to go because she "wanted to know how it feels to be without electricity."
She enjoyed learning how a crater was formed from a volcano and sleeping outside.
Slightly more than half of Bailey's students are Hispanic and about a fifth are black. About 60 percent of Bailey students qualify for free and reduced lunches. Support from a natural history museum and the filmmakers helped underwrite the camping trips, teachers said.
"We really made an effort to reach out to under-served communities that don't yet have an ownership stake in the national parks," Burns said. Historically, minority figures have been heroes in the movement to preserve natural wonders, he added.
"They're fantastic, inspirational stories," he said.
Contact reporter James Haug at jhaug@reviewjournal.com or 702-374-7917.