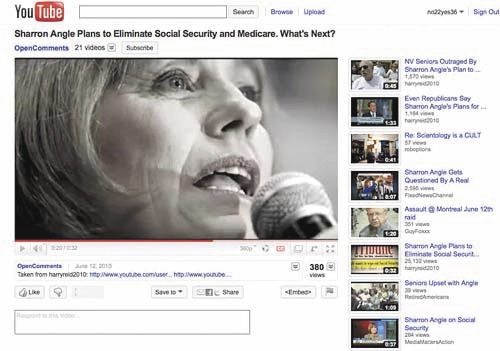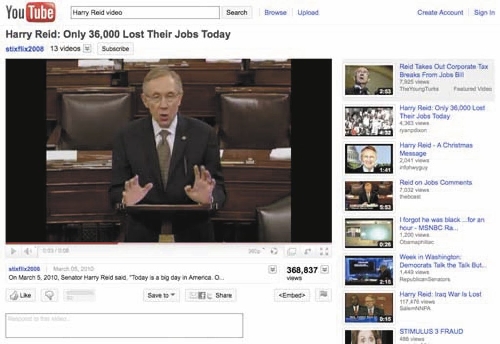 For the record, Sharron Angle has declared that she's not a "birther." You know, one of those people who insist Barack Obama isn't a U.S. citizen and therefore isn't qualified to be president.
Also for the record, U.S. Sen. Harry Reid does not really believe that "it's really good" when 36,000 people lose their jobs, although he was caught saying just that in a recent Senate floor speech.
Whether it's a verbal gaffe, a statement taken out of context or a comment that comes off sounding strange or even mean, today's political candidates are getting caught on video and audio tape.
And they're paying the price for this greater public exposure, having to explain or defend what they really meant to say — or wish they had said or, perhaps, wish they hadn't said out loud.
"Sometimes these statements reveal the true mindset of a politician. And people should pay attention," said Larry Sabato, director of the Center for Politics at the University of Virginia.
The high-stakes U.S. Senate race between Reid and Angle is one of the best examples in the country of campaigns that have become a sort of reality TV "gotcha" game gone viral.
Political experts say these revealing moments, which quickly spread across the Internet thanks to YouTube, Twitter, Facebook and bloggers, left and right, are good for the election process. Voters see more candidates' unguarded moments, and politicians must become more disciplined to win.
"Voters always knew that they were being sold pre-packaged politicians in TV ads and teleprompter speeches. And they wanted more — to get to know the person behind the facade," said Sabato, a leading political analyst who said these off-script incidents have redefined campaigning.
"The candidates will adapt and maybe become more judicious in their use of words. And that's a good thing. In the business of politics, words matter. Politicians should choose them with care."
In the U.S. Senate race, Republican Sue Lowden was the first political victim of caught-on-tape campaign gaffes. The former Nevada Republican Party chairwoman lost the June 8 primary, in part, because she never recovered from suggesting at a town hall that people could barter with doctors.
Lowden made the situation worse when she tried to defend her remarks on a TV talk show by saying in the old days people used to trade chickens for health care when they couldn't pay their bills.
The Reid campaign and the Democratic Party mocked her endlessly. She was followed on the campaign trail by live chickens as well as a man dressed in a chicken suit. Late-night comedians picked up on the gaffe while dozens of videos and even one TV ad used her remarks to poke fun at her.
In Lowden's case, her original remarks in Mesquite were captured by a Reid campaign tracker who tapes opponents in hopes of catching mistakes.
Democrats attack Angle
Now, the Reid campaign is using the same tactics against Angle by portraying the conservative Tea Party favorite as too extreme to replace the four-term incumbent Reid in the U.S. Senate.
Reid spokesman Jon Summers noted that most of the video and audio clips the campaign has been blasting out come from conservative radio and TV shows Angle has been appearing on.
That's because Angle has been using interviews on conservative forums to get her message out while she expands her campaign from a mom-and-pop shop into a more professional operation with the help of national Republican Party organizations. It's also because Angle's comments to conservative audiences and the GOP base are most open to attack from Democrats.
"We're looking to get her positions on the record, and given the few number of interviews she's actually done with reporters, this is one way of doing that," Summers said. "It's important for voters to see the clear differences between the two candidates."
On Social Security, Angle has been caught on tape saying she wants to "phase out" the program. But she also says seniors and others who have paid into the system should receive their full benefits while younger workers should be allowed to opt out and open personal retirement accounts instead. After being criticized, Angle backed away from her plan to "transition out" Social Security.
On the question of whether Obama was born in the United States, the Reid campaign last week accused Angle of ducking the question when she said on the radio show Libertarian Politics Live, "You know, I think our Supreme Court has pretty much made that decision."
Obama, whose father was Kenyan, has a verified Hawaiian birth certificate. The high court has dismissed several cases challenging his citizenship.
After the ducking charge was picked up by liberal bloggers, Angle was interviewed Friday by conservative blogger Ed Morrissey. He asked her "flat out whether she believed Barack Obama was born somewhere other than Hawaii. And she replied, 'No. Is that flat-out enough for you?' "
Angle also had to tone down or explain a few other comments caught on tape.
In radio interviews, she had invoked "Second Amendment remedies," or gun rights, available for citizens upset with "tyrannical government." And she has said she plans to "take out" Reid. In an interview with the Las Vegas Review-Journal, Angle said she was suggesting political, not armed, revolt and wants to take Reid out of the Senate and put him into retirement instead.
On the issue of the jobless, Angle contends extending unemployment benefits for too long can prevent people from accepting low-wage jobs.
"You can make more money on un­employment than you can going down and getting one of those jobs that is an honest job but it doesn't pay as much. We've put in so much entitlement into our government that we really have spoiled our citizenry," Angle said in one interview.
Angle later clarified her statement. She said she doesn't believe the un­employed are spoiled but that the system isn't working. She suggested giving people who take low-wage jobs partial unemployment payments to make up the salary difference, something the state of Nevada already does.
"Well, I said spoiled the citizenry because what has happened is, we have allowed people to get an idea that … they are better off if they don't go back to work," Angle said Wednesday on FOX News.
Angle's purist stance on abortion — that there should be no exceptions, including in cases of rape or incest — could hurt her among women voters.
In January, a conservative radio talk show host asked Angle whether there is "any reason at all for an abortion," according to a recording of the interview distributed by the Reid campaign.
"Not in my book," said Angle, a Southern Baptist who regularly attends church.
"So, in other words, rape and incest would not be something?" the host asked.
"You know, I'm a Christian, and I believe that God has a plan and a purpose for each one of our lives and that he can intercede in all kinds of situations and we need to have a little faith in many things."
Republicans attack Reid
Until now, the Angle's campaign hasn't battled back by distributing some of Reid's most infamous gaffes, but the national Republican Party has stepped in to help her.
When Reid said on June 26 that it's a "myth" that Social Security is in deep trouble, the National Republican Senatorial Committee that same day slammed his comments.
"For the Senate Democrat leader to claim that Social Security is not in serious trouble represents either blatant dishonesty or shameful ignorance," said Brian Walsh, spokesman for the National Republican Senatorial Committee.
Walsh also routinely puts out lists of Reid's fumbles.
One of Reid's "oops" moments came in March on the Senate floor when he said, "Today is a big day in America. Only 36,000 people lost their jobs today, which is really good."
Reid meant that the number could have been worse because it was expected to be much higher for the month of February. And it was simply a mistake to say "today," since the figure was for a month.
But Republicans jumped on the gaffe.
"Only in Harry Reid's world is it a good thing that 36,000 more Americans lost their jobs in February," Walsh said.
Realizing the damage, Reid returned to the Senate floor several hours after his remarks and complained they "are being irresponsibly characterized by those seeking to score political points."
That 36,000 people lost their jobs last month, he said, "is undeniably devastating news. But if we're going to discuss the state of our economy and the direction in which it's going — and if we're going to talk about it like adults — we have to take a step back and put this number in context."
While unemployment "is still too high," the stimulus program proposed by President Barack Obama and passed largely by Democrats "stopped a terrible situation from getting even worse," Reid said.
Republicans also have attacked Reid for saying the Iraq war "is lost," calling former President George W. Bush "a loser" in front of high school students and suggesting "tourists smell."
Although it wasn't captured on tape, Reid received a lot of criticism in January when a book author revealed the senator had said Obama could win the presidency because he was "light-skinned" and had "no Negro dialect unless he wanted to have one."
Reid apologized and Obama accepted it.
tracking the slip-ups
In political parlance, these captured slip-ups are known as "macaca moments," named after an infamous comment that caused Sen. George Allen, R-Va., to lose his 2006 re-election.
At a campaign stop in Breaks, Va., Allen twice used the word "macaca," a little known racial slur that means monkey, to refer to an Indian-American tracker who was filming the event for the opposing Democratic candidate, Jim Webb.
Allen apologized, but lost anyway.
Most modern campaigns employ trackers. The Democratic National Committee put out a call last week for volunteers from the public to begin following Republican candidates and submitting embarrassing audio and video to a website, www.accountabilityproject.com.
"The Accountability Project allows you to submit videos, recordings, and other items for publication online, so that candidates see that there's a cost to their dishonesty — and so that everyday citizens can see what their Republican candidates for office are saying," the DNC said in announcing the project.
Contact Laura Myers at lmyers@reviewjournal.com or 702-387-2919.