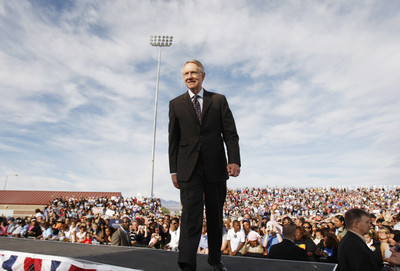 On Tuesday, the political parties will be throwing political parties.
The question, of course, is which side will have something to celebrate and which may be having more of a commiseration-fest.
The Democrats' Election Night get-together is being held at the Rio, 3700 W. Flamingo Road, in the Brasilia Ballroom of the resort's convention center.
Rep. Shelley Berkley, congressional hopeful Dina Titus, Assembly Speaker Barbara Buckley and state Senate Minority Leader Steven Horsford — who hopes to turn the penultimate word preceding his name to "majority" — will be among the many officials gathered to watch the returns come in starting at 7 p.m.
"Light hors d'oeuvres will be available, along with a cash bar, televisions to watch the returns, and the opportunity to see our all-star line-up of congressional, legislative, and local candidates," the state Democratic Party said in a news release. For Northern Nevada Democrats, the party will be at Reno's Grand Sierra Resort.
Nevada Democrats' godfather, U.S. Sen. Harry Reid, will not be present. He'll be in Washington, D.C., with national Democratic leaders.
Reid's counterpart in the delegation, Republican Sen. John Ensign, also will be in D.C. Ensign, coming to the end of a difficult tenure as head of the National Republican Senatorial Committee, will be with GOP officials hoping that at least a few of their vulnerable incumbents manage to hang on.
In Southern Nevada, the GOP will be gathered at the Sportsbook Bar & Grill of the Palazzo in Las Vegas. At 6 p.m., there's a $50 dinner with wine. At 7 p.m., everybody is welcome to watch the returns. And yes, there is a cash bar.
Among those present will be Rep. Jon Porter and Gov. Jim Gibbons, aides said.
"Our election night party is a token of appreciation and gratitude for all the Republicans in the state of Nevada who have enthusiastically volunteered their time and services to elect candidates who share our conservative values," Nevada Republican Party Chairwoman Sue Lowden said in a news release. "I look forward to spending a victorious night with my fellow Republicans from Nevada."
In Northern Nevada, the Republican party will be at Reno's Eldorado Hotel Casino.
SHUFFLING THE CHAIRS
Senate Majority Leader Reid, facing the near-certain prospect of a bigger majority, is looking to make a few changes when the next Congress convenes.
Reports in Politico and the Washington Post last week said Reid is maneuvering behind the scenes to oust Sen. Robert Byrd, D-W.Va., from his post as chairman of the Senate's Appropriations Committee.
Reid is a big admirer of Byrd, whom he has referred to many times as a role model, but Byrd is 90 and infirm, and Senate insiders say Reid believes the powerful spending committee could be better run.
Asked about potential committee changes last week, Reid was coy. "Well, we know there will be a change in foreign relations, because Biden will be vice president," he said of Democratic vice presidential nominee Joe Biden, who chairs the Foreign Affairs Committee. "That's the only one I can think of right now."
Asked about the Appropriations Committee, he said, "We'll have to take a look at that and see what happens. I've had a number of conversations. Senator Byrd has been feeling well lately and that's important. A lot of it depends on his physical health."
As for Connecticut Sen. Joe Lieberman, the nominal independent who continues to be counted as part of Reid's one-seat majority even as he continues to alienate Democrats with his vocal support for Republican presidential nominee John McCain, Reid said he does not believe, as some have suggested, that Lieberman will switch sides and become a Republican.
Lieberman chairs the Senate's Homeland Security Committee, a prize many on the left would like to see him lose. Asked about that position, Reid said, "I'll meet with him either Wednesday or Thursday and make a decision. All my discussions are going to be with him, not with you."
WACKY WORDS
Third-party candidates often complain that the system is stacked against them, saying they would do better if they could only get their message out.
One candidate who is getting a message out is the Independent American Party candidate in Assembly District 2, Jon Kamerath. He's sent several pieces of mail to voters in the Summerlin district, currently an open seat. But the message is a bit problematic.
One flier referred to the Democratic candidate, Carlos Blumberg, as "Bloomberg." And a letter to voters warned of "Willie Nellie" spending.
The letter also assured readers that "I am a registered independent," adding, "I know that you've probably never thought of voting for an independent candidate; however, I am asking that you consider voting for one now."
But Kamerath is not an independent candidate. By law, that's someone who isn't registered with a political party and collects signatures on a petition to get on the ballot. Kamerath is registered with the Independent American Party, as he is required to be to run on its ticket.
Asked about the letter, Kamerath said it was a mistake and "I didn't mean to deceive anybody."
But maybe it's unfair to associate wacky claims with third parties. The state Democratic Party has sent a flier on behalf of Shirley Breeden, its candidate in state Senate District 5, touting an endorsement from a newspaper that doesn't exist.
"The Nevada Sun endorses Shirley Breeden," the mailer proudly proclaims, along with a quote from the paper still known as the Las Vegas Sun.
THE BOOKIES' PICKS
When it comes to predicting the future in Nevada, it seems only natural to ask, "What are the odds?"
The oddsmakers at BetOnline.com have Democrat Barack Obama heavily favored to win the presidential election. Republican John McCain is an 11-to-2 underdog to win it all.
Obama also is the overwhelming favorite to win Nevada, at 4-to-1. He gets the same odds in Ohio.
The Democrat is also favored in Missouri, Florida and North Carolina, while the Republican is the favorite in Georgia, West Virginia, Indiana and North Dakota.
In some odds Harry Reid might be interested in, the oddsmakers believe U.S. Senate seats in Kentucky and Mississippi will remain in Republican hands, while the Democrats will pick up seats in Minnesota and North Carolina.
Don't go to your local sports book and try to put money on any of this, however. They don't offer political bets — it's illegal to do so.
ON THE TUBE
Think you're seeing a lot of political ads on TV, especially for Obama? You're right.
During the week of Oct. 21-28, Obama spent $850,000 on Nevada television, while McCain spent $357,000, according to the Wisconsin Advertising Project.
Nationally, Obama spent $21.5 million during that time, compared with $13 million by McCain and the Republican National Committee, which pays for pro-McCain ads in many states. That week doesn't include Obama's 30-minute infomercial, which aired Wednesday.
The Obama campaign, the group said, is "on track to spend more money in October on broadcast TV — over $100 million — than any campaign has ever spent in history."
Las Vegas was the No. 2 market for campaign ads on a per-spot basis, after Tampa, Fla., and ahead of Orlando, Fla. Reno was No. 11.
"On balance, the tone of both campaigns has been mostly negative on paid TV over the past week," the project noted in a news release. "Sixty-three percent of Barack Obama's advertisements and 79 percent of John McCain's ads have been negative."
Ads from interest groups continue to be few. In Nevada, Let Freedom Ring and the Republican Jewish Coalition spent a combined $125,000 on pro-McCain ads, while MoveOn Political Action spent just $1,000 on pro-Obama advertising.
Contact political reporter Molly Ball at 387-2919 or MBall@reviewjournal.com.