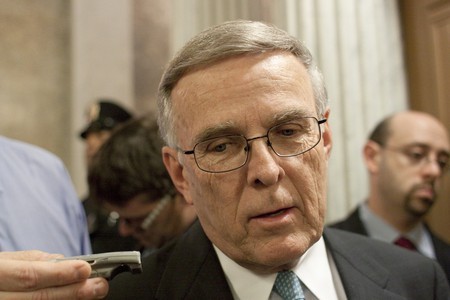 WASHINGTON — The House voted last week for a $154 billion bill to create or save more jobs while extending unemployment benefits and insurance coverage for people out of work.
Democratic leaders said the bill would help spur economic recovery.
Republicans said it was an example of Congress throwing money at a problem, and evidence that the $787 billion stimulus passed earlier this year was not working.
The jobs bill passed 217-212. All the votes for the bill came from Democrats. Every Republican voted against it, along with 38 Democrats.
The vote was one of the final ones of the year as House members adjourned for the holidays.
The Senate is expected to take up the bill early next year.
The jobs portion of the bill would be paid for in part — about $75 billion — with money left over from last year's Wall Street bailout.
The funds would be directed to job-generating highway, mass transit and water projects.
It also would help communities retain firefighters, teachers and police, sponsors said.
The bill also would fund a six-month extension of unemployment benefits, and an additional six months of health insurance subsidies for people out of work.
Rep. David Obey, D-Wis., said the bill would "try to help Americans who are struggling to hang onto their jobs, their houses, and their health care. I think the need for it is obvious."
Rep. Jerry Lewis, R-Calif., called the bill "economic insanity."
"With all this reliance on Uncle Sam, why don't we just put everyone in the United States on the federal government payroll and call it a day?" Lewis said.
Reps. Shelley Berkley and Dina Titus, both D-Nev., voted for the jobs bill. Rep. Dean Heller, R-Nev., voted against it.
HOUSE APPROVES MORE BORROWING
The House voted 218-214 to allow the government to continue borrowing money for its operations, a necessary but often controversial vote on fiscal discipline.
The vote raised the limit on the government's borrowing authority to $12.39 trillion, an increase of $290 billion that is expected to last through Feb. 11 while leaders negotiate for a longer-term increase early in the new year.
The Treasury Department had told Congress the debt limit must be raised by the end of the year to ensure the government does not run into default.
"It's important that we do this to keep the government running," said Rep. Pete Stark, D-Calif. "I don't like to raise the debt limit, but I do like seeing us pay our bills because we have an international obligation to many of our creditors."
Heller said "fat cat" government spending makes it necessary to borrow more at a time when most Americans are tightening their belts.
"Give the gift that America deserves: a responsible federal budget," Heller said. "Merry Christmas to everyone."
Berkley voted to raise the debt limit. Titus and Heller voted against raising the limit.
SENATE REJECTS PRESCRIPTION DRUG IMPORTS
As the Senate continued to debate a major health care overhaul, it killed an amendment that would have allowed Americans to buy lower-cost prescription drugs from other countries.
Sen. Byron Dorgan, D-N.D., argued Americans pay some of the highest prices for certain medications.
A Congressional Budget Office report said his amendment would save $19.4 billion over 10 years by forcing competition between domestic drugmakers and suppliers elsewhere.
Critics pointed to pharmaceutical industry arguments that the amendment could result in the import of counterfeit drugs.
The Food and Drug Administration also opposed the amendment, saying it would be difficult to guarantee the safety of imported medications.
Dorgan said his amendment contained safeguards to address safety concerns.
Passage of Dorgan's amendment also would have broken a deal between President Barack Obama and drugmakers to win their support for health care reform.
The vote on the amendment was 51-48. It failed because it needed 60 votes to overcome a procedural challenge.
Sens. Harry Reid, D-Nev., and John Ensign, R-Nev., voted against the Dorgan amendment.
Contact Stephens Washington Bureau Chief Steve Tetreault at stetreault@stephensmedia.com or 202-783-1760.