Past meets present for drink in Churchill County
October 26, 2014 - 4:20 pm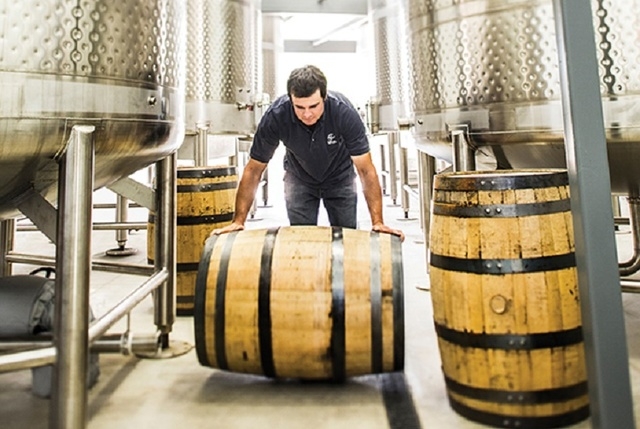 Editor's Note: Nevada 150 is a yearlong series highlighting the people, places and things that make up the history of the state.
Churchill County, situated about 60 miles east of the state capital, is a great example of a place that celebrates its history while embracing the new.
Historically an agricultural region where alfalfa and dairy cattle are still king, Churchill County is also home to the Fallon Naval Air Station, where pilots practice their skills in high-tech aircraft over the open spaces near the county seat.
But the county's history dates to the most ancient human occupation of what is now Nevada. That history can be seen at the Grimes Point Archaeological Area, where Native Americans lived on the perimeter of what was then ancient Lake Lahontan for as long as 8,000 years.
Visitors can visit Hidden Cave on guided tours or try to determine the meaning of the petroglyphs etched on boulders at the site.
Jump ahead several millenia, and Churchill County was part of the infamous 40-mile desert traversed by early travelers on the California trail. Ragtown, so named because emigrants finally were able to wash their clothes in the Carson River after the daunting journey, is located just west of Fallon.
A few years later, Churchill County would play host to the storied but short-lived Pony Express. The ruins of the Cold Springs Pony Express Station near Frenchman still can be visited today.
The entry point for much of this history is the Churchill County Museum and Archives, which bills itself as "the best little museum on Highway 50, the loneliest road in America."
The county, formed in 1861 when Nevada was still a territory, was named for Sylvester Churchill, a Mexican-American War hero. The county has an estimated population today of about 24,000.
But it's not just history that lures visitors to the region.
Fallon native and former state senator Mike McGinness said Churchill County is a special place for a lot of reasons.
"Everybody takes pride in the community and works at making it better," he said. "And no one expects to get anything out of it."
It's also about location, McGinness said.
"Sixty miles east of here and you are in the middle of nowhere," he said. "Sixty miles west and you are in Reno."
McGinness said he particularly enjoys events at the Oats Park Arts Center, a performing and visual arts venue in Fallon that hosts exhibitions by regional artists and presents concerts featuring an eclectic range of musical acts. The center, operated by the Churchill Arts Council, is housed in the 1914 Oats Park School, designed by Frederick DeLongchamps, a prominent Reno architect who was best known for his county courthouses and downtown Reno civic buildings.
The county is also known internationally for the Stillwater Wildlife Refuge, where birders from around the world can see as many as 290 species, including white-faced ibis, snowy egrets and Forster's terns.
Another big attraction is Sand Mountain, an area managed by the U.S. Bureau of Land Management. The 600-foot-tall sand dunes of the 4,795-acre recreation fee area provide challenge and excitement for off-road vehicle riders, hikers and sandboarders.
Then there is the Fallon Heart O' Gold Cantaloupe Festival that occurs in late summer every year and typically draws thousands of visitors and locals.
While traditional agriculture and related activities remain the preeminent focus of the community, residents aren't just looking to maintain the status quo.
One example is Churchill Vineyards, a new enterprise by the Frey Ranch that is focusing on Nevada's new craft liquor movement. Churchill Vineyards is the only Nevada winery producing Nevada-grown, produced and bottled estate white wines. The business is also Nevada's first commercial distillery, receiving a federal license in January 2010.
Ashley Frey, whose family runs a 1,200-acre farm south of Fallon on U.S. Highway 95, said the 10 acres of Vinifera grapes were planted in 2001 as an alternative to thirstier, more traditional crops such as alfalfa.
The grapes were selected after an analysis showed that Churchill County is similar in climate to eastern Washington, she said.
The grains used in the distillery are grown on the farm as well, making it one of a few true estate distilleries in the country, Frey said.
"We would love for people to plant vineyards and make wine," she said. "If we could have several wineries or distilleries in Northern Nevada, it would help the local economy."
Contact Sean Whaley at swhaley@reviewjournal.com or 775-687-3900. Find him on Twitter: @seanw801