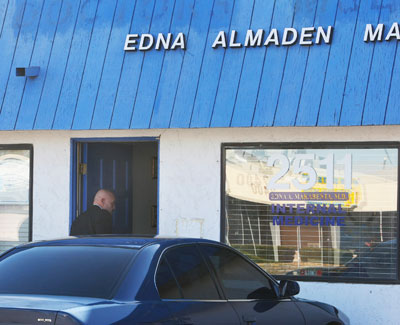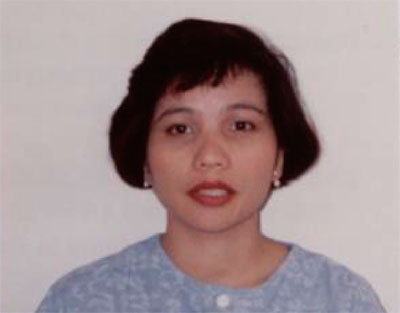 Monday ended without answers for the grief-stricken family, friends and patients of a physician who was gunned down at her West Charleston Boulevard office by an elderly patient who then shot himself, according to Las Vegas police.
Police did not release the victim's name. Patients and individuals who work at or near the crime scene identified the victim as Dr. Edna Almaden Makabenta.
Makabenta was shot to death in an examination room at her office at 2511 W. Charleston Blvd., near Rancho Drive. Police identified the gunman as Eliseo Santos, one of Makabenta's patients.
Santos, 80, was found alive shortly after the 9:20 a.m. shooting and was rushed to University Medical Center where he later died, said Metropolitan Police Department homicide Lt. Lew Roberts.
The motive for the shooting was unknown Monday but Roberts said police believe the physician was targeted.
"No one has an idea of why he would do something like that," Roberts said. "We're still looking into it. But we have no motive right now."
Friends, patients and colleagues said Makabenta was a kind woman devoted to her practice. They said she had no enemies.
Several of Makabenta's patients learned of her death when they arrived for their scheduled appointments. Many wept as they shared memories of her.
Eddie Morgan, who had been Makabenta's patient for 10 years, said she "saved me twice," once when she treated him after a near overdose on prescription pills and again when his appendix ruptured.
"She always spent the time, she never rushed," Morgan said. "I can't think of another doctor to replace her. You could never replace her."
Dr. Dale Carrison, head of emergency medicine at UMC, praised Makabenta.
"I've known this woman since she was a resident here," he said. "Just the sweetest person you'd ever want to meet. She was a fantastic resident and an excellent attending physician."
Carrison said many of the slain physician's patients are nurses.
"That's one of the ultimate compliments in health care," he said. "Nurses know who is good and who is not. They can go to whomever they want and they chose to go to her."
"She wasn't just a doctor," he said. "She was a good doctor. She was one of those individuals who left her residency at UMC and became very productive in the community and well-liked by her patients. This is such a shame."
Henfel Baria, whose wife, Dr. Maria Gaerlan-Baria, owns a medical building near Makabenta's practice, said that just before 10 a.m., the daughter of a patient ran into the office saying, "she had heard gunshots."
Baria said he ran over to Makabenta's office, went into a back room, and found the internal medicine physician on the floor with a gunshot wound to her cheek.
"She appeared lifeless," said Baria who has known Makabenta and her family for more than 20 years. "The man was lying on the floor still moving. He had a gunshot wound in the head area."
Makabenta was pronounced dead at the scene.
According to Las Vegas police, Santos produced a handgun and shot Makabenta when she entered the examination room. He then shot himself in the mouth.
Staff and other patients in the office at the time of the shooting were not injured, Roberts said.
Baria said Santos also was scheduled to see his wife for some pain problems.
The gunman had been going to Makabenta for at least eight years, Baria said.
"He was a very old patient," he said. "He had been in and of the hospital with medical problems. He also was suffering from a lot of pain."
Officials with the Las Vegas, Henderson and North Las Vegas police departments said Santos did not have a criminal record in their jurisdictions.
Cynthia Marshall signed in at Makabenta's office around 9:05 a.m. Monday. The Las Vegas resident said she noticed two men and one woman sitting quietly in the waiting room before she went to a physical therapy appointment with Gaerlan-Baria.
"I really trusted her, it's hard to find a doctor like that," Marshall said of Makabenta. "People place no value on human life. I am shocked."
Mona Nelson, who was Makabenta's patient for eight years, paced back and forth in tears, still in shock that her beloved doctor was dead.
"I just don't get it," she said. "I just don't understand how somebody could do this to such a great person."
Nelson described Makabenta as a great doctor with a sense of humor. She said Makabenta was always trying to fight the medical bureaucracy and put her patients first.
She said Makabenta took her off morphine after another doctor prescribed it for her. Makabenta realized Nelson was allergic to it.
"She saved my life," Nelson said. "She was like a friend."
Rozita Lee, vice chair of Region XI of the National Federation of Filipino American Associations, described Makabenta as "soft-spoken" and "supportive."
"I was just so shocked," Lee said of Makabenta's death. "It hurts our community when someone does something like this."
Lee said Makabenta was known for participating in events held by the organization as well as helping those in need.
Makabenta also contributed financially to the organization and the Filipino community.
According to the Nevada State Board of Medical Examiners' Web site, Makabenta was licensed by the state in 1995. She is listed as an internal medicine physician.
Baria said Makabenta, who did her residency at University Medical Center in the 1980s, was in the process of reducing her patient load.
She was planning to retire, he said.
North Las Vegas resident Deborah Jamerson was Makabenta's patient for eight years and rushed to the office when she heard about the shooting.
"When I say she wouldn't hurt anyone, I mean it," Jamerson said, bending over to brace herself through her sobs. "She loved people.
"I used to tell her, 'Don't leave me, don't leave me.' I don't know what I'm going to do without her."
A man walking and sobbing in a parking lot near the crime scene said he was Makabenta's son.
"That was my mom and she was the best person in my life," he said. The man didn't identify himself by name.
Baria said Makabenta has three children, two sons and a daughter. Her husband is in the Philippines, Baria said.
Jamerson said Makabenta's husband, sister and mother were in the office often and got to know the patients.
"We were all very close," Baria said. "Her daughter is getting ready to graduate from Berkeley. This is all just really sad. Unexpected. This patient was scheduled to do physical therapy with my wife next week."
Staff writers Paul Harasim, Antonio Planas and Annette Wells contributed to this report. Contact reporter Maggie Lillis at mlillis@reviewjournal.com or 702-383-0279.
Video View Larger Map