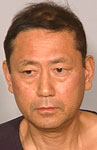 An unarmed man was fatally shot in the back as he attempted to flee Victor Sung Park's pawn shop with a Cartier watch Friday, according to Las Vegas police.
The death of Thomas Cola, 21, was ruled a homicide Monday by the Clark County coroner's office.
Park, who operates Sahara Pawn, 2400 S. Jones Blvd., near Sahara Avenue, was arrested and charged with murder with a deadly weapon. He was booked into the Clark County Detention Center where he remained late Monday on $100,000 bail.
Park, 59, told police Cola entered his southwest valley store and requested to see a Cartier-brand watch.
He darted for the door when Park presented the timepiece to him. According to the arrest report, Park then shot Cola, who stumbled outside before collapsing. He died at University Medical Center.
Las Vegas police spokesman Jacinto Rivera said department records show Park had no prior criminal history.
Park denied requests for an interview Monday.
Witnesses told police they heard a gunshot, saw Cola lying on the ground and saw Park exiting the store holding a gun.
Officers retrieved a silver Smith & Wesson revolver at the scene of the shooting.
Surveillance footage from inside the store captured Cola's attempt to flee with the watch.
District Attorney David Roger declined to speak specifically about the case. Roger did say that under Nevada law, individuals may use deadly force to protect themselves or others in life-threatening situations, but the law does not allow individuals to use deadly force to reclaim property.
Contact reporter Maggie Lillis at mlillis@reviewjournal.com or 702-383-0279.