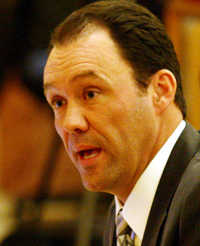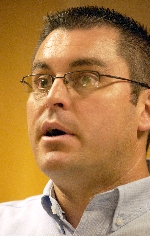 Clark County firefighters would take reductions in pay and benefits under a tentative agreement that would save the county $4.2 million a year to help offset a hefty budget shortfall.
The 741 firefighters covered by the contract would take a 1.5 percent pay cut, lose a vacation and a sick day, and have longevity pay frozen at current levels. Also, the first-year wage for rookie firefighters would be lowered by 5 percent. The terms cover the one-year contract from July 1 to July 2012.
The concessions would be on top of the reductions in firefighters' pay and benefits that the county won in arbitration, for a total savings of $13.3 million yearly.
County commissioners and firefighters now must ratify the contract.
"The union was cooperative," Assistant County Manager Ed Finger said. "They realized the financial condition we were in."
The tentative deal was reached in about two months, the speediest negotiations in recent memory, county officials said.
That's in contrast to the last round of bargaining, which dragged on for most of a year before going to arbitration. The arbitrator ruled in the county's favor in January, resulting in a 2 percent pay cut, no wage increases, a rollback in long-term disability benefits and a tougher sick-leave policy.
The $4.2 million in new concessions could save 45 jobs, Finger estimated.
County officials had planned to slash 200 jobs, which would include 83 layoffs, to decrease a $100 million budget gap to $50 million. The remaining hole would be filled with money from a reserve fund.
"We face the same financial challenges as any other city or county government," said Ryan Beaman, president of the International Association of Firefighters Local 1908, in a statement. "Both sides had a common interest. We were able to have meaningful and productive discussions to get this done."
Beaman insisted that publicity about the recent arbitration and the current probe by the police and FBI into possible sick leave abuse did not drive the speedy agreement.
County firefighters average $180,000 yearly in wages and benefits, compared with $80,000 for county workers in the Service Employees International Union, the county's largest union.
Commissioner Steve Sisolak, a critic of firefighters' compensation, declined to comment about the tentative pact, saying he hadn't had a chance to look at it.
Commissioner Tom Collins mostly praised the agreement.
"I was very excited to hear that Ryan Beaman has taken a turn and decided to cooperate with the county," Collins said.
However, he said he was "very disappointed" that the current method of longevity will remain for those with at least eight years. Firefighters still will receive the pay as a percentage of their wage rather than a flat sum for each year served, Collins said, calling that unfair.
Other concessions include eliminating premium pay for fire investigators and no longer counting firefighters' "remote pay" at places such as Laughlin toward pensions.
New hires will receive bonus pay instead of bonus leave for taking five or fewer sick days per year. Cutting these extra days off will save about $400,000 in overtime because co-workers won't have to fill in, Finger said.
The county is bargaining with battalion chiefs for a separate contract that expires in July.
"We're having productive negotiations," Finger said. "I hope to have a resolution in the near future."
Contact reporter Scott Wyland at swyland@review journal.com or 702-455-4519.