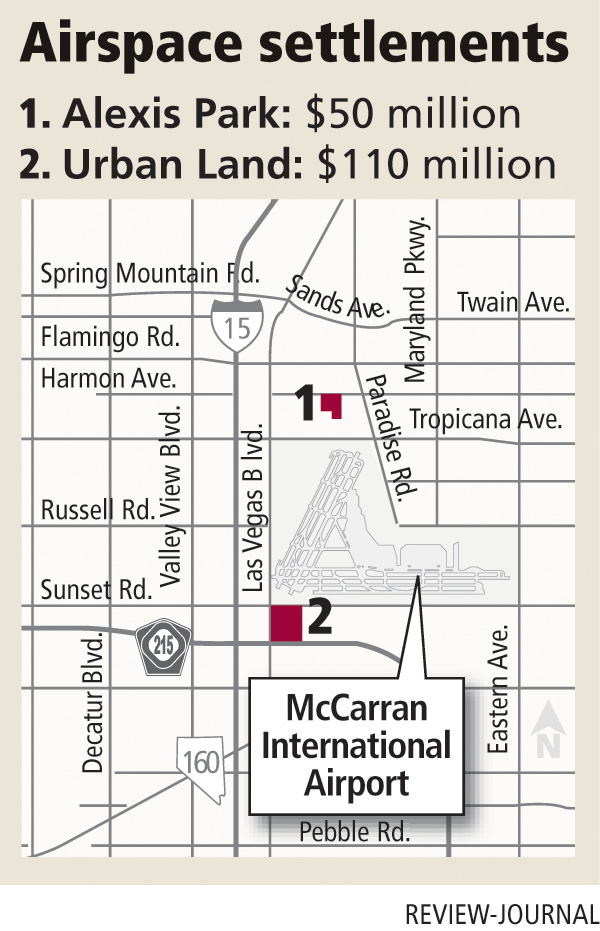 Landowners have won settlements totaling $160 million from Clark County for airspace restrictions that kept them from building on their properties.
Clark County commissioners signed off on the settlements Tuesday with no public discussion after returning from a closed session.
Urban Land Nevada, a family-owned company, was awarded $110 million for 140 acres that was condemned south of a McCarran International Airport runway to make way for flight paths. Two hotel-development companies were awarded $50 million for airspace restrictions imposed on 21 acres dubbed Alexis Park, north of the airport
The restrictions would curb building heights on some portions of land and possibly bar development on other parts.
"It has been my recommendation that we settle … and I stand by that recommendation," attorney Kirk Lenhard told commissioners.
By settling these two cases, all parties can avoid having the Federal Aviation Administration determine safe heights for buildings within the airspace, and then having appraisers gauge how much real estate value was lost with the shorter heights, said Randall Walker, the county's aviation director.
The settlements will be paid with airport revenues, including from bonds, and not from the county's general fund.
That means it won't siphon tax dollars used for programs and services, said Laura FitzSimmons, an attorney representing the landowners.
"So it's not taking bread off anybody's plate, and that's important," FitzSimmons said. "It's a tough time."
Walker, however, said the airport will reduce its capital projects to cover the settlements. That will result in the airlines getting fewer improvements, he said.
The county seized the development rights through "inverse condemnation," FitzSimmons said. Unlike eminent domain, in which the government offers a price for the land it seizes, a public entity condemns the land and leaves it up to the owner to demand compensation, she said.
Legal wrangling over Alexis Park dates back a decade, she said, while the Urban Land Nevada suit was filed last year.
On the Urban Land property, no construction would be allowed on roughly 45 acres closest to the runway so as to create a clear zone, she said. On most of the land fanning out from there, building heights would be limited to 35 feet.
On the southwest corner of the property, buildings could be 100 feet tall, she said.
As for Alexis Park, aviation officials seemed most concerned about establishing paths for planes to approach and take off, she said.
Neither of these suits should be confused with a similar case involving Regent Steve Sisolak, who is running for county commissioner.
In 2006, Sisolak ended years of air-space litigation in the Nevada Supreme Court, which upheld a $6.5 million judgment for 10 acres that was condemned near the airport. His settlement was expected to balloon to $17 million after interest and fees were included.
The recent two suits were strictly about how much money the landowners should be compensated, Walker said. There are another half-dozen suits involving airspace that have more legal questions surrounding them, namely whether the 15-year statute of limitations for filing have run out, he said.
If the court rules that there should be no statute of limitations, the resulting wave of lawsuits could batter the airport financially, Walker said. Costs would be passed to carriers who might, in turn, cut flights, making it harder to fly in and out of Las Vegas, he said.
Contact reporter Scott Wyland at swyland@reviewjournal.com or 702-455-4519.