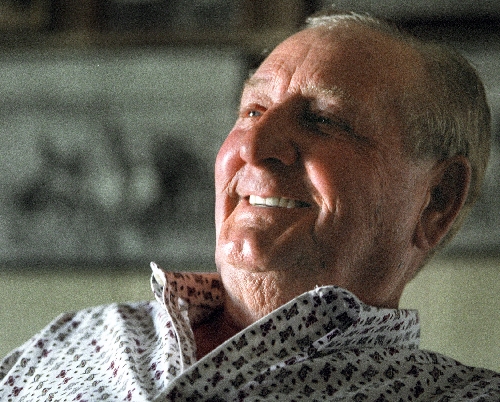 It turns out former Clark County Sheriff Ralph Lamb was being courted by Hollywood long before Nicholas Pileggi and CBS picked up the trail.
Legendary director Sam Peckinpah, known for his gritty Westerns and hard living, took a shot at putting Lamb's life on the big screen in the mid-1980s only to die before he could complete the project.
Peckinpah had even recruited Lamb to take part in filming "The Sheriff," which was the working title of a biography that was to serve as the basis for a motion picture.
Clint Eastwood was Peckinpah's choice to portray the brawling cowboy sheriff as the last of the great Western lawmen.
Lamb's reign as sheriff ran from 1961 to 1979, when some of Sin City's toughest characters were trying to take over.
Lamb, now 84, told me he joined Peckinpah for filming near Livingston, Mont., not long before the director died in 1984 at age 59.
"He was drinking at breakfast," recalled Lamb, who loaned me Peckinpah's collaboration with co-writer James R. Silke.
My favorite line in their presentation came from Lamb's older brother, Phil: "I'll tell you this. He didn't get all them scars by bein' no nice guy."
Earlier this month, CBS-TV announced it had hired Pileggi, who wrote the mob classics "Goodfellas" and "Casino," to help develop a new crime drama titled "Ralph Lamb."
'RHAPSODY' RESCUE
Phil Moody, a prominent Hollywood and Las Vegas musical conductor, had a long association with legendary choreographer Donn Arden.
After Moody's death last week, his family shared this story with the Review-Journal:
"Donn called Phil to Las Vegas in a panic. A few weeks before the opening of the original "Lido," the publisher of the Gershwin catalog learned that their composition of 'Rhapsody In Blue' was to be the finale for this new show and promptly issued a cease-and-desist order.
"They didn't want their masterwork associated with a 'girlie production.' To save the show, Donn called Phil to Las Vegas to rewrite the entire finale melodically while still maintaining the musical structure of the song, as there was no time to re-choreograph and re-rehearse the number.
"Phil accomplished the mission and the show was saved."
THE SCENE AND HEARD
Former Caesars Palace security guard Frank Potenza, better known as "Uncle Frank" to late-night viewers of nephew Jimmy Kimmel's show, died of cancer Tuesday in Los Angeles at 77. A former New York City cop, he worked as a personal security guard for Frank Sinatra. The New York Times said Kimmel decided to incorporate Potenza into the show for his "matchless comic appeal — simply by being himself." …
Bravo's "Top Chef Masters" is in town this week to start filming season four. Word has it the shoot will take place over three weeks at an undisclosed location. New York chef Floyd Cardoz won season three . …
Las Vegas banking icon E. Parry Thomas celebrates his 90th birthday in Sun Valley, Idaho, this weekend with many longtime friends from Southern Nevada flying in for the occasion.
SIGHTINGS
U.S. Olympics swimming star Michael Phelps, dining at Lavo (Palazzo) on Friday. … NFL Hall of Fame coach Don Shula, dining at Country Club (Wynn) Saturday.
THE PUNCH LINE
"Every shopping plaza within a 10-mile radius is out of enormous sunglasses." — From David Letterman's Top Ten Signs Moammar Gadhafi Is Hiding in Your Neighborhood.
Norm Clarke can be reached at 702-383-0244 or norm@reviewjournal.com. Find additional sightings and more online at www.normclarke.com. Follow Norm on Twitter @Norm_Clarke.