'Peepshow' star wants to be mom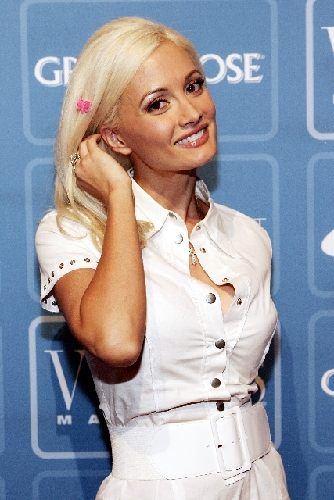 Holly Madison's next major production? Being a mommy.
The fashion-related reality show she's planning for Las Vegas and Los Angeles will take a backseat to motherhood. She hopes to be pregnant by January, she said.
"That would be ideal," said Madison, who ends a 3½ -year run Dec. 30 as the lead in "Peepshow."
She wants to start a family of "at least three" and, she added, "the sooner the better. That's my priority."
"Marriage is not a priority right now," she said.
She's been in a serious relationship for eight months, she said, and while she isn't identifying her beau, it's been no secret that she's been dating Pasquale Rotella, the man behind the Electric Daisy Carnival.
The DJ-driven festival has produced staggering numbers since moving to Las Vegas Motor Speedway last year.
Rotella, 38, turned the rave movement into a $10 million fortune.
Madison turns 33 on Dec. 23, a week before her contract ends with the burlesque show that opened at Planet Hollywood Resort in early 2009.
"We're very serious," she said.
"I'm going to wait until gay people can get married in Nevada," she added.
It's not fair, she said, that gay marriage is not legal in Nevada.
MEDIA UPDATE
Ex-anchor Kendall Tenney confirms he's had overtures to return to local television.
But, he quickly added, "I've got more exciting stuff around the corner and I can tell you it isn't television."
With anchors leaving at KLAS (Gary Waddell) and KTNV (Nina Radetich), there was buzz that Tenney was drawing interest.
"I don't see myself going back. But you never say never. It would take a perfect scenario and I don't even know what that would be."
Meanwhile, his former TV colleagues, Mitch Truswell, and Kathy Topp, who had joined Tenney's 10E Media company have created a spinoff called Red 7 Communications. …
Former KLAS-TV, Channel 8
reporter Edward Lawrence checked off one more item on his bucket list last week when he ran with the bulls in Pamplona, Spain. …
R-J wine columnist Gil Lempert-Schwarz isn't dodging nasty bulls, but he's one brave man. He's spending a month touring Europe's wine regions with his family in an RV. …
Colleague Doug Elfman is riding the rails across Europe for a couple of weeks. After gallivanting around Paris, he headed for Amsterdam, where he, too, checked one off his bucket list: tequila-infused beer.
SIGHTINGS
Actor-comedian Kevin Pollak, the last celebrity left in the World Series of Poker's Main Event, survived an all-in scare Saturday and later knocked out one of poker's elite, Daniel Negreanu, who has 23 career WSOP final table appearances. Pollak, who told me last week he learned poker while spending 20 weeks in Las Vegas during the 1994 filming of "Casino," was eliminated later in the session in 134th place, good for $52,718. … Verne Troyer, best known as Mini-Me in "Austin Powers," competing in an eating contest on Friday at the Heart Attack Grill for a special that airs this fall on BBC. … Andre Agassi and Steffi Graf, spotted with their two children in Porto Cervo, Sardinia, last week. The Mediterrean hot spot has long been a playground for owners of the world's largest yachts. The Agassis are guests aboard the superyacht owned by Montana billionaire Dennis Washington, who was their guest in the royal box at Wimbledon on July 4.
THE PUNCH LINE
"Steven Tyler announced he won't be returning to host 'American Idol.' I don't understand how anyone leaves that job. It's like, OK, we'll give you $20 million to just sit at a table and say 'I just wasn't feeling it' for 12 weeks." – Jimmy Kimmel
Norm Clarke can be reached at 702-383-0244 or norm@reviewjournal.com. Find additional sightings and more online at www.normclarke.com. Follow Norm on Twitter @Norm_Clarke.