Penn Jillette held his tongue once
September 28, 2011 - 1:02 am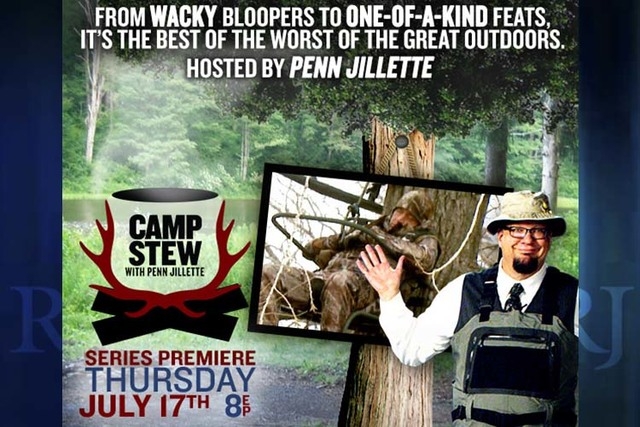 Nothing's sacred in Penn Jillette's new book "God, No!: Signs You May Already Be an Atheist and Other Magical Tales."
The 6-foot-7 Jillette doesn't slow dance into his views. He gets it out of the way early with an anecdote about the near-fatal tiger encounter that ended Siegfried & Roy's long-running act.
The Penn & Teller show had just ended at the Rio on Oct. 3, 2003, when word arrived that Roy Horn was rushed to a hospital after an "accident."
At the hospital, the Rio headliners ran into Lance Burton "and every other magician in town."
Jillette was asked to go on camera and talk about Siegfried & Roy "from my heart and not do jokes."
That wasn't the difficult part.
There he was, the host of a show called "Penn & Teller Bullshit!" (based on debating and debunking various beliefs and misconceptions), "listening to all the stories about the tiger really trying to save Roy's life and not rolling my eyes."
"This here atheist was at the candlelight vigil. This here atheist stood quietly while people publicly prayed."
Horn "protected Montecore after the 'accident,' " Jillette writes. "I don't believe praying helped Roy at all. I believe it was a team of medical professionals working their asses off that kept Roy's head on. But I didn't say any of that that night."
Jillette is just as blunt about the notion of magic. He has argued with David Blaine about the use of the word "trick."
"He hates the word. We love the word," Jillette writes.
He continued, "(Blaine) and Criss Angel did an odd thing. They became famous as magicians and then claimed to be doing things for real."
In the book, Jillette said Blaine asked Penn & Teller to help him with his "buried alive gag" in New York City. Penn & Teller sent some of their staffers to assist.
Blaine became famous for spending a week in the box, according to Jillette.
"If doing nothing for over a week is the mark of a superstar, my brother-in-law should be Elvis Gaga."
REDD FOXX REVISITED
New York Post TV critic Michael S. Starr is signing his new book, "Black and Blue: The Redd Foxx Story," at 1 p.m. Saturday at Barnes & Noble, 2191 N. Rainbow Blvd.
Foxx, who lived in Las Vegas for years, died Oct. 11, 1991, in Los Angeles while rehearsing.
Among those Starr interviewed was saxophonist Jimmy Mulidore, who was musical director during the Elvis Presley era at The International, now the Hilton.
Foxx loved jazz and went out of his way to incorporate his musician friends into his act, often calling out a band member's name and spotlighting them for a 30-second showcase.
"His participation with musicians was so unique that, when Redd was around, it was a happy time," Mulidore said.
The cantankerous junkman in "Sanford and Son" loved keno and good times.
Mulidore recalled going to one of Foxx's parties and watching him "get a round ball of cocaine and put it on the table, and whoever wanted to indulge, fine."
"You're talking about $10,000 or $15,000 worth of cocaine. It's no secret that Redd did drugs."
Foxx was 68 when he died of a heart attack on the set of "The Royal Family" shortly after abruptly ending an interview for "The Lifestyles of the Rich and Famous."
Foxx was famous for his "Sanford and Son" line, in which he feigned a heart attack and said, "I'm coming, Elizabeth. This is the big one."
THE PUNCH LINE
"He's too mitty for Newt supporters, too newty for Mitt supporters." — From David Letterman's Top Ten Signs The Rick Perry Campaign is in Trouble.
Norm Clarke can be reached at 702-383-0244 or norm@reviewjournal.com. Find additional sightings and more online at www.normclarke.com. Follow Norm on Twitter @Norm_Clarke.