Persuasive Wynn won Sinatras over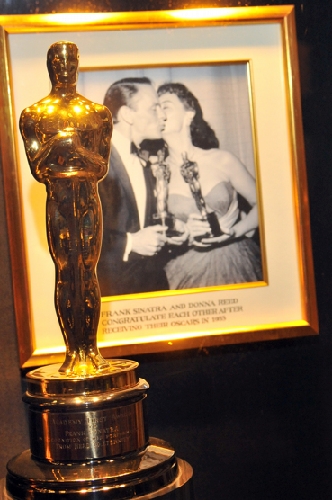 The story of how Frank Sinatra's only Academy Award ended up in a Las Vegas restaurant speaks to the persuasive powers of Steve Wynn.
Sinatra's daughter Tina only has to harken back to her reaction when she saw her father doing TV commercials for Wynn's Golden Nugget in the 1980s.
She remembers thinking, "How did he get Dad to do that?' Then I met Steve and I understood."
But reservations arose when Wynn approached the family about naming a restaurant in Encore after Ol' Blue Eyes and having Frank's Oscar on display at the door.
Parting with it "wasn't easy," said Tina, who, along with Frank's granddaughter, Amanda Erlinger (Nancy Sinatra's daughter), attended the Sinatra Family Estate's wine dinner Friday celebrating the new "Fly Me to the Moon" cabernet sauvignon.
After assuring the Sinatra family about security concerns, Wynn not only got the Oscar, but he also landed one of Frank's Grammys and an Emmy.
Having the Oscar leave the state wasn't just a matter of family concerns. There's that touchy relationship with the Academy of Motion Pictures Arts and Sciences. Since 1950, a rule passed by the Academy allows it to keep the Oscars if the winners or heirs won't agree to first offer to sell them back to the Academy.
"If someone broke in and ran off with it the Academy would be all over us," Tina said.
"They make you feel like the award was leased (to Frank Sinatra)," she added.
Each time she returns to Sinatra, the restaurant, Tina can't help but stop and check the sturdiness of the display case that contains the priceless statuette given to her dad for his best supporting actor role in "From Here to Eternity" in 1953.
"I gave it a good knock tonight and someone (from the restaurant) assured me it's safe."
"Steven Spielberg recently bought two — paid a lot of money — to get them back to the Academy. So it's a really big deal not to be under our auspices."
THE SCENE AND HEARD
Fade to black KVBC-TV, Channel 3. If all goes according to plan, the NBC affiliate will be renamed KSNV-TV by July 9. That SNV stands for Southern Nevada and the name of the station owner is being changed to Southern Nevada Communications after years as Valley Broadcasting Company (which is where VBC came from). General manager Lisa Howfield told my colleague Steve Bornfeld that the request for the change was filed with the Federal Communications Commission. …
KTNV-TV, Channel 13 evening anchor Nina Radetich and her husband, Jack Finn, are expecting their first child late this year. They got married April 10.
SIGHTINGS
Golf star Anthony Kim, who missed the U.S. Open with thumb surgery, at The Bank (Bellagio) on Saturday night. … Friday was a big night for Hal Savar's Acoustic Soul, the house band at McMadden's at the Rio: First Kid Rock jumped on stage and asked if he could sing "All Summer Long," then rising country star Cody Gill sang "Roadhouse Blues." Meanwhile the Marshall Tucker Band took it all in from the audience. … At Lavo (Palazzo) on Friday: Jamie Foxx, Paris and Nicky Hilton, David Katzenberg and Stacey Keibler in the private dining room. In the main dining room Olympic swimming star Michael Phelps dined with a group that included Miss California Nicole Johnson. NHL Hall of Famer Wayne Gretzky stopped by to say hello to Phelps during dinner.
THE PUNCH LINE
"Loud horns make it hard to nap through boring parts." — From David Letterman's Top Ten Reasons Americans Don't Like Soccer
Norm Clarke can be reached at 702-383-0244 or norm@reviewjournal.com. Find additional sightings and more online at www.normclarke.com.