Pet owners confront Strip curfew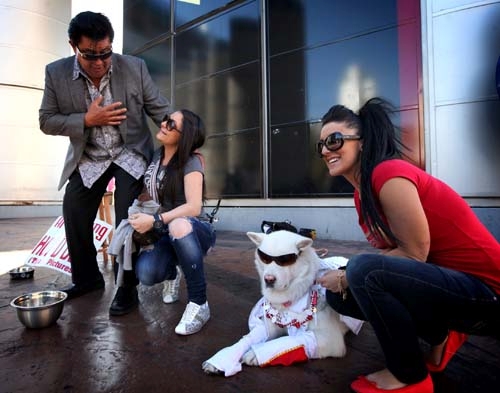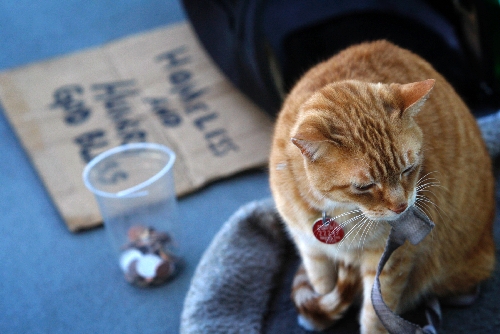 Animals on the Strip might have a curfew if the County Commission approves an ordinance Tuesday.
Commissioners will consider allowing certain animals on pedestrian bridges and sidewalks from 5 a.m. to noon each day, according to the proposal.
Exempted animals include service animals under the federal Americans With Disabilities Act, working animals used by law enforcement on the job, and animals whose owners have obtained a parade permit, special use permit, business license or other written government permission. Household pets must be on a leash or other restraint no longer than 3 feet.
Sorry, snake handlers, the proposal would exclude any snakes that exceed 2 feet in length.
Restricted areas include Las Vegas Boulevard on either side for 200 yards from Sahara Avenue to Sunset Road.
Commissioner Chris Giunchigliani prompted the discussion earlier this year after tourist complaints of animal cruelty were brought to the Las Vegas Valley Humane Society.
Critics said her original proposal was unconstitutional because it tried to ban animals on public sidewalks and pedestrian bridges and unfairly targeted homeless people who have pets.
Giunchigliani, a homeless advocate, denied the proposal was a ploy to rid the Strip of those living on the street and said she was worried about how animals were being treated. She wanted to make sure they had enough food and water, are updated on their vaccinations and kept out of extreme heat, which can reach 115 to 120 degrees on the Strip sidewalks during the summer.
Some of the tourist complaints received by the Humane Society brought up those concerns, she said.
Some panhandlers on the Strip said they would work around the proposal by claiming their pets are service animals with all of the proper paperwork and would be exempt under the law. Asking for proof of service animal status is illegal under the Disabilities Act.
Initial enforcement will be done by police volunteers handing out literature and explaining the new ordinance, should it pass.
Commissioner Steve Sisolak said that the ordinance probably will have to be tweaked over time to address unintended consequences not being anticipated now and that there might be some enforcement issues along the way.
"It will take some time to see what problems it brings in," Sisolak said. "Some will have a clear understanding, while others will say, 'Tough luck, pal. You're not an officer. You can't touch me.' "
Giunchigliani said she doesn't foresee any enforcement issues because the ordinance is "a good compromise that treats everyone the same."
County officials referred the matter to the Resort Corridor Workgroup, which was established by commissioners and assembled by County Manager Don Burnette last year. That action took the discussion out of the public forum and into a secret meeting setting. The Strip committee, which is expected to wrap up its meetings within the next few weeks, does not post minutes or agendas and does not allow public attendance.
It is unclear when the group will make a set of recommendations to the commission, but this appears to be the first proposal the group has weighed in on.
The group is composed of gaming industry and tourist representatives examining issues on the Strip, including street performers and handbillers. The group reviewed a new draft of the ordinance prepared by the district attorney's office.
"The business folks came up with a good alternative that allows them to have their clients in pet-friendly hotels but protects cruelty issues with animals not being out in the hottest or coldest parts of the day," Giunchigliani said.
Commission Chairwoman Susan Brager said that the Strip corridor is important and that boundaries need to be set "to protect the venue down there."
The proposal that commissioners will consider would amend the county's animal ordinance.
According to the county code, those who break the proposed curfew could face a misdemeanor charge and be subject to fines and imprisonment as they would with any other animal ordinance violation. The first offense is $100, a second offense is $250, and subsequent offenses are $500.
Contact reporter Kristi Jourdan at kjourdan@reviewjournal.com or 702-455-4519.